Tracking Qaddafi's Most Elusive Son
Khamis Qaddafi, leader of the feared Khamis Brigade, is leaving a trail of death and rumor across Libya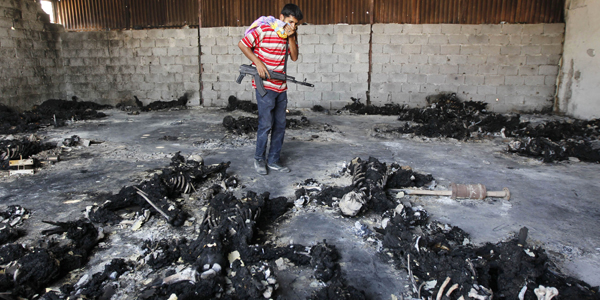 A rebel fighter looks at burnt bodies at the Khamis military encampment in southern Tripoli / Reuters
In November 2009, the U.S. ambassador to Libya typed up a memo, later released by WikiLeaks, speculating on which of Muammaer Qaddafi's sons would prevail in a succession battle for rule over Libya. The two leading candidates represented the dual public faces of their father's regime: Saif, the wolf-in-sheep's-clothing "reformer" and outsider who spent most of his time in Europe; and Mutassim, the sneering nationalist and regime insider once described as "a bloody man and not terribly bright."
The memo mentioned a third son who, though not in line for succession and one of the family's youngest, was poised to play a powerful background in either regime: Khamis Qaddafi, a 28-year-old military commander whose name has become synonymous with the violence and secrecy of Qaddafi's regime. His eponymous 32nd "Khamis" Brigade is "widely known to be the most well-trained and well-equipped force in the Libyan military," the memo noted, and holds "access to some of the most important military and security elements of the regime."
Since the Libyan uprisings began in February 2011, Khamis's name has been cited -- whispered, often -- in connection with some of the bloodiest incidents of violence against peaceful protesters and armed rebels alike. Since the fall of Tripoli one week ago, scattered and unreliable rebels reports have placed the Khamis Brigade seemingly everywhere and nowhere all at once; on the run in one part of town and on the offensive in another.
It would have been easy to dismiss the reports altogether if not for Human Rights Watch's discovery, in a Tripoli suburb, of "the charred skeletal remains of approximately 45 bodies, still smoldering" in a warehouse that appears to belong to the Khamis Brigade. The building adjoins a military compound and had "32nd Brigade" spraypainted on the side. Witnesses described soldiers trapping civilians -- possibly as many as 130 -- inside the building, climbing onto the roof, and staging a mass execution with rifles and hand grenades.
Rumors and bodies, both features of Muammar Qaddafi's Libya for most of his 42 years in power, have long followed in the wake of his son Khamis. On Monday, a few hours after Human Rights Watch released their report, rebel leaders told journalists from Reuters, Sky News, and Al Arabiya that they had killed Khamis. It was the third such rebel-touted report of his death, and as before, no evidence has been provided. The previous two announcements were later retracted as propaganda, perhaps disseminated by regime loyalists to ease Khamis's latest getaway.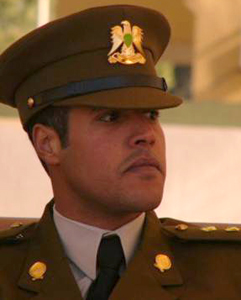 Khamis Qaddafi / Facebook
Information about this shadowy regime figure was sparse and difficult to confirm even before Libya's civil war. Educated on military affairs and strategy in Russia, he has a reputation for seriousness and for avoiding the European parties and tabloid scandals in which his six brothers -- even "serious" Saif and Mutassim -- have at one point or another participated. In the weeks before the Libyan uprisings began, Khamis was reportedly touring the U.S. as an "intern" with AECOM Technology Corporation, an infrastructure development company with business ties in Libya. According to a report in the UK Telegraph, Khamis's internship included visits to U.S. military facilities.
Fragmentary reports place the Khamis Brigade along the front line, wherever it happens to be, during much of the seven-month battle against protesters and rebels. One such story appeared only a few days into the February protests, describing the force as using anti-aircraft guns and mercenaries, both features that would reappear in later firsthand reports. Black-skinned "mercenaries" imprisoned by rebels would later identify as fighting for the "Khamees battalion," although it's still not clear if such fighters were hired or pressed.
"Take Misrata or I will kill you myself. If you don't take Misrata, we are finished," Khamis reportedly told his soldiers before an assault on the city, which saw some of the worst violence in the civil war. During fighting there, government forces launched cluster bombs, a weapon so deadly and imprecise that it has been banned by most of the world as a tool far more useful for killing large numbers of civilians than against legitimate military targets.
If Saif and Mutassim respectively represent their father's pro-Western, intellectual side and his anti-colonial, nationalist side, then Khamis stands for a part of the regime that persists in both but is more guarded and obscured. For all of Qaddafi's flaunting and strutting -- whether abroad, as the cloth-draped loony towed by a cadre of female bodyguards; or at home, as the pan-Arabist-turned-pan-Africanist rattling his saber and touting his four-decade "revolution" -- he did not rule by showmanship alone. The 1986 Berlin nightclub bombings, the 1988 Lockerbie airplane bombing that killed 243 civilians, the 1996 Abu Salim prison massacre of 1200 "inmates," the illicit nuclear weapons program, and the 2009 nuclear blackmail incident are but the most famous examples of a long reign based in violence and the threat of violence. Khamis, for all his infamy, is little more than the personification of this brutal side of the Libyan regime, isolated in the form a 28-year-old man and the Colonel Kurtz-like free reign he and his forces enjoy.
On Monday, mere minutes before the latest rumors of Khamis's death surfaced, the International Criminal Court prosecutor's office told media outlets that it was considering placing the shadowy son on its war crimes wanted list. As with his father Muammar, it's impossible to say if Khamis will stand trial, die in combat, or if he's dead already. Whatever happens, as the father's behavior mirrors that of his feared and elusive son more and more closely, the two may well end up sharing the same fate.