The Importance of Regional Planning That Matters
Why big-picture planning that saves natural resources, woodlands, and farmland can be the key to sustainable success
The Places to Grow land use plan for the region of Ontario around Toronto and Hamilton (image above) is one of the best I have seen. I will discuss it more below, but you can tell how well-conceived it is just by looking at the amount of protected land it saves while accommodating a tremendous amount of regional growth in population and jobs.
Planning at the regional scale is critical.  As our economic, land use and transportation patterns have evolved over the last century, metropolitan areas have become increasingly important. In most parts of the country, the political boundaries established by municipalities long ago are no longer relevant to businesses' or residents' activities, to say nothing of environmental media such as air and water.
As a result, to meaningfully influence environmental impacts associated with development, land use, and transportation, we must act at a level where central cities and suburbs can be considered together. As President Barack Obama has put it, "that is the new metropolitan reality and we need a new strategy that reflects it."
At least with respect to land use, this is not a novel idea. Most U.S. metro areas have some sort of regional plans, and many of them are very good. For example, in 2010 the American Planning Association praised the sustainability features of an environmentally sensitive regional plan for Baltimore County, Maryland:
The approach to ecological design and growth management represents a pioneering effort to direct growth away from sensitive ecological features such as the valley floors, steep slopes, woodlands, and fertile soils through a combination of growth boundaries, restricted sewer and water expansion, conservation design, and restrictive zoning that remains progressive to this day.
The previous year, the federal Environmental Planning Agency bestowed a smart growth award on a plan called Envision Lancaster County (Pennsylvania), noting that it directs new development to defined urban and village growth areas in existing communities in order to spare the farmland, rural areas, and natural landscapes that define the county's character. The plan also promotes reinvestment in the county's cities and towns and encourages more compact, interconnected neighborhoods while preserving open space, protecting water resources, and providing for greater housing and transportation choices.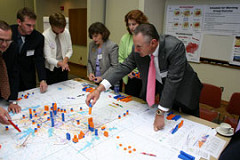 Those are excellent planning and growth management principles. And sometimes these plans cover a lot of ground, quite literally: the metropolitan planning organization for the Dallas-Fort Worth area recently adopted an award-winning plan for the country's fourth largest metropolitan region, covering 12,800 square miles and encompassing more than 200 individual communities. In bestowing an award on the plan's framework for accommodating a doubling in population by 2050, the American Planning Association praised both the results and the process of an effort that "creates a framework for innovative sustainable development" in the region.
The problem is that the history of sprawl and unsustainable land use in America is largely a history of good plans ignored and overridden. We don't have a lack of good plans as much as a lack of good implementation of plans that, ultimately, are largely advisory in nature. We have a lack of plans that matter.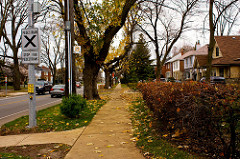 There are a few places on the continent where planning matters more. As I alluded at the top of the post, the Canadian province of Ontario has adopted an excellent (and enforceable) growth management framework for the "Greater Golden Horseshoe" region surrounding Toronto and Hamilton. The plan requires that at least 40 percent of new growth be accommodated within the boundaries of existing development, with transect-based densities for different parts of the region. Where greenfield development must occur, it must create complete communities, with development configurations and streets that support transit services, walking, biking, parks, and a mix of housing and jobs. And it must be built to a scale that makes efficient use of land, accommodating a minimum of about 20 residents and jobs per acre. All areas must accommodate affordable housing.
An important benefit of the regional plan is that it provides for the maintenance of a greenbelt comprising 1.8 million acres of rural and conservation land. It is forecast that regional growth under the plan will require only one-third as much new land for development between 2006 and 2031 as the trend prior to the plan's adoption. But what really sets the plan apart is that it has the full force and effect of law, thanks to Ontario's Places to Grow Act of 2005. That law requires that local planning decisions, including zoning, conform to the policies in the regional plan. If there is a discrepancy, the provincial government has the authority to amend municipal decisions.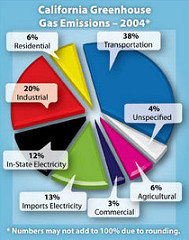 In the U.S., an important opportunity to develop plans that matter has been presented in California by that state's landmark planning law, the Sustainable Communities and Climate Protection Act (more commonly called SB 375). That law requires the adoption of land use and transportation investment strategies that reduce greenhouse gas pollution by amounts assigned by the state's Air Resources Board. The ARB must approve the strategies, and implementing municipalities are required to conform; some smart growth projects that conform to approved plans will receive the benefit of streamlined approvals.
NRDC is working with California partners to ensure that the law's implementation fulfills its promise to use smart growth and efficient transportation to reduce carbon emissions. Significantly, several of the state's major Metropolitan Planning Organizations - which have responsibility for the law's implementation - have adopted strong 15-percent-by-2035 greenhouse gas reduction targets, which will deliver significant benefits of better transit, reduced consumption of farms, ranches, and other rural land by suburban sprawl, improved air quality and public health, and reduced household transportation costs. (Those targets represent a major improvement from what was originally proposed, which would have increased heat-trapping emissions.)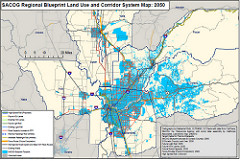 Our staff will monitor and advise the Air Resources Board on the regional SB 375 implementation process, with a special emphasis on Southern California, where we are serving on the regional metropolitan planning organization's stakeholder committee. We will also work with our partners to align discretionary state infrastructure funding -- including support for public transportation -- with the goals of SB 375 and the resulting regional Sustainable Communities Strategies.
NRDC is investing in the California law in part because we believe that, if we can achieve smart-growth planning success in California with great enforceable regional plans, it can set a precedent for other states and regions across the nation to emulate. Indeed, in his signing speech, Governor Schwarzenegger explicitly called SB 375 a model for national action. The framework has already been replicated at least once with passage in 2009 of Oregon's HB 2001, which directs that state to provide greenhouse gas reduction targets to metropolitan areas (though implementation has been weak).
This highly technical work, requiring the balancing of multiple considerations, won't be easy. But that's a good challenge to have, partly because in the case of SB 375 all concerned know that the plans developed under the law will matter. If they didn't matter, why would we bother?
---
This post also appears on NRDC's Switchboard.
Images: Ontario Ministry of Infrastructure, Joe Orbital, APA, Prashanth Raghaven, Loma Prieta Sierra Club, and Sacramento County of Governments