Syrian Troops Fighting Each Other?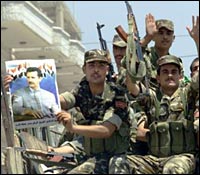 At roughly 2 am Washington, DC time and 3 pm here in Tokyo, I watched CNN International Anchor Reggie Aqui interview an anonymous, compelling first hand witness of a Syrian government assault on the northeastern city of Deir Ezzor.
The witness who reported that tanks and mercenaries and other thugs of the national government were attacking part of the city and firing random shots.  He then said that he had what he considered to be "important news" that approximately 350 soldiers were attempting to protect civilians and were firing at the attacking forces.
Reg Aqui was conducting a live, on air interview with the eyewitness -- and I realize that there may be a lot going on that distracts, but rather than following up on vital information about the potential beginning of deep internal contacts within the Syrian military -- Aqui asked the caller an inane question about whether he and his family were safe.  He did not follow up on what the very interesting eyewitness knew about Syrian troops firing on other Syrian troops.
I know nothing more than what I heard on this live encounter on CNN International before getting ready to fly home to Washington, DC -- but producers at CNN would be smart if they got that caller in Deir Ezzor back online to learn more about this possible Syrian soldier vs. soldier fighting.