Qaddafi Has Long Been Condoleezza Rice's Not-So-Secret Admirer
The rebels discovered an album full of Rice photos in Qaddafi's compound
This article is from the archive of our partner
.
As the Libyan rebels ransacked Muammar Qaddafi's compound this week, MSNBC notes today, they came across a rather creepy item: a photo album, shown below, filled with pictures of Condoleezza Rice giving speeches and meeting with foreign leaders: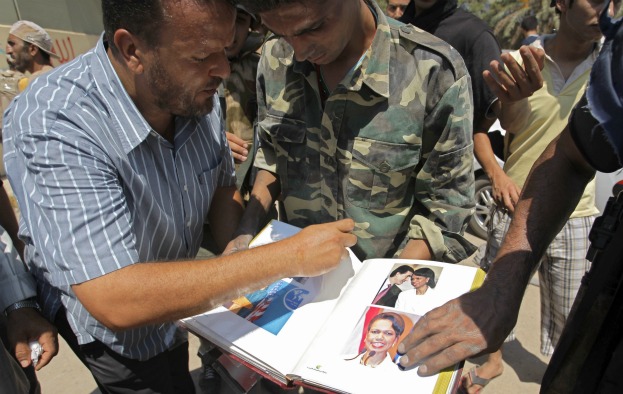 The existence of the album, it turns out, is in keeping with Qaddafi's longstanding affection for the former U.S. secretary of state. In an interview with Al Jazeera in 2007, the Libyan leader had nothing but effusive praise for Rice: "I support my darling black African woman," he said. "I admire and am very proud of the way she leans back and gives orders to the Arab leaders ... Leezza, Leezza, Leezza. ... I love her very much."
The next year, Rice became the highest-ranking American official to visit Libya since Richard Nixon in 1957, following Qaddafi's decision in 2003 to abandon his nuclear weapons program and renounce terrorism. The Washington Post described the first encounter between Rice and Qaddafi--a private late-night dinner to break the Ramadan fast in a tent at his now-looted Bab al-Azizia compound--in the most romantic of terms.
The strong scent of incense hung heavy in the air.

There, standing in a corner as still as a wax statue, was the leader.

Gaddafi wore a simple white cotton robe and a black Libyan fez, which covered part of his flowing hair. His robe was accented by a brooch in the shape of Africa and a striking colored slash decorated with shapes of Africa. He also wore a pair of highly polished black shoes.

Gaddafi appeared to be the epitome of cool, tall and distinguished, no longer the "mad dog" of the Reagan years.

Reporters and cameramen jockeyed for position and filled the tiny room. Gaddafi remained still and somber, though his face lit up when he saw Rice. Many devout Muslim men do not shake the hands of women, and when Rice approached, Gaddafi simply placed his right hand over his chest, a traditional and respectful welcome.
Before Rice's visit, WikiLeaks cables later revealed, the U.S. embassy in Tripoli notified the secretary of state that while Qaddafi "avoids making eye contact" and "there may be long, uncomfortable periods of silence," the Libyan ruler "has been eagerly anticipating for several years the opportunity to share with you his views on global affairs."
As Rice prepared to depart Libya, Qaddafi showered the U.S. official with $212,225 worth of gifts, including a diamond ring in a wooden box, a lute and an accompanying DVD, and a locket with Qaddafi's own picture inside, according to a State Department report. He also gave her "Wonder-Womanesque wristbands" and an autographed copy of his revolutionary Green Book with an inscription that expressed his "respect and admiration," per a New York Times account. In explaining why Rice (who reciprocated with a decidedly less romantic plate with the U.S. seal) accepted the gifts, the State Department wrote, "non-acceptance would cause embarrassment to donor and U.S. government." (The report, Qaddafi might be saddened to learn, also says the gifts were transferred to the General Services Administration rather than Rice's jewelry box.) Before we conclude definitively that Qaddafi had a crush on Rice, however, it's important to note that the Libyan leader also gave Rice adviser Sean McCormack a RADO watch with a "small likeness of Qadhafi's face" on the watch face.
Politico adds one more wrinkle to the strange relationship: Qaddafi wasn't Rice's only admirer on the world stage. "Canadian then-Foreign Minister Peter McKay was rumored to be one such leader when the two met for talks in 2006; former British Foreign Minister Jack Straw and former Italian Foreign Minister Massimo D'Alema have been subject to similar such rumors," the paper observes.
This article is from the archive of our partner The Wire.