Police Clear Tahrir Square, in Sign of Egyptian Protest Movement's Decline
Onlookers cheered the riot police, grateful to see the center of the anti-government movement reopened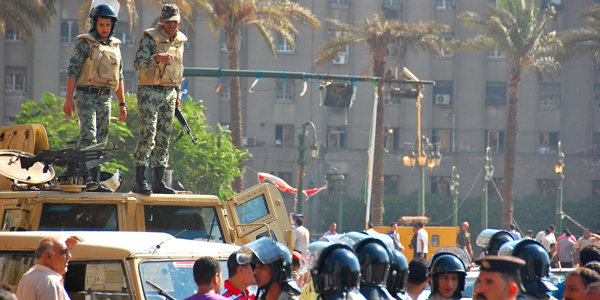 Max Rosenthal
CAIRO, Egypt -- Hundreds of Egyptian riot police, dressed in the black uniforms of state security and carrying batons and tear gas guns, cleared Tahrir Square of protesters on Monday. The demonstrators had occupied the square since January 25 in an ongoing, but increasingly fringe, movement against the government.
Onlookers cheered the riot police in shows of appreciation. Though protesters had massed in the millions in early February, since President Hosni Mubarak has left office and Egypt's economy has slowed, many regular Egyptians have dropped their support for the protest movement and urged daily life to return to normal.
The protesters have held the square off and on since January 25, most recently blocking it off to all traffic since July 8. Young activists -- many of whom responded with delight on finding out I was American -- had erected checkpoints around the square, controlling who could enter and checking IDs of anyone who wanted to cross. Inside the square, people camped out and chanted for the end of the military-run government that has since taken over.
But outside the square, many Egyptians expressed frustration with the protesters, arguing that it was time for them to go home. One Egyptian man told me that he'd marched in February, when one of his friends had been killed by state security, but that he had since become disillusioned with the protest movement. Ramadan, which began this morning, has already raised tensions in the city. The daily fast, the heat, and the uncertain political situation has left many Egyptians on edge.
On Monday morning, plainclothes police carrying guns ordered the protesters to leave. When many remained, dozens of police trucks parked just outside the square. Hundreds of riot police marched in Tahrir and forced out the protesters, reportedly aided by angry, club-wielding civilians. A handful of tanks and at least a few dozen men in camouflage army uniforms were also present. Though past Tahrir protests had seen thousands of peaceful demonstrators defying police and remaining in the square by virtue of their sheer numbers, the increasingly small demonstration appeared to have been dispersed quickly.
After clearing the square, many of the riot police marched out in what quickly became a sort of parade celebrating the same state security that had been the subject of such scorn only six months ago. Civilian onlookers applauded and cheered. One man ran into their ranks, kissing several of the young policemen.
In a small side alley, about 20 armed men in army uniforms cornered a few dozen remaining protesters. After several tense minutes of shouting and angry gesturing, with soldiers and protesters alternatively rushing one another and then backing away, the two sides appeared to make peace. The soldiers stood aside as the protesters quietly and carefully walked away, apparently giving up on the protest that was clearly over. Within minutes, Cairo's notorious traffic was again flowing through Tahrir, where a small contingent of riot police and army soldiers stood casually in what only six months ago was the heart of Egypt's revolution.
Update: See video of the clash here.