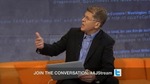 Eariler today I participated as a guest co-host of a new show and had an interesting discussion on Al Jazeera's The Stream on the real tough challenges facing Japan in the aftermath of the triple hits it took in the form of a devastating earthquake, tsunami, and nuclear catastrophe.
Above regular show co-hosts Derek Ashong, Ahmed Shihab Eldin, and I are speaking to Katz Ueno, publisher of YokosoNews on the ongoing high stress times in Japan.
The clip is about ten minutes along.