Is Saadi Qaddafi's Peace Plea Serious?
The soccer-playing son has never been especially violent -- for a Qaddafi, anyway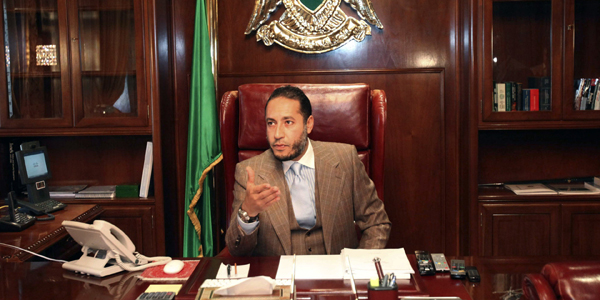 Saadi Qaddafi holding a January 2010 press conference form his Tripoli office / Reuters
Speaking to pan-Arabic TV network Al Arabiya by phone, Saadi Qaddafi today called for a "truce" and negotiated end to the civil war that has toppled father Muammar Qaddafi's rule in all but a few remaining corners of Libya.
One of the Qaddafi family's less prominent sons, Saadi is best known for a failed career in professional soccer (he was booted from a prominent team he paid his way on to) and a failed career as a Hollywood producer.
Now he's attemping a new role: peacemaker. Claiming to speak on behalf of his father, Saadi suggested a power-sharing arrangement with the rebel-led Transitional National Council. He also hinted that there would be "large battles" across Libya if his offer wasn't accepted.
For his own part, Saadi portrayed himself as an innocent bystander in the civil war, calling the rebels "brothers" and "thwar" (the rebels' preferred term for themselves, it translates to "revolutionaries"). He declared, "I would not raise weapons against any Muslim, Libyan or not Libyan." Maybe so -- but Saadi did once condemn several of them to death. Their crime was mocking his soccer playing and for dressing up a donkey in his soccer jersey. It all started when Saadi took over Tripoli's official soccer team, which had a long-running rivalry with the Benghazi team. From The Guardian:
Having already used his wallet to lure several Benghazi players to Tripoli, Saadi set about rigging games by bribing or coercing match officials, according to Said el-Medhdawi, who played for Al-Ahly in the 1960s and 70s, and is a senior executive at the state-run Afriqiyah airline.
He also rigged games, according to Guardian sources -- sometimes so outrageously that the Benghazi team attempted to stop playing in protest, only to be forced back onto the field by Saadi's personal bodyguards. After a few such humiliations, Benghazi soccer fans, in a bit of foreshadowing, held protests against Saadi's soccer autocracy. The young Qaddafi's response wasn't much better than his father's.
Several hundreds fans continued the protest at the team HQ and the demonstration spilled on to the city streets. In an extremely rare show of dissent, photos of Gaddafi were burned. The now-famous donkey made an appearance, clad in a shirt with Saadi's number.

"The donkey was very upset," joked Ahmed Bashoun, 71, a former Al-Ahly player who has worked in the club's management for decades.

... The club was hit with a further double punishment: relegation and an indefinite ban.

Though he did not attend the demonstrations, Bashoun, then 60, was among those arrested. He was sentenced to a year in jail without ever knowing the charge. Of the other 31 Al-Ahly fans or staff sent to prison in Tripoli, most were given sentences of between three and 10 years. Three men received the death penalty. Though it was never carried out, one of them killed himself, according to prison officials.
Few in or outside of Libya are likely to take Saadi seriously. But it might be easy to consider him relatively harmless, as many observers seem to, which is why it's worth remembering stories like the one above.
Also this afternoon, before Saadi had even finished his call for peace on Al Arabiya, his older brother Saif made his own call to the Al-Rai TV network. Saif was himself considered by much of the Western world to be relatively harmless, even friendly, right up until he went on Libyan state TV to warn of "rivers of blood" if protesters did not cease. When his own televised phone call began today, right after his brother's but apparently made from a different part of Libya, Saif insisted that his family victory was imminent. He added, "If you find anyone against us, kill them."