Is Chinese Growth Sustainable?
Confronted with diminished growth, China's newest five-year plan focuses on rebalancing an export-driven economy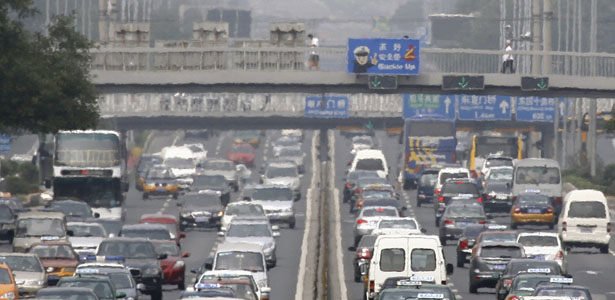 Reuters

I will reserve comments on Biden's China visit until his trip is complete, though I suspect there isn't going to be a whole lot to comment on. At this point, it has been about that
Georgetown basketball game
the vice president attended as soon as he left the Beijing tarmac.
For now, I wanted to draw attention to a
comprehensive report
on China's 12th Five-Year Plan (FYP) from
Eurasia Group
-- that economic rebalancing blueprint I've written about in various snippets in this space (for example
here
, 
here
, and
here
). Consider this something of a "magnum opus" of the 12th FYP then. (Yes, I contributed extensively to said report in my day job.)
It is more than merely a summation of what's in the plan, however. The "plan" is used as a window to explore China's political economy -- both its maladies and prospects -- writ large. As I've argued before, it would be a mistake to view this rebalancing as a five-year endeavor. It is more apt to think of it as a decade or longer process of adjustment that, if even three-quarters successful, will have substantial implications for both the Chinese and global economies.
For decades, China's blistering growth has depended on exports and investment. The country has become the world's workshop and lifted millions out of dire poverty. And for the first time in nearly two centuries, China has returned to a position of global power and influence. But this growth model is no longer sustainable and China's savvy leaders know it. They are committed to rebalancing the country's economy because their capital-intensive, export-oriented approach is delivering diminishing returns and threatens to become a major political vulnerability for the government.

Why is China's growth model delivering diminishing returns? The global economic crisis provided clear evidence that China's export-driven economy is vulnerable to dips in demand in the rest of the world. Meanwhile, its dependence on investment has introduced distortions and imbalances into the Chinese economy. China's monstrous $586 billion stimulus package in 2009 staved off severe hardship and effectively reinvigorated the economy. But most Chinese policymakers agree that rapid growth now looks less desirable and, more to the point, cannot be sustained under the current approach. Some policy advisers and economists have also warned that China could become trapped in a "lost decade" similar to Japan's if it does not change course.

The 12th Five-Year Plan (FYP), which runs from 2011-2015, is their strategic blueprint for doing so. Such plans are a legacy of the 1950s, when China's socialist economy was built around detailed plans that touched every aspect of economic life. But the 12th FYP aims to alter China's macroeconomic landscape in far-reaching ways, with effects that are likely to be felt for a decade to come. Eurasia Group does believe that Beijing will achieve some of its goals. But ultimately, the country's leaders lack the political stomach and sense of the moment to implement a comprehensive and ambitious rebalancing agenda. They have correctly diagnosed many of China's underlying economic challenges and have, at least on paper, prescribed many of the needed remedies. Yet, as innately conservative technocrats, their inclination to put off the toughest decisions about China's political economy means that Beijing will confront even starker choices down the road.

Failure to implement key portions of the rebalancing agenda will jeopardize China's economic trajectory. And over the longer term, such failures could also threaten China's political stability.

The next decade for China is arguable just as important, if not more so, than the last three combined. The curtains on the era of easy "catch-up" growth is being closed, and a transition to a prosperous and equal society is the fundamental issue facing Beijing. It's not that the Chinese leaders don't get what's at stake -- they know such a reckoning must be had. But recognizing what must be done is quite different from summoning the political chutzpah to achieve it. And so, the next ten years will prove to be fascinating ones for China and indeed for the global realignment that is slowly taking shape.