Ex-Member of Congress Detained in Libya Was on Vigilante Peace Mission
Walter Fauntroy may still be held in the Rixos Hotel, where Western journalists spent nearly a week until their escape on Wednesday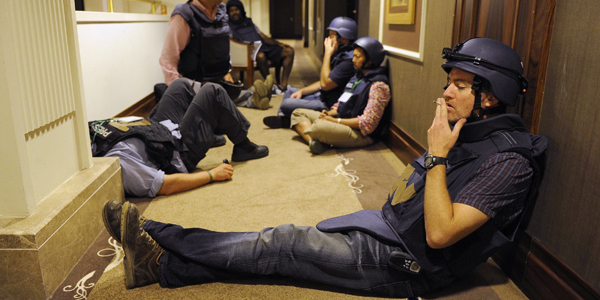 Members of the media gather in a corridor at the Rixos hotel in Tripoli August 23, 2011. REUTERS / Paul Hackett
UPDATE: Many of the journalists held at Tripoli's Rixos Hotel were allowed to leave, according to reports on Wednesday. Fauntroy's whereabouts are unknown.
Former U.S. member of Congress Walter Fauntroy, currently held in Tripoli's Rixos Hotel, had traveled to Libya on a self-appointed peace mission. His trip did not have his government's approval, though he appears to have planned to negotiate on behalf of his country, and came as a complete surprise to the State Department, government sources tell The Atlantic. Fauntroy is being detained by troops loyal to Muammar Qaddafi along with several Western journalists at the Rixos Hotel. It is not immediately clear if they is being held as hostages by the regime.
Fauntroy, a 78-year-old veteran of the U.S. civil rights movement and a Baptist pastor, served as District of Columbia's non-voting delegate to Congress from 1971 to 1991. He is currently serving as the president of the Global Campaign for Middle East Peace, which defines itself as a "multicultural, interfaith organization, launching an international campaign for peace in the Middle East with a primary focus on resolving the tragic conflict between Israelis and Palestinians." It's not clear if he was traveling on behalf of the group, the website for which -- a WordPress blog -- lists no contact information.
Walter Fauntroy in the Rixos Hotel / AP
U.S. officials said they could confirm that the purpose of Fauntroy's Libya trip was, as he has said, to broker peace there. CNN reporter Matthew Chance, who is also at the Rixos and has emerged as a sort of informal spokesman for the journalists there, also confirmed on Twitter that Fauntroy was present and "was on a peace mission." Chance has also detailed the group's efforts to remain safe and secure food as fighting rages outside.
Though sitting members of Congress require State Department approval for diplomatic trips, former members such as Fauntroy do not. Still, his visit and captivity have complicated the State Department's already difficult dual mission to protect Americans in Libya while working toward the Qaddafi regime's end. His detention by loyalist troops will strengthen Qaddafi's hand in any negotiation with the U.S. or NATO.
It appears that Fauntroy may not have traveled to Libya on behalf of anyone but himself. Even his wife appears to have been taken by surprise. A statement put out by Eleanor Norton Holmes, Fauntroy's successor, notes, "Mrs Fauntroy did not know the circumstances of Reverend Fauntroy's visit to Libya. He told her of the trip only shortly before his departure in order to prevent her from worrying." Whatever the merits of his decision to leave his wife mostly in the dark, it's curious that Holmes went out of her way to point out, apparently unprompted, that Mrs. Fauntroy did not know the purpose of her husband's visit.
"I came here over a week ago now and have been working on a long term effort to rally the genuine spiritual leaders of the world ... to work out a peace agreement," Fauntroy told the U.K. Telegraph. He requested, "As a minister who believes in the fervent and effective prayers of the righteous" for well-wishers "to pray for deliverance for not only us, but the press corps with whom we have been quartered here, in an effort to carry out our peace mission." Fauntroy's pious Christian language may have aided his work in the civil rights movement, but it was unlikely to serve him well in Muslim Libya or in negotiating with its somewhat secular government.
Norton's statement added that Fauntroy's wife expects his return soon. "He is in a safe place in Libya and expects to return to D.C. later this week to attend the official unveiling of the Martin Luther King, Jr. Memorial," it read. But, as Qaddafi's situation worsens and the Rixos remains locked down by loyalist troops, his status may not be so clear. Fives day into their captivity, it's unclear why troops will still not allow them to leave. There is some evidence that Qaddafi or member of his regime may be holding them as unwitting bargaining chips with the Western governments leading NATO's air strikes. Whatever the nature of their detention, hopefully Fauntroy and the journalists will return home soon as the former Congressman's wife expects.