Cameron's Promise: Every Looter Will Be Caught
Thousands of rioters have been caught on tape; British officials now have the task of identifying every single one of them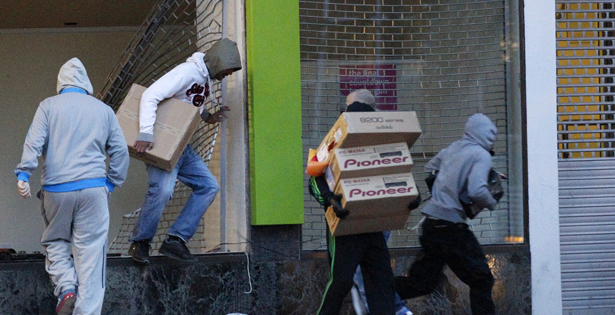 Darren Staples/Reuters
In an emergency session of the British parliament called in response to the lawlessness and violence that has swept through neighborhoods in London and several other cities, the country's Conservative and Labor leaders were united in sounding a tough law and order tone and calling on greater individual and parental responsibility.
Prime Minister David Cameron promised to ensure that every looter was caught, brought to court, and sentenced, and that "phony human rights" concerns would not get in the way. Images from CCTV cameras would be published, and police would be given powers to require individuals to remove their masks. The police and intelligence agencies were considering measures to limit the use by looters of social media to communicate, Mr. Cameron said. His call elicited muted opposition, at most, from Labor.
The whole country has been shocked by the most appalling scenes of people looting, violence, vandalizing and thieving," Cameron said at the beginning of his statement to what appeared to be a full house of parliamentarians sitting on long rows of green benches. "It is criminality pure and simple. And there is absolutely no excuse for it."
He briefly recounted the events of the last week, which began when a 29-year-old black man was killed by police in Tottenham last Thursday during an ongoing police operation to crack down on gun use and gang violence. The police said the man had fired on police, which turned out to be false.
The killing led to peaceful political protests, but by Saturday these had degenerated into marauding and looting. (One of the best looks at the face of the looters was an article in the New York Times on Thursday, "London Riots Put Spotlight on Troubled, Unemployed Youths in Britain," by Landon Thomas, Jr.)
Already, some 1,500 individuals have been arrested, many after their faces were caught by CCTV. There are some 4 million CCTV cameras throughout the country, or one for every 14 residences, making Britain the most monitored society in the world, surpassing even Singapore.
Questions have been raised whether the publication of the CCTV images, as a kind of "wanted" posters, violated Europe's human rights act. Cameron was adamant that the pictures would continue to be broadcast: "No phony human rights concerns about publishing photographs will get in the way of bringing these criminals to justice."

In his opening statement, Labor leader Ed Milliband commended the prime minister. His criticisms focused on the government's planned budget cuts, particularly a planned six percent cut in police budgets. Cameron said the cuts would not affect future policing. Milliband also called for a commission of inquiry to look into the underlying causes of the violence -- though he was quick to add, "to seek to explain is not to seek to excuse." Cameron rejected this as not necessary at this time.

After Milliband finished, Cameron stood at the lectern as members of parliament threw questions at him, many of them quite pointed. A Conservative member called on the prime minister to repeal the "insidious human rights legislation." Another member, referring to Washington's round up of demonstrators against the Vietnam War, suggested holding rioters here in the sports stadium at Wembley. Mr. Cameron rejected this.

From Conservatives also came calls for the police to use tear gas, plastic bullets, and water cannons.

Most questions from Labor concerned budget cuts. There was a noticeable lack of any concern that any of the tougher measures announced by Cameron would infringe on human rights. One Labor member even called for more CCTV cameras in her district.

The session lasted more than two hours. Then the country's top economic official, Chancellor of the Exchequer George Osborne, addressed the parliament about the world's economic turmoil.