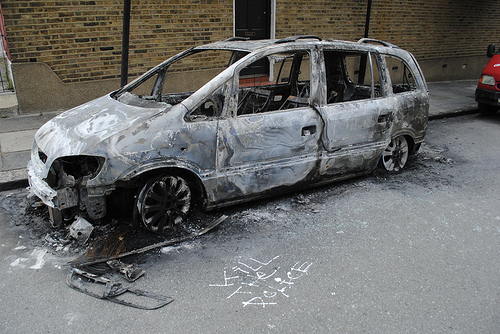 by user Tom.Kay/Flicker
Riots broke out in Tottenham this weekend after a 29 year old suspect gang member was killed by police (apparently carrying guns, though my memory is that most British police do not); friends and family, who said that the police fired first, gathered at a police station, and the explosive situation eventually turned violent.
The British police are under fire for failing to control the resulting looting.  Which offers up a jarring but almost charming note from an otherwise sobering story:
The Metropolitan Police said it was focused on containing violent disorder in Tottenham on Saturday night, which left dozens of officers injured and saw squad cars, shops and flats burned to the ground. But its tactics meant gangs of youths were free to break into stores at nearby Tottenham Hale retail park and in Wood Green, with looters forming an orderly queue in broad daylight to steal from a sports shop
It seems nothing, not even a riot, can conquer the British queuing instinct.  They would form an orderly line at the gates of hell.