A Syrian Activist Speaks From Damascus
A young man involved in the opposition movement discusses the mood in Damascus, his torture, and what activists want from the outside world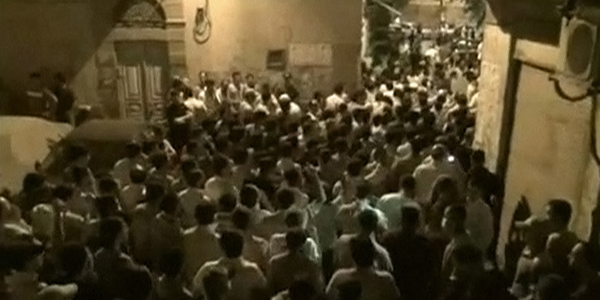 Still from an activist-recorded video shows protesters chanting slogans in the Al-Midan area of Damascus / Reuters
One of the more pernicious myths of the Syrian uprising is that the country's capital is "quiet" and therefore the movement is more of a countryside phenomenon that lacks the sufficient backing of the metropolitan elite. In fact, the protest movement first took hold in Damascus' Old City on March 15, as a group of 40 people gathered in the al-Hamidiyeh souk chanting, "God, Syria, Freedom -- that is enough." The following day, March 16, 150 demonstrators convened outside the Ministry of the Interior building in central Damascus to rally against the jailing of 21 human rights activists. One protester, Suhair Atassi, a veteran human rights campaigner, was severely beaten by security forces the previous month after she attended a candlelight vigil in another part of the city. Since the early months of the uprising, the outlying suburbs of Damascus have been a hotbed of protest that have been met with the same barbaric reprisals documented in Deraa, Homs, and Hama.
This past weekend saw two separate but galvanizing events that show anti-regime agitation persists in Damascus. First, there was the savage attack on celebrated Syrian cartoonist Ali Ferzat by regime security officials, which has led to a Facebook campaign of Syrians adopting the artist's portrait as their profile photos (there's also this eloquent tribute to his defiant spirit.) The 60-year-old satirist, whose hands were broken, has long mocked Arab dictators with his pen; he was once threatened with death by Saddam Hussein. Early Thursday morning, masked men assaulted him up in his own car, then forced him into an SUV, beat him again, and dropped him by a roadside in the middle of nowhere. He was only discovered hours later.
Next, Saturday's prayer gathering at the Al-Rifai Mosque in the Kafar Sousseh neighborhood of Damascus became an act of opposition. Worshipers at the mosque, chanting revolutionary slogans, attempted to take to the streets but were trapped inside by security forces and shabbiha gangs, which then stormed the mosque. The regime forces used live rounds, rubber bullets, tear gas and electric tasers on the worshipers, two of whom were killed; the imam of the mosque, Sheikh Osama Al-Rifai, was also injured in the melee. (Here's a
video
of the cleric in hospital.)
Because they live at the epicenter of a police state with 17 different intelligence apparatuses, Damascenes have had to use art, music, and religion as the main tribunes of disgust and revolutionary fervor. Water fountains in the capital have been colored with red ink, samizdat leaflets have been left in microbuses headed toward Assad-friendly neighborhoods, and helium balloons have been floated in a manner redolent of Belarus's slightly absurdist but still provocative bouts of spontaneous "clapping". Messages have even been painted on stray cats.
One Damascene I spoke with recently over Facebook instant messenger, a Palestinian man I'll call Yusuf, explained how the revolution has registered -- and been horribly repressed -- right on Assad's Damascus doorstep.  I was put in touch with Yusuf through a Syrian oppositionist I've befriended through my work at the Henry Jackson Society. Without giving away too much that might compromise Yusuf's anonymity, I can say that he's a young man involved in the Damascene art scene. He can't flee Syria because his name is on the border guards' list of suspects. Our go-between explained, "He's scared that the regime is going to rape his sisters. He and his friends used to integrate fine with everyone. Now they're hiding in their homes."
Yusuf's story is one that I've come to see many times in the Syrian revolution: youth undaunted by the depredations of a totalitarianism. His photos on Facebook suggest a happy, cosmopolitan life. When I offered to try and help him emigrate (by petitioning the UK Home Office, say, or calling UNRWA), he demurred but thanked me anyway and hoped that we might meet someday in a free Syria. Here's what he told me.
What is the mood in Damascus like now?
Anger and frustration.
Do you think most of the city is against the regime?
Damascus is so diversified demographically. Some people are silent because they are afraid. Some are with the regime. They came from other cities and villages and they work here as they don't have any other job opportunities in other places So the economic factor determines their thinking.
How do you see the revolution developing now? Will sanctions from the U.S. and Europe help bring Assad down, or will you need a military intervention?
We are not developed at the planning and management levels. We say we are against military intervention but we know this regime is so strong that it can't be brought down realistically by peaceful protests. We have been into this for six months now. But sanctions alone are not enough. This is something for sure. There is a lot of money in the hands of the regime. They control the country's resources.
Won't the regime eventually run out of money?
They cannot run short of money any[time] soon. It will take years. They don't spend money on public services and they will go further with this. They can get the support from Iran. No matter how marginal it is, Iran will back them.
Do you think the army will defect?
The problem is not with the army though it is a major factor in this struggle. The problem is with the security forces. The army doesn't go with tanks into narrow streets which is the architecture with most cities in Syria.
But the economy is suffering. The business class in Damascus will suffer soon. I've heard rumors that shabbiha gangs have quit because of lack of payment. Is that true?
There's been no evidence of this. We hear such things here too. But we don't count on any of it. It's so empowering to hear such rumors but they're not true. Taxi drivers in Damascus (most of them are security agents) keep talking to us about how Sunnis want to kill Alawites. So it is a matter of survival for them.
So what can the West do at this point to help the opposition?
Have consistent rhetoric, an escalating tone. Like you heard Clinton say that Gaddafi will fall in few days. Then he stays for months -- until we hear it from a military man and it comes true. They keep saying Assad is losing his legitimacy. We know this. So there is no real added value about this. Same with Turkey.
But Obama said that Assad must go. That was a big announcement.
It was, yes. So I am saying that if they want to have any rhetoric let it be this way, escalating and consistent. Turkey can impose a safety zone. Air cover above Syria maybe to make the regime feel naked and spotted. And let Google Earth for God's sake share some of its private images [of Syria]!
Can we talk about your arrest?  What happened to you?
You mean the interrogation?
Yes. What did they arrest you for, what was their excuse?
Many things, that I wrote anti-regime statements and articles. I criticized Bashar's first speech, wrote about Rami Maklouf, wrote about how they treated the children in Deraa and how "Salafist" it is to stop electricity and break pens.

I know this must be difficult, but can you describe what it was like in prison?
They blindfolded me and insulted me. The beatings started in the car. I was taken to an unknown destination. They ordered me to take off my clothes, then wear them again. I was in a single cell until midnight. Then they beat me again with my eyes covered. I was asked questions, then taken back to my cell. I got to eat three times. The bread and the plate [of food] was delivered through the upper small window in the iron door.

How did they beat you?
With their hands and with a cord. It was hard to know what they were doing, I didn't see it as my eyes were closed. They also hurt my legs when I was on the ground. When I screamed they said, "You're screaming like a bitch... Now you're so scared!?" They also insulted my family and my origins, I'm Palestinian. They'd taunt me, "Why didn't you go and fought Israel?" Then they'd hit me again. They took me back to my cell, then to another area of the prison which I could see. They'd said I was going home now, and it turned out they were "joking." So I was taken to another area and beaten and asked to remove my clothes again. I was asked about my personal life and sexual relations, if I drank or not. I said I did. They asked what kinds of drinks. I said vodka and beer and wine only. They asked, "You don't drink arak?" They made fun of me. They were bunch of lazy and ill-mannered guys. I was kept awake until 4 o'clock in the morning, with loud voices playing from the recorder.
How long did they detain you?
Five days only.
When they let you go, did they warn you not to write or say anything else? How did they threaten you?
I went to the court. The judge didn't want to release me in the first place. He wanted to send me to prison right away, until I had my court.
But then I negotiated with him, and I said "I can't, I'm so tired. I can't go back to prison." Then two charges were set against me -- that I was attacking the dignity of the nation and sowing public disorder -- and I was temporarily released. When Bashar offered amnesty to political prisoners, the case was dropped automatically.
You're trying to get your family out of Syria now.
Yes.
Where would you go? Lebanon? Turkey? If you're Palestinian, can't UNRWA help?
I was planning to go to the United Arab Emirates, but they don't give visa to Palestinians. So maybe no one can help.  UNRWA has taken its distance from everything since day one. Anyway, I can't myself leave the country. I want my family out. It's hard to decide. When I see Ali [Ferzat] or others being beaten and killed everyday, I say I cannot leave. My name is definitely on the borders guards' list.  So it's hard to tell what to do and why you are doing this and not that. I can't stop protesting. Every protest is a story. We finally can shout. We can hear our own voice.