Painting Mao: Stunning Photo of China's Leading Political Artist
Inside the studio of the reclusive Ge Xiaoguang, who paints the iconic portrait of Mao Zedong displayed in Tienanmen Square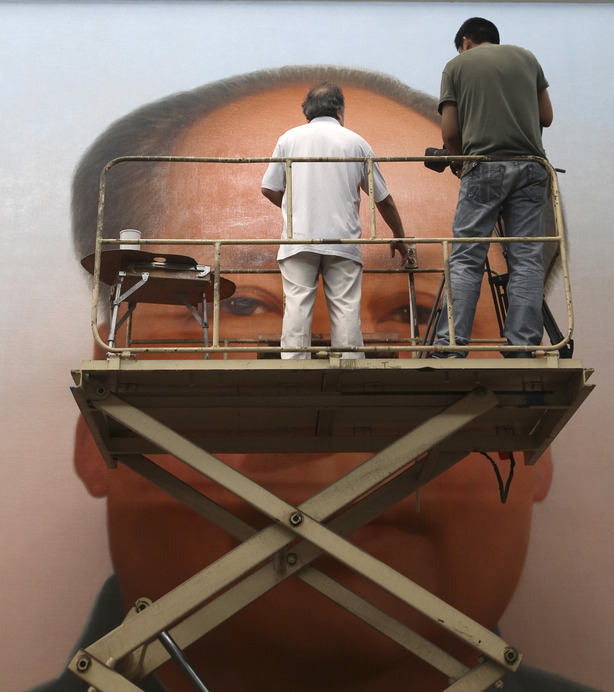 "It is not just a painting," the University of Chicago art historian Wu Hung
told The Los Angeles Times
in 2006, speaking of the roughly 300-square-foot portrait of Mao Zedong that has gazed out at Tiananmen Square for decades, virtually unchanged since the 1950s. "It represents Mao himself. People were supposed to worship this image. They wanted to take the artistic and human elements out."
And, Hung added, "Nobody is allowed to ask who did the image. It just magically appears"—replaced with a fresh portrait each year.
Reuters, however, in advance of last week's 90th anniversary of the founding of China's Communist Party, impressively managed to gain access to the studio where the artist Ge Xiaoguang paints the giant portrait, which he has been solely responsible for since 1977. Here he is, crafting one of the world's most significant pieces of political art—a painting that, in an era of relatively few true dictatorships, is a stunning reminder of how visual culture and real-world power have always been intertwined. (More on this in Maria Popova's "The Power of Design: Totalitarian Regimes—and Their Brands," her look at Iron Fists, by Atlantic regular Steven Heller.) As Ge told Reuters, echoing the words of Wu Hung, "It is not just piece of art. It represents China's spirit and the emotions of an era."
Image: Barry Huang/Reuters