Not Only Murdoch: Assange on Trial
Graphic sex talk at Julian Assange's extradition trial is practically going unnoticed--but not by Assange's new legal team, which is fighting to keep him in England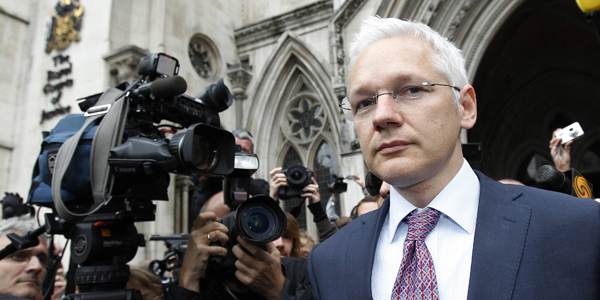 Reuters
London -- Amidst the sound and fury over the phone hacking scandal here, and speculation about who of Rupert Murdoch's minions might end up in the dock, another high-profile international figure, the Wikileaks founder Julian Assange, was back in court hoping to avoid being hauled into the dock in Sweden.
He has a new look -- almost statesmanlike, with silver hair, dark suit, broad collar white shirt and tie -- and a new demeanor: more humble and sealed lips to the gaggle of reporters. All on the advice of his new defense team, which has adopted a more low-key, less confrontational, approach -- in marked contrast to the rhetorical flourishes of his previous lawyers, which often seemed designed more for the court of public opinion than the judicial court. His previous lawyers had suggested that if Assange were sent to Sweden, he might eventually end up in Guantanamo and even face the death penalty, a claim that even some of Assange's supporters found preposterous.
The issue in court now has nothing to do with Assange's leaking of thousands of pages of highly classified U.S. government documents, but whether he should be extradited to Sweden to face charges of rape and sexual assault.
Since Sweden issued an arrest warrant, Assange has been under house arrest here for seven months, staying at the country estate of one of his wealthy supporters.  He celebrated his 40th birthday there this week with "wikicupcakes" and a party for 100 friends, The Guardian reported this morning.
The court proceedings have ranged from discussions of dry legal issues -- who has the authority to issue a warrant? -- to what sounded like a script for an X-rated movie. The Guardian has been reporting the hearing, which began yesterday, live.
Displaying a more conciliatory approach than Assange's former lawyers, Assange's new lawyers have conceded that the two Swedish women were reasonable in finding that his conduct was "disrespectful, discourteous or even pushing at the boundaries of what they felt comfortable with." His lawyer, Ben Emmerson, described what happened with one of the women, identified in the Swedish complaint as AA. She was a member of a group that had invited Assange to Sweden, and had said that he could stay at her apartment. As transcribed on The Guardian's website, Emmerson said,
They lay down in bed. AA was lying on her back and Assange was on top of her ... AA felt that Assange wanted to insert his penis into her vagina directly, which she did not want since he was not wearing a condom ... She did not articulate this. Instead she therefore tried to turn her hips and squeeze her legs together in order to avoid a penetration ... AA tried several times to reach for a condom, which Assange had stopped her from doing by holding her arms and bending her legs open and trying to penetrate her with his penis without using a condom. AA says that she felt about to cry since she was held down and could not reach a condom and felt this could end badly.
Emmerson went on that there had been consent, because after AA told him that she wanted him to use a condom, "Assange let go of AA's arms and put on a condom which AA found him."
Whether the condom then broke or Assange pulled it off is a matter of dispute.
As for the second woman, identified as SW, whom Assange had met at one of his talks in Sweden, the allegation is that Assange penetrated her unprotected while she was sleeping, which is rape under Swedish law.
Emmerson argued that when SW awoke, she "let him continue."
The lawyer for Sweden, Clare Montgomery, ridiculed this. Emmerson was "winding the law of consent back to the 19th Century," she said. "At best, the words 'I let him' amount to submission, not free consent." Furthermore, she argued, while SW may have later acquiesced, "that didn't make the initial penetration anything other than an act of rape."
Near the end of today's hearing, the following exchange occurred between Assange's lawyer and the judges, to laughter in the courtroom.
"He's lying beside her in a single bed, my lord," Emmerson said, addressing the justices as they are here. "Men will get erections involuntarily during a night's sleep. In a single bed with a man there's a strong possibility she will come into contact with an erect penis."

"I agree," said the justice. "The question is what he does with it."
All this graphic talk about sex by bewigged lawyers is somewhat of a sideshow. The bewigged judges have to decide whether under the law what Assange is alleged to have done is an offense for which he can be extradited, under European Union and British law. The odds are that he will be.
Justice Thomas may have captured it best when he said this morning, "a huge amount of time and publicity has been given [to this case] that is in no one's interest."