Map: Which Countries Use the Death Penalty?
Tomorrow, the state of Texas is scheduled to execute a Mexican citizen named Humberto Leal Garcia. Throughout his trial, Texas denied him access to or legal consultation from his government, violating the U.S.-ratified Vienna Convention on Consular Relations. The state's decision to defy the convention and its use of the death penalty have drawn international condemnation.
"The international reaction to Garcia's case demonstrates just how isolated the U.S. is in its support of the death penalty," Nicole Allan writes today at TheAtlantic.com. "According to Hands Off Cain, an anti-death penalty organization, only 43 of the nearly 200 countries that participate in the UN routinely use capital punishment. In the U.S., 34 states execute prisoners."
If we're isolating ourselves in our use of the death penalty, whom are we isolating ourselves from? But there are two sides to every coin -- if we're isolating ourselves from non-death penalty countries, then surely we are ingratiating ourselves with countries that do use the death penalty.
This handy map from Wikimedia Commons shows how the world divides between countries with the death penalty (red), countries without (blue), countries that employ it only under rare "special circumstances" (green), and countries that legally retain the death penalty but have not used it in at least 10 years (orange).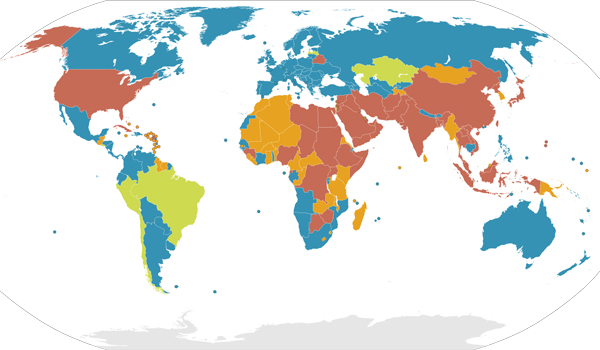 The club of prisoner-executing nations is an inauspicious one. You've got the world's great dictatorships and autocracies (Iran, Zimbabwe, China, North Korea, Syria, Saudi Arabia, Libya, Egypt, Ethiopia, Cuba, Belarus), it's most failed and failing states (Somalia, Afghanistan, Pakistan, Sudan, Congo, Chad, Yemen, Guinea, Bangladesh), not to mention the entire Middle East save Israel.
So who's left? Which countries use the death penalty but are neither among the world's most failed states nor its most autocratic? The outliers make a strange list: India, Japan, Nigeria, Uganda, Botswana, Indonesia, Malaysia, Thailand, Vietnam, Kuwait, Oman, Lebanon, Jordan, the United Arab Emirates, Iraq and the United States. This is our league of capital punishment nations. Whatever the legal, ethical, social, and political arguments for and against the death penalty, its role in U.S. foreign policy, especially at a time when we are trying to convince leaders around the world to loosen restrictions and democratize, can be burdensome.