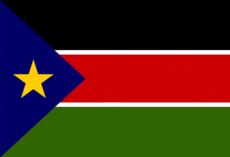 Just about every week I get an invite from a DC-based foreign diplomatic mission to attend a "national day." 
I love these gatherings and am somewhat heartened to see Members of Congress and Senators out on the circuit not just lining up future consulting contracts but sending the signal that the global community matters, that having a passport is something of which to be proud, and that a key part of American leadership is listening to what the rest of the world is saying.
I look forward to getting an invitation from the future Republic of South Sudan Ambassador to the US to join him or her on South Sudan's "national day" - which will be July 9th, or today - when this new state came on to the international stage.
This morning, US Ambassador to the United Nations Susan Rice helped punctuate South Sudan's birth with an impressive statement of support.  Former Secretary of State Colin Powell - who signed the Comprehensive Peace Agreement on behalf of the US - is with her at the new statehood ceremonies along with Congressman Donald Payne and Ambassador Princeton Lyman, who doggedly worked this Sudanese civil war towards a partly constructive track.
Rice committed America to standing with South Sudan as it works through a mountain of challenges that will test the solvency of its creation - but importantly, she left "responsibility" with the South Sudanese.  That's exactly right.