Is Jiang Zemin Dead? Real-time Illustration of News Control in China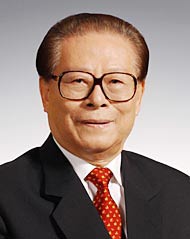 For the past 24+ hours, anyone following various social-media feeds* about China has seen rumors, then official denials, then silence, about the possible demise of former president Jiang Zemin, shown in his prime at right. Jiang would turn 85 next month.
For another time, an assessment of what Jiang has meant, the differences between him and the current regime (and the regime about to take control), his family's role in China, and all of that. The fascinating part at the moment is the gap between the speed and back-and-forth of the unauthorized discussion of his condition, and the ponderousness and opaque nature of official statements. An item two hours ago in the WSJ's China Realtime Report illustrates the extreme heavy-handedness of the news control. For instance: Jiang's name in Chinese is 江泽民, with the first character, 江, being his family name. That character, jiang, literally means "river" -- and in the past few hours, any search for info about China's big rivers on Sina Weibo (China's Twitter counterpart, the real Twitter being blocked in China) comes up empty. As Josh Chin of the WSJ says:

>>In addition to "river," the company has also blocked searches for "death" in various iterations as well as "301 Hospital," a reference to the People's Liberation Army General Hospital in Beijing where top leaders are often treated.





Beyond blocking searches, the service's human censors have also been busy hand- deleting posts that mention the former leader.



Chinese microbloggers have employed a variety of tricks in an apparent attempt to get around the blocks. With Weibo censors blocking searches the word for "hung" (挂了), a common Chinese euphemism for death, users have been circulating an image showing an empty set of clothing hanging out to dry, pants hiked up to chest level the way Mr. Jiang preferred.<<

I wish Jiang and his family well. He has been out of power for nearly a decade. The government's difficulty in handling even the most basic info about his health is one more illustration of the unevenness of its emergence as a full-fledged world power. It will be interesting to see what the government finally says about him, when it does.
___
*Another real-time report: I have found the stream of info from people in my "China" circle, on the week-old Google+, to be a very useful source of updates here. More on that later too.

UPDATE: This email from Michael Standaert in southern China:

>>More from the rumor mill, via an odd route: Just heard from a young acquaintance here in Shenzhen over QQ that Internet game operators he knows have been given notice not to allow any Internet gaming tomorrow, so he was speculating that an official announcement about Jiang Zemin will come tomorrow.<<

The main point, again, is the government's incredible awkwardness in handling health news about an 84-year-old man who has been out of power for a decade.
Update-update. Courtesy of Adam Minter, this headline just now from the (anti-government) Epoch Times: