How Daredevils Are Reimagining Urban Spaces (Video)
An architecture lesson from the world's parkour enthusiasts: You can't move a staircase, but you can change how you move over it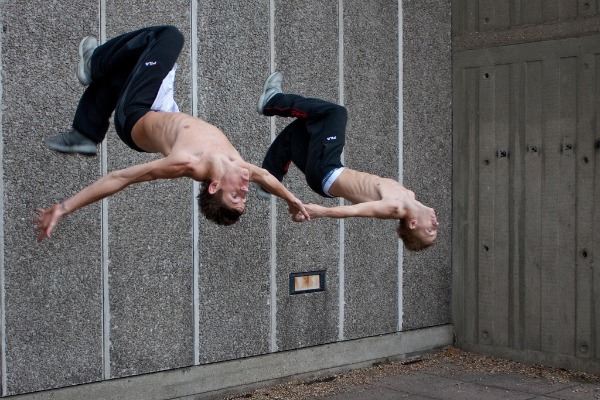 Parkour, shown above, can seem like nothing more than a thrill for the extreme-sports crowd—or a surefire path to a couple of broken arms. But as
a recent blog post
from the American Society of Landscape Architects provocatively puts it,
the sport
, which consists of non-competitive running, climbing, and jumping across a cityscape, is something else entirely: a game that fundamentally redefines what a city can be.
The ASLA doesn't stop there. There's also the well-documented "planking" phenomenon, in which people lie down (plank-like) in heavily trafficked public places, as well as urban golf and yarn-bombing and probably much more—all of which show how urban environments are being transformed into "playscapes" and "sites for new creative expression." Somehow, parkour seems different, though. Anyone can lie down in a public place and "plank," but parkour's aggressive physicality seems like an especially intense form of self-expression and self-endangerment amounting to a single explosive statement: We are not using this space the way we are meant to.
It's a message that's poetically captured in My Playground, a 2009 short film by the Danish filmmaker Kaspar Astrup Schröder. Parkour and "freerunning" enthusiasts (the terms differ slightly in meaning but are more or less interchangeable) team up with Danish architect Bjarke Ingels to explore how the sport can change our understanding of urban architecture. A short, jaw-drop-inducing preview clip is embedded below; you can stream or buy the full film here.
"What's fascinating is the way of transforming the city. Because you can't change it physically—you can't go and move the light post or the staircase—but you can change the way you are looking at it and the way you use it. And in that way make it your own." —Signe Højbjerre, freerunner, Team Jiyo
Bonus: Bjarke Ingels speaks about the past and future of cities at TEDGlobal 2009.
Top image: JB London/flickr