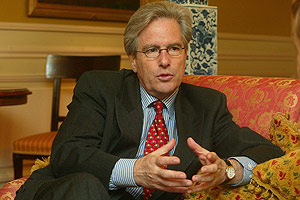 Over the last couple of years, I have been increasingly impressed by the work and thinking of Georgetown scholar and now outgoing Assistant Secretary of State for Western Hemispheric Affairs Arturo Valenzuela.
I didn't start there.  When Obama Land was picking its team, I had held some private doubts about Valenzuela when I first learned he might land his current job as he then appeared to me as part of the 'preserve the status quo establishment' on US-Latin America relations.  Many Democrats and Republicans in this business are essentially values-crusaders with no sense of the damage that the US-Cuba Embargo has done to American national interests and very little understanding of the costs of US arrogance to relations across the region.  I couldn't have been more wrong. 
Valenzuela is a serious, pragmatic strategist about America's national interests in the region.  He came in to his current position in turbulent currents just as Senator Jim DeMint was squaring off the with the State Department and White House over who DeMint wanted to be the leader of Honduras in what was perceived by many to be a coup against the legitimate President of that country.
Wanting to know more about Valenzuela's thinking I went to see him after he overcame the long "hold" that Senator DeMint had placed on his nomination and got an extraordinary tour de force not only of America's interests in the region but heard a thorough inventory of how leaders in the region saw America's behavior and actions.  He is an active listener -- and spent a great deal of time hearing out the issues bubbling in many frustrated nations to America's south.