Why Turkey Is Backsliding on Women's Rights
The ruling party's political rhetoric -- and its odd reorganization of government ministries -- has women worried that the government wants to reassign them to a more traditional role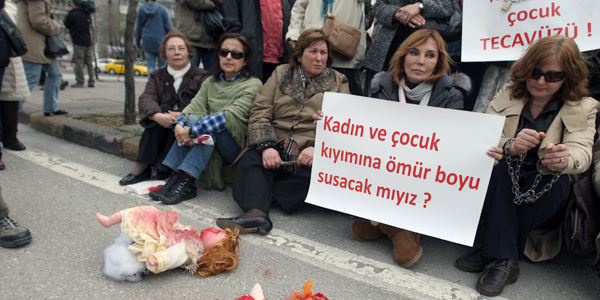 Turkish women demonstrate outside the parliament to protest the state's failure to stop the rape and killings of children and women in Turkey. The banner reads, "Will we eternally keep quiet on the violence against women and children?" / AP
ISTANBUL, Turkey -- The night of the Turkish parliamentary elections, five of Turkey's 78 newly elected female members of parliament appeared on a local talk show to discuss their plans once in office. Two were from the opposition Republican People's Party (CHP), and three came from the Islamist Justice and Development Party (AKP). When the conversation turned to violence against women -- approximately 45 percent of Turkish women aged 15 to 60 have experienced physical and/or sexual violence during their lives -- one of the AKP representatives erupted with an astonishing accusation.
"What do you have against family values? What does the CHP have against the family? It is family values that we stand for! Thank God for the family!" she shouted.
"Thank God for the family!" she continued. "Thank God for the family!"
She repeated it four more times for good measure, seven times in all, recalled Safak Pavey, one of MPs from the CHP who was also on the show.
But even without her outburst, there was no mistaking the AKP's stance. In a cabinet shake-up the week before the elections, Prime Minister Recep Tayyip Erdogan announced the dissolution of the Ministry of Women and Family Affairs and its replacement by a Ministry of Family and Social Policies. "We are a conservative democratic party," he said. "The family is important to us."
That message resonated with voters, who handed the AKP 325 seats in the 550-seat parliament with nearly 50 percent of the popular vote. Millions of women voters -- 55 percent of them, according to newspaper reports -- voted for the AKP. Less tradition-minded candidate did not fare as well. Benal Yazgan, an independent candidate whose campaign platform focused on women's issues, received a mere 700 votes in her district. But Fusun Yurtman, a retired engineer and board member of the newly formed Women's Party Initiative, which supported Yazgan's run, was hardly swayed.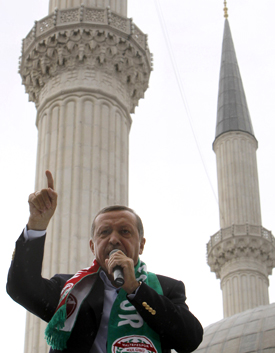 Prime Minister Erdogan in front of an Istanbul mosque. AP
"They just erased women," she said of the AKP. "They are saying that it's the family that's important and the woman is just a part of it."
The move worries Emma Sinclair-Webb, a researcher for Human Rights Watch in Turkey who helped prepare a recent report on violence in the family, "He Loves You, He Beats You."
"Losing the word 'women' in the title subjugates their issues to just one among many," she said. "It's putting women in a category with other groups who supposedly need protection: children, the families of those killed in action, the elderly, the disabled. It's a very backwards step."
Since the founding of the Republic of Turkey in 1923, "the woman question," as it was then known, has been a tricky one. Early reforms modeled on Western ideals empowered women in the public sphere -- especially in such areas as education, political enfranchisement, and dress -- but left the private sphere (and most of Turkey's rural population) untouched. According to Boston University social anthropology professor Jenny B. White, what she describes as top-down "state feminism" never empowered women as individuals.
Even though Turkey's new penal code, adopted in 2005, does enshrine individual rights, a more traditional concept of rights still holds sway, she told me.
"The implementation on the ground is still based on women as members of the community," White said. "You have rights because you're a bona fide member of the community. But if you break the code in any way, you may lose your rights, and people may sanction you with impunity, because you did something wrong. It's your fault."
On election night at the AKP headquarters, 20-year-old party activist and English literature student Hülya Içöz did not seem concerned with signs that women's rights in Turkey could be under attack. The AKP had just opened a new women's branch, she said, and women were extremely active. That few women were in decision-making positions did not seem to bother her.
"It will change," she said confidently.
Elmira Bayrasli, a Turkish-American writer on women and development issues, suggested that to the AKP's socially conservative base, Erdogan, his policies, and his lifestyle are already progressive. His supporters appreciate his ability to temper the government's embrace of capitalism, symbolized by the dozens of chain stores and restaurants mushrooming all over Turkey's cities, with enough traditional rhetoric to soften the transition from an agricultural and rural society.
"He marches out with his wife Emine and travels with her," she said. "By bringing out his covered wife, he's making it normal for them to be modern citizens."
In its nine years as the ruling party, the AKP has passed some impressive legislation on women. In May, they signed Turkey on to a new Council of Europe Convention on Violence against Women and Domestic Violence. The government passed a Labor Law in 2008 promising state contributions towards Social Security costs for female employees for five years. In 2010, an AKP-appointed education minister overrode a Constitutional Court's ban on the headscarf in public institutions by directing all universities to permit covered women on campuses, allowing millions of observant female students to access higher education for the first time. And despite the ban, covered women do work in some government offices, although they say they still face discrimination.
But the implementation remains spotty at best. For example, current legislation stipulates that any municipality with a population greater than 50,000 should have a domestic violence shelter, but the government is more than 100 shelters short. The total combined capacity for the 50 or so shelters that currently exist runs to just over 1350 people, hardly sufficient to ensure the safety of the 11 million women who have faced or are facing physical or sexual violence in Turkey, according to estimates by Human Rights Watch.
And according to a study by Binnaz Toprak, a sociologist and newly elected MP from the CHP, conservative values and economic forces, not headscarf bans, keep women out of school and out of the workforce, where they participate at a rate of 27 percent. A study she conducted in 2004 found that 0.5 percent of women named the headscarf as the reason they didn't work; far more cited having to take care of children (23 percent), that men in their family didn't want them to work (18 percent), or the inability to find a job (17 percent). In 2010, the budget for what was the General Directorate on the Status of Women was the lowest of any government agency.
At times, the Prime Minister's own rhetoric appears to contradict his stated commitment to women's rights. Ask any feminist about him and they quickly tick off a number of derisive off-hand comments ("Erdoganisms," you might say) he's made in public that suggest he's far more traditional than his legislative achievements would have you believe. Many women interviewed for this article recounted him saying that he "does not believe in gender equality," and and that Turkish women should have at least three children, although he opposes publicly-provided child care.
Sounding a lot like an Egyptian general, he recently said on television that he didn't know whether a woman arrested in a violent protest was a "kız" (a young virgin) or a "kadın" (an older, sexually experienced woman), a remark that riled even one of his supporters, Kubra Ozguven, a 23-year-old software engineer who divides her time between Turkey and Canada.
Although she approves of the AKP's economic and foreign policy, Ozguve said she felt "ashamed and humiliated" by his insinuations. "It was embarrassing to hear such an archaic language openly from my prime minister," she said. "His comments cement the age-old beliefs on gender inequality."
Ceyde, a 19-year-old student who voted for the CHP, took the comment personally.
"These are statements of an extremely ignorant man on the street," she said, "like the ones who yell at you for wearing a relatively short skirt. Especially as a young girl, I feel less free under the AKP. If the Prime Minister questions my virginity on national television, how am I supposed to be open about my own choices?"
Canan Arin, a lawyer who specializes in women's rights, believes his patriarchal rhetoric has far-reaching consequences.
"When he talks like that, the people who are applying the law -- policemen, say, or prosecutors -- are encouraged," she said.
Indeed, the Human Rights Watch report found that only eight percent of women who have experienced abuse bother seeking help from any institution. Many of those who did go to the police reported that the police sent them back to their abuser, insisting that their problems were a family affair.
Thank god for the family?
This story was reported with a grant from the Pulitzer Center on Crisis Reporting