Who Should Become the First King (or Queen) of Canada?
Happy Dominion Day! Isn't it time for the country to appoint a native monarch of its own?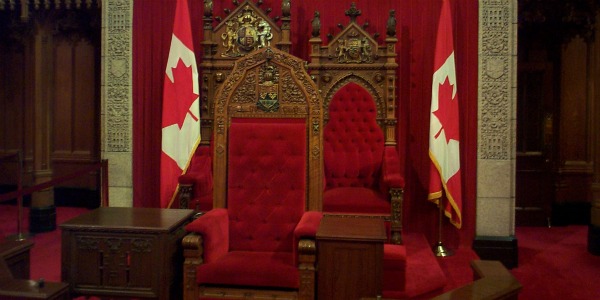 Friday is Canada Day, marking the anniversary of the date the world's second largest nation (in terms of land mass, anyway) was politely granted a measure of independence from Great Britain. It happened 144 years ago, in 1867, just two years and two months after the Civil War ended and Abraham Lincoln was assassinated. Today, congenitally collegial Canadians often celebrate Canada Day by enjoying Tim Hortons doughnuts, evacuating the cities to their country houses on pristine lakes, and watching the free-agency signing frenzy begin in the National Hockey League (live on TSN, natch).
This year, however, right in time for the holiday, Canadians will get a special treat. The Duke and Duchess of Cambridge, otherwise known as William and Kate, otherwise known as the hottest couple on the planet, will be visiting what is by far the coolest of the remaining nations of the Commonwealth. The visit, in turn, evidently has caused an uptick in chatter about a Canadian monarchy or, more precisely, why there isn't one. And that, in turn, led to the suggestion that the Duke of Cambridge's brother, Harry, would be a fine choice to serve as the King of Canada (technically, of course, the job's already taken by Harry's grandmother).
I think those dogged Canadian monarchists have it all wrong. The next Canadian royal ought to be the first Canadian royal. If Canada really wants to go down this road, it's time to pick a real Canadian to be King or Queen. My father had to sing "God Save the King" (in honor of George V, Edward III, and George VI) when he went to school in Montreal in the 1930s. I learned to recite "God Save the Queen" (in honor of Elizabeth II) when I went to school there 40 years later. So I feel like I've earned the right to suggest we vote for candidates far better suited than Harry to be Canada's first on-its-own Queen or King.
You can make your selections from the suggestions below -- and you can also offer your alternatives. (Be nice! And be careful. For example, if you suggest Celine Dion, your computer will automatically implode. And if you select famous Canadian actress Pamela Anderson, who was born on July 1, 1967, exactly one hundred years after Canada was born, that dude from the video will visit your home.) You can vote for Queen and King or just for one candidate. On the eve of another Dominion Day (that's what they called it when I lived there), here are my first ten prospects to bring the monarchy back to North America.
Kings
Ken Dryden. He's already royalty in the world of hockey. He was born and raised in English Canada, and played his best in French-language Quebec, and he's probably the most learned former professional athlete alive today in North America.
Leonard Cohen. A Jewish king? Oy! But the dude was born in Montreal. And those lovely poems and that "Hallelujah" song counts for something, right?
Peter Mansbridge. The former Canadian anchorman was born in one capital city, London, and lived in the other, Ottawa. Plus, he's bald, and in my view you just can't have enough bald men in television news.
William Shatner. Another former Montrealer who would look great in a crown. Upside: We wouldn't have to see him in those commercials anymore. Downside: His speeches.... would take.... so long... to complete.
Shawn A-in-chut Atleo. He is the current National Chief to the Assembly of First Nations, and really, if anyone is going to be King of Canada, it ought to be a representative of its many indigenous peoples.
Queens
Margaret Atwood. The great Canadian novelist has worked tirelessly to help explain Canada and Canadians to the rest of the world. Plus, if she becomes Queen, The Atlantic may get props after choosing her book as its first pick for its 1book140 book club.

Michaelle Jean. This remarkable Haitian refugee became Governor-General of Canada in 2005. She has a journalism background as well, which means she'll be able to write her own gossipy pieces about the monarchy from the inside.
Anne Murray. The singer-songwriter was huge a generation ago. And she's still a class act today. If she were made Queen, she would be the first monarch to already have a star on the Hollywood Walk of Fame.
Louise Arbour. She's a former Justice of the Supreme Court of Canada and former U.N. High Commissioner for Human Rights. That not enough for you? She helped prosecute Bosnian war criminals.
Roberta Bondar. She was Canada's first female astronaut to go into space. She's also a prominent neurologist. And she skydives. How cool would it be, Canada, to have a Queen who skydives?
Go ahead and vote. Will keep tally and let you know what we come up with. In the meantime, Happy
Dominion
Canada Day, everyone! Have a safe and happy holiday. Here's the
legendary
Roger Doucet to
bring it on home
.
Image Credit: Wikimedia Commons