Video: Canadian Hockey Rioter Falls Onto Burning Car, Runs Off
Vancouver sports fans take to the streets after a hockey loss, to mixed effect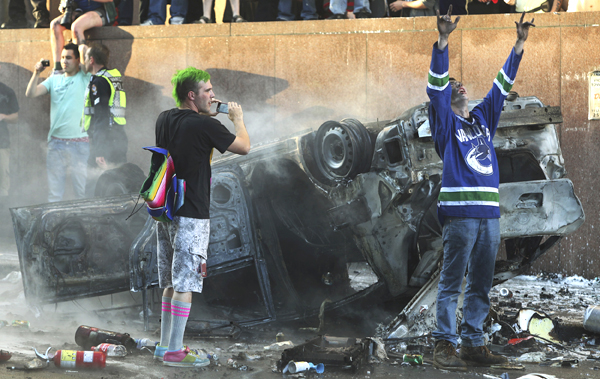 Canucks fans scream and take photos of an overturned burnt pickup truck during riots in downtown Vancouver / Reuters
In Syria, they riot for freedom. In Pakistan, they riot against U.S. drone strikes. In China, they riot over many things, most recently in Guangdong province for worker's rights. But in Canada, which is officially ranked as one of the wealthiest and most peaceful nations in the world, they riot over, yes, hockey.
Fans of Vancouver's hockey team -- the Canucks, which is also a slang name, and sometimes slur, for Canadians -- rushed the city's streets after their team lost the Stanley Cup, looting stores and lighting things on fire. The sportsfans-cum-arsonists began with garbage cans, then moved on to cars, then police cars. At some point, police used tear gas to attempt to disperse the crowds.
Though there appears to be substantial physical damage to downtown Vancoucer, as well as to the pride of non-rioting Canadians and hockey fans everywhere, no one has been reported hurt. It's worth keeping that injury count in mind when you watch this video, which purports to show one of the Vancouver rioters jumping on top of a burning BMW, slipping, falling either into or on top of the flames (it's not clear), and then jogging away.
"That's an idiot," someone behind the camera says as the ill-fated car-jumper stumbles away, looking embarrassed but unhurt, and the car's alarm flashes away fruitlessly. After six months of watching grainy, cell-phone YouTube videos of protests and riots and clashes from across the Arabic-speaking world, it's a little odd to see a riot video where everyone is speaking English, albeit with a slight accent.