U.S. Hosted Alleged Rwandan War Criminal for Military Visit
How a Rwandan captain indicted for war crimes ended up on a government-approved tour of the U.S., and what it says about our relationship with the international justice system, and with Rwanda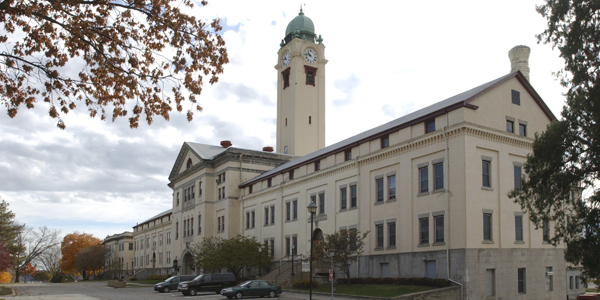 The great hall of the U.S. Army base and military staff college at Fort Leavenworth, Kansas, where officials say they recently received Justus Majyambere, a Rwandan military officer who is wanted on charges for alleged war crimes / Wikimedia Commons
In late May, a handful of modestly sourced news accounts, few of them in English, reported that a Rwandan military official had been arrested in the United States, possibly even in Washington, DC, for alleged war crimes committed during the 1990s -- only to re-appear in his home country a few days later. The truth of what happened would turn out to be far more complicated and surprising. An investigation by TheAtlantic.com reveals that the Rwandan official, who is currently under international indictment for the suspected killing of Spanish non-government organization (NGO) employees in Rwanda and the Democratic Republic of Congo, visited a U.S. military facility while on official business for the Rwandan government, and with the specific permission of the U.S. government. Though it's still unclear whether he was actually arrested or just briefly detained while entering the United States, the case exposes the complexity of a U.S.-Rwandan relationship in which human rights and strategic interests are coming into increasing conflict. It also underscores how little reach international law has within U.S. borders, at times compromising the possibility of bringing suspected war criminals to justice.
According to multiple European media reports, including a May 25 article in Spain's El Pais newspaper, Justus Majyambere, a major in the Rwandan Defense Forces, was arrested during a visit to the United States. In 2008, Majyambere had been indicted in absentia in Spain for his alleged role in the killing of nine Spanish NGO workers in Rwanda and the Democratic Republic of Congo in the years following the 1994 Rwandan ethnic genocide.
Since the genocide ended and rebel leader Paul Kagame took over as president, a post he has now held for 11 years, Rwanda and the United States have enjoyed close relations. Kagame's Rwanda is often described as the most politically stable nation in central Africa; for a time, Kagame himself was seen as a potential savior for a region riven with conflict. But Kagame's human rights record has come under increasing scrutiny, particularly after his purported 93 percent victory in last year's presidential election. Secretary of State Hilary Clinton conspicuously avoided Rwanda during both of her trips to Africa.
The arrest of a Rwandan government official on ostensibly friendly foreign soil would have dealt a blow to the U.S.-Rwanda relationship. The Rwandan government is extremely sensitive about the international justice system. A number of Rwandan officials are currently under foreign indictments, making travel for them difficult and undermining the government's international legitimacy. Many, including Kagame himself, were indicted in absentia in France in 2006, an incident that imploded relations between the two countries.
For Spain, the stakes are hardly lower. According to Leonardo Marcos, an official at the Spanish embassy in Washington, DC, Majyambere is currently under an Interpol "red notice," a worldwide bulletin that is roughly equivalent to an arrest warrant in much of the European Union, but is treated with less authority in the United States. As far as Spain is concerned, Majyambere is a fugitive from justice, and a war criminal responsible for the murder of Spanish citizens.
A few days after the initial reports of Majyambere's arrest, the story died. It wasn't mentioned in a single American newspaper. In light of Rwandan denials and a lack of official confirmation of Majyambere's arrest, the story seemed more like an online rumor than cause for a diplomatic showdown between the U.S., Spain, and Rwanda. Even Marcos said that the Spanish government's official position on the matter is that the media reports are a case of mistaken identity. "Maybe the American police detained or arrested somebody with a similar or the same name," said Marcos. "But this person, Justus Majyambere, has been not arrested yet."
Even for the Spanish embassy, reports of Majyambere's arrest are based on unsubstantiated reports -- little more than rumors. But those rumors have turned out to be grounded in fact. According to a memo from Spain's National Central Bureau of Interpol to Spanish Judge Fernando Andreu, on May 15, the U.S. Central Bureau of Interpol sent an urgent message to their Spanish counterparts. Somewhere in the United States, border police had run a background check on an individual suspected of "illegal immigration." The check returned Majyambere's red notice, producing a flurry of communication between Spain's Interpol office and Judge Andreu, whose court had indicted Majyambere, along with 39 other Rwandan military officers, in 2008.
Interpol told Andreu that the U.S. had detained an individual named Justus Mayambere, who was born in Mbarara, Uganda in 1966. According to Jordi Palou-Rognoni, a Spanish lawyer who was instrumental in pushing for the 2008 indictments, Andreu later intimated to the Americans that they had, in fact, detained an individual who his court had indicted three years earlier. "The Judge confirmed the international arrest warrant to the U.S. authorities," Rognoni said in an email, "and that [Majyambere] was active under a red code (confirming the suspect was born in 1966 in Mbarara, Uganda)."
Yet Rognoni added that Spanish officials lacked a photograph of the suspect. The letter from Interpol to Andreu, obtained by TheAtlantic.com, expressed a certain muted frustration at the U.S. authorities. "Despite what has been stated," the letter reads, "the American authorities can not confirm that this person came to their country." In any event, a Rwandan radio station in Kigali reported on May 25 that Majyambere had safely returned to Rwanda.
None of the officials who spoke on or off the record for this article have been able to confirm whether the person detained on May 15 was in fact Majyambere. But a body of circumstantial evidence strongly suggests that he was. Military officials in both the United States and Rwanda and law enforcement officials in the U.S. confirm that Majyambere did in fact enter the United States on May 15. He had left Rwanda the previous day, later boarding a flight from Amsterdam to Detroit.
RDF spokesperson Lieutenant Colonel Jules Rutaremara confirmed that Majyambere visited, saying that he was traveling in his official capacity as a staff director at Rwanda's military academy, along with two other RDF officers. They were interested, Rutaremara said, in starting a Rwandan war college, modeled in part after those in the U.S. The U.S. Army has an internationally respected military staff college at Ft. Leavenworth, Kansas, where the Rwandan delegation stayed from May 15 to 21, according to Leavenworth media relations official Rebecca Steed. Despite the Spanish indictment, the Interpol red notice, and what reports suggest may have been temporary arrest upon landing in the U.S., Majyambere was able to travel freely throughout the country. He even met with Brigadier General Sean McFarland, the fort's deputy commandant.
The United States and Spain share an extradition treaty, which enables both countries to detain and extradite anyone indicted by the other country's justice system. It's unclear why, then, the Rwandan government would risk sending Majyambere to the U.S., knowing that the extradition treaty compelled his arrest. But the RDF says they weren't concerned, and that Majyambere's case never came up during preparations for his visit to the United States. "You secure a guarantee [not to arrest] after discussions and negotiations," said spokesperson Rutaremara over email. "RDF did not discuss or negotiate with anyone regarding Majyambere's case."
That the U.S. government would choose not to object to an accused war criminal's official presence in the United States -- tolerating his presence even after law enforcement learned of the red notice, and allowing him to return home unmolested -- reveals the U.S.'s complicated relationship with the Rwandan government and with international law itself.
•  •  •
Majyambere's case stands at the center of two interrelated diplomatic subplots: the U.S.'s growing wariness of Rwandan president Paul Kagame, and its longtime ambivalence towards international legal mechanisms, like the International Criminal Court or the still-controversial idea of universal jurisdiction for human rights-related crimes.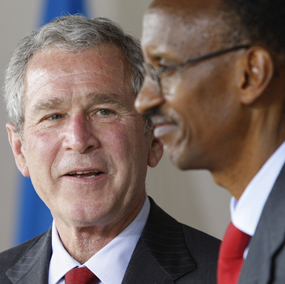 George W. Bush with Rwandan President Kagame / Reuters
Both stances are fraught with contradictions. On Rwanda, the United States supports the Kagame government for its stability and overall competence, although human rights concerns have caused the relationship to cool. In the years after the Rwandan genocide, "The view was, 'Look, this is a rough neighborhood and the value of having a stable ally that actually has control over territory is worth kind of looking the other way,'" Laura Seay, an assistant professor of political science at Morehouse College with an expertise in Central Africa, told me. "What we've seen in the last couple years is a shift away form those policies," and a shift towards not being as congratulatory and not discussing Rwanda as one of the 'golden boys of Africa.'" Seay said that, significantly, the United States did not even congratulate Kagame on his reelection last year, which he won with 93 percent of the vote amid allegations of fraud.
U.S. policy on international law is even murkier. The U.S. still hasn't signed on to the Rome Statute to participate in the International Criminal Court, despite its heavy rhetorical support for human rights. This isn't quite as hypocritical as it would seem: incidents like former vice president Richard Cheney's indictment in Nigeria last year demonstrate that universal jurisdiction has its setbacks. Jeremy Rabkin, a law professor at George Mason University, explained that an overly-broad concept of legal jurisdiction could undermine global diplomacy and sew more chaos than it prevents. "Criminal prosecution is the most severe thing you can do short of unleashing troops or cruise missiles," Rabkin said. "There's a whole range of things you can do before you get up to that."
In May of 2008, Rwanda, international legal theory, and even Majyambere himself converged in a meeting between then-U.S. ambassador at-large for war crimes issues Clint Williamson and Spanish officials -- a meeting documented in a Wikileaks cable. "Ambassador Williamson urged the Spanish government to reach out to the Rwandan government at the political level to try to ease tensions over the Spanish judiciary's indictment of 40 Rwandan officials in connection with the deaths of nine Spanish citizens between 1994 and 2000," the U.S.-authored cable says. Later in the meeting, Spanish officials admitted that the indictment had strained relations with Rwanda; the Spanish Director General for Africa even implied that Judge Andreu had been reckless in indicting scores of high-ranking members of the Rwandan military:

Deputy DG for Africa Sanchez-Benedito told Williamson May 19 that the family and associates of the nine Spanish victims had convinced the Spanish judge to take on the case and that all of the testimony and evidence gathered pointed to forces within the RPF as responsible. He said the judge therefore decided to expand the prosecution to include nearly the entire Rwandan military and senior government apparatus with the exception of Kagame, noting that he was exempted solely because of his immunity as head of state.

The indictment -- which included Majyambere -- had apparently become a diplomatic burden to Spain, Rwanda, and the United States. And, according to a human rights researcher who spoke on the condition of anonymity, the indictment is "not very well put together," and "too wide-ranging in the number of cases it's trying to cover."
But the case did not go away. Rwanda was forced to recall defense attaché Rugumya Gaginya from its embassy in Washington, DC after Andreu's court indicted him. Last year, Stop Impunity in Rwanda, a Spanish organization which also helped push for the indictments, led a campaign to extradite former RDF official Kayumba Nyamwasa from South Africa.
The indictments still carry the force of law, putting the U.S. government in the uncomfortable position of having to choose between international legal norms that it has yet to fully embrace, and a problematic relationship with a regional ally -- an ally whose human rights record is getting increasingly more ominous.
In October of 2010, the Kagame government suffered one of the worst setbacks in its 11-year history. That month, the United Nations released a mapping report cataloguing human rights violations in the Democratic Republic of Congo between 1993 and 2003. The report documented the heavy toll of Rwanda's 1996 and 1998 invasions in the Congo, singling out the Rwandan army and its proxies for "the apparently relentless pursuit and mass killing ... of Hutu refugees, members of the former Armed Forces of Rwanda and militias implicated in the genocide of 1994 (Interahamwe).". While Majyambere himself is not mentioned in the report, he was a high-ranking officer during the period it covers -- if the Rwandan military did pursue a policy of targeting Hutu civilians, he likely would have been involved in implementing it.
The International Criminal Tribunal for Rwanda in Arusha, Tanzania is only empowered to prosecute crimes committed during the 1994 genocide. This effectively gives the Kagame government a pass on human rights violations it might have committed in the years after the conflict, during its attempts at weeding out Hutu genocidaires who had taken refuge in eastern Congo. That could now change. "The mapping report definitely provides a basis for legal proceedings," Seay said.
But what kind of legal proceedings? And by whom? Rognoni, the Spanish lawyer, views his country's prosecution as a chance to establish legal accountability for human rights violations like the ones described in the mapping report. "When we talk about crimes against humanity or genocide or war crimes we're talking about the most severe crimes," he said. The Spanish indictments have at least limited officials' ability to travel in Europe; if it weren't for the Spanish court system, Rognoni said, the accused might enjoy total impunity. Seay said that she is more reticent about the effects of judicial activism on human rights. "It can make a difference at least in finding people and tracking them down," she said. "But, does it reek of neo-colonialism and overreach into an independent country's affairs? Absolutely. Can we trust that that country is one that will ensure that justice is done no matter who the perpetrators are? Right now, the answer is no."
The Spanish indictment broadly accused Majyambere and 39 other Rwandan officers of war crimes committed in Rwanda and the Congo in the late 90s. . Yet it specifically accuses Majyambere of plotting to kill Spanish NGO workers. Rognoni told me that a "protected witness who was part of Rwandan Patriotic Army" places Majyambere at a meeting in which an attack that resulted in the deaths of three Spanish doctors was planned. "That witness knew that Captain Majyambere was in charge of that operation together with another person, there that was a mixed team of gendarme and the military," said Rognoni. The indictment itself says that Majyambere "would have been one of the members who participated in the attack on the headquarters of Medicos del Mundo and in the murder of Manuel Madrazo, Flores Sirera and Luis Valtuena."
The U.S. didn't take these accusations very seriously, even though they involve the alleged murder of a close ally's citizens at the hands of a government with a troubling human rights record. According to the Ft. Leavenworth press office, any foreign visitors to a U.S. military installation are subject to a rigorous background check. "Foreign officer requests to visit are worked through appropriate Defense and State Department channels to include embassies in the requesting countries and military commands with responsibility for the country and region," wrote Steed in an email. The Rwandan request for this particular trip was "processed through US AFRICOM, and all travel was coordinated through the US Embassy in Kigali, Rwanda." According to Steed, military officials at Ft. Leavenworth had no idea that Majyambere was an accused war criminal, or that there was an active Interpol red notice out on him.
By all accounts, Majyambere's visit was a routine one, his alleged detention (which at this point remains unconfirmed) an easily ignored hiccup, rather than a full-blown international incident. Faced with a choice between upholding international law and maintaining good ties with an ally whose human rights record is questionable enough to attract UN investigations and international indictments, the U.S. chose the latter.