U.S. Hikers Tortured in Iran, Former Fellow Inmate Reveals
Sarah Shourd, who was detained in Iran along with her fiance and a friend, breaks her silence about the group's brutal treatment at the hands of their Iranian captors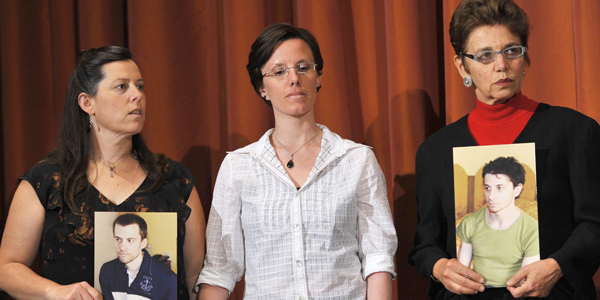 Sarah Shourd, center, stands with Cindy Hickey, mother of Shane Bauer, left, and Laura Fattal, mother of Josh Fattal during a 2010 news conference. Stephen Chernin/AP.
When Alex Fattal thinks about his little brother Josh facing the barrel of a gun or being thrown down a flight of stairs by Iranian prison guards, it's "like getting kicked in the chest."
Hearing this week that his 28-year-old sibling has experienced both during his nearly two year confinement in Tehran's Evin Prison confirmed the Fattal family's fears that their younger son, along with his friend and cellmate Shane Bauer, also 29, was being not just psychologically but physically tortured while at the mercy of Iran's treacherous judicial system.
On Thursday, Bauer's fiancee Sarah Shourd, 32, who was held with the men for 14 months until her release last September, finally broke her silence about what had transpired during the trio's days in captivity. The revelations -- of brutal violence and psychological torture -- confirmed the worst, that Shane and Josh are likely "in grave danger where they are," Alex said. "Who knows what else has happened since Sarah was released?"
The trio was arrested in July of 2009 while hiking along the Iran-Iraq border in Kurdistan. Bauer, fluent in Arabic, works as a freelance journalist for such publications as the Nation and the Christian Science Monitor and Fattal as an environmentalist. Shourd had been teaching English to students in Damascus before the fateful trip. After finding a lump in her breast, she was released on humanitarian grounds and $500,000 bail.
Soon after their 2009 arrest, the three were forced into a car late at night and driven to another prison. Shourd said that she, Bauer, and Fattal began shaking at the thought they might die when a soldier accompanying them in their vehicle started cocking his gun. "The most terrifying moment of my life," she recalled. "We just held hands and cried and begged them not to hurt us."
On May 11, Bauer and Fattal did not arrive for a scheduled court hearing in Tehran. Iranian authorities gave no explanation for the absence, leading their loved ones to fear that they were being physically maltreated and thus unfit to appear in public. They have not been seen by anyone from outside Evin Prison in more than half a year.
Shourd's revelations have only served to heighten their loved ones' fears. She recalled one particularly harrowing incident of violence, when Fattal took extra food back to the boys' 10-by-14 foot cell, which he did regularly and without objection from guards after the trio's daily hour in an exercise room. On this particular day an officer "went crazy," pushing Josh down a flight of stairs and forcing Shane and Sarah back to their respective cells, where they pounded on the doors and screamed.
After the assault on Fattal, the same guard then came for Bauer, whose head he smashed against a cement wall 10 or 15 times, until he bled and was quiet.
"Every time he slammed him against the wall, Shane would stand up and he would say, 'Where's Josh? Where's my friend?' and [the guard] would slam him against the wall again," Shourd said of her fiance. Now, "my worst fear is that they're not safe, especially when we haven't seen them for so long. They don't have consular access, they're not allowed to see their lawyer, and we fear the worst."
Faraz Sanei, the Iran researcher at Human Rights Watch, said that the country continues to deny Bauer and Fattal "their most fundamental rights as defendants."
Shane's mother Cindy Hickey and Josh's mom Laura Fattal began a rolling solidarity fast after their sons -- following a brutal 17-day hunger strike -- were allowed to call home two weeks ago. As information continues to trickle in about the boys' maltreatment, they are increasingly concerned. "Now more then ever it is clear to me that my fears are to be taken seriously and I am more fearful every day," Hickey emailed me on Thursday. "I fear the longer they are held for no good reason the more permanent the damage may be. Where is the compassion?"
In May, Alex told me that his mother was "frantic" with worry. On Thursday, he said he shudders to think of the blows his brother might be taking. Josh's former roommate Farah Mawani, who spearheads social media initiatives at the families' nonprofit organization Free the Hikers, said it was surreal to hear about her close friend -- who she described as a gourmet chef -- beaten for taking extra food. "It makes me nauseous. And if his captors freed him," she noted, "he would likely cook them all a feast."