The Last Time Canadians Rioted After the Stanley Cup Finals
How the press, and history, got it wrong
On June 9, 1993, the Montreal Canadiens -- of whom I, like my confederate 
Andrew Cohen
, have been a fan since the age of zero, and who had won the National Hockey League championship only once since the their last dynasty years in the '70s -- were headed into game five of the Stanley Cup finals against the Los Angeles Kings, up three games to one. That's a comfortable lead, but the Kings were Wayne Gretzky's team; they'd taken the first game of the series 4-1 and pushed the Canadiens into overtime in each of the next three. With the possibility that the Habs could win it all that night, my pals and I felt compelled to head down to the Forum to see what the scalpers were asking. $100 for a standing-room ticket may not seem like much now -- and frankly, it didn't seem like much the next day -- but then and there, we doubted our luck that our team would manage a fourth win in a row and settled for a sports bar on rue Saint-Laurent.
The next morning, this was the

off-lede story

 on the front page of

 

The Montreal Gazette:
Unleashing seven years of pent-up frustration, thousands of Montreal hockey fans swarmed downtown last night smashing car windows, overturning cars and looting stores as part of the explosion of emotions which followed the Canadiens' 24th Stanley Cup victory.




They poured out of the Forum, were joined by thousands of other fans congregating downtown and took over Ste. Catherine St.




Despite a heavy police presence in the streets the delirious fans went on a rampage. They swept along the street turning over cars, smashing store windows and attacking remote trucks belonging to television stations.




... Montreal Urban Community police, stung by criticism of their slow reaction to outof-hand celebrations after the Canadiens won the Stanley Cup in 1986, said they had deployed about four times the number of officers and patrol vehicles in the area surrounding the Forum than they would normally send to a hockey game.




But this time they were overwhelmed by sheer numbers as the fans took over Ste. Catherine St. and brought traffic to a standstill.
All of which is largely how things are
remembered
today: years of pent-up frustration, thousands of violent fans rioting, overwhelmed police. ... But it's not true.
As the final minutes of the game had passed, and everyone at our bar started realizing that we'd really won, euphoria took over. I remember a guy in a Habs jersey bear-hugging me, weeping, just because I was there beside him in the middle of it all. Before long, we spilled out of the bar into a river of Montrealers flowing down toward Sainte-Catherine, and from there west to the Forum. I've never seen anything like it since. The slightest eye contact was all any two people seemed to need before embracing, slapping each other on the back, or patting each other on the face, wide-eyed, yelling victory -- maybe in French, maybe in English.
By the time we were half-way down Sainte-Catherine, though, the scene was filling out in odd ways. We started noticing packs of young guys huddled on the side streets, carrying empty duffle bags. Others hung back with walkie-talkies, one in a doorway over here, another in an alleyway across the street. None of them were moving. The crowed thickened. Police were out in full riot gear, but they were concentrated in tight groups, far away from one another. For three or four long blocks at a time, we didn't see them at all. Then, the sound of breaking glass. People started darting from the side streets against the pedestrian flow, hitting shop windows and bagging the goods. These weren't fans; they were crews. Most folks in the street were stunned, many started booing loudly. A few idiots idly picked up sunglasses or T-shirts from shattered storefronts.
In the last few blocks before the Forum, the looting got worse, along, now, with the random trashing of property -- bus doors, bank windows, street lamps. A car had been flipped over and torched. Some people were into the rampaging. But most clearly weren't. There were confrontations between rioters and non-rioters. A few fights broke out. Looking up at the Forum, I heard someone walking behind me say in an American accent, "This city sucks! I'm never coming back here again ...."
Flashing forward to Vancouver this week, the story there seems straigtforward. You can read the
reporting
, which is far more extensive than it was in Montreal 18 years ago, and you can watch the raw ugliness for yourself all over
YouTube
. But we still don't really understand
what drove this riot
-- and should be slow to reckon that the apparent irony of Canadians rioting, or the reality of people from a famously beautiful city turning vicious, tells us anything about Vancouver or Canucks fans as a whole.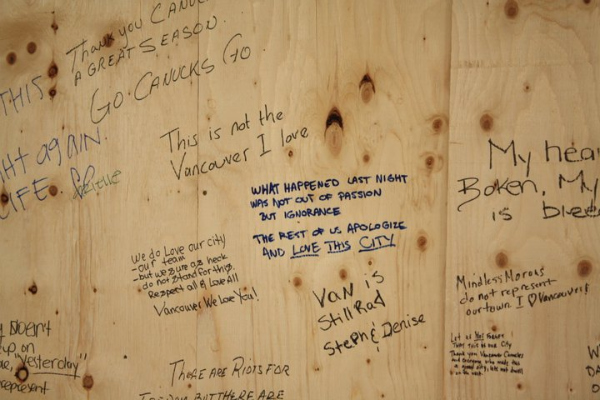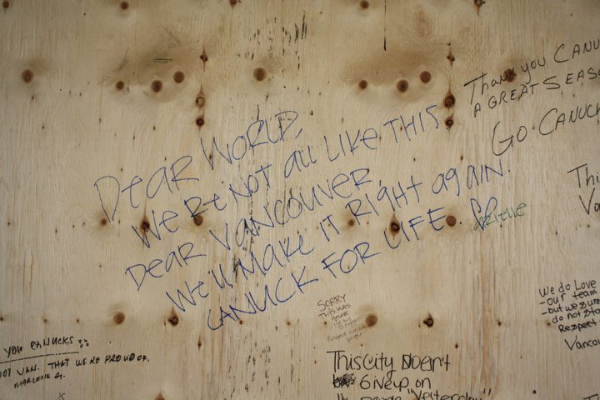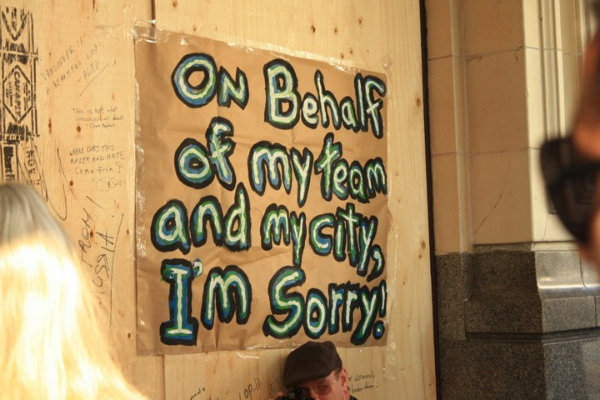 ---
Photos: Madison Reid