Saving Venice's Canals: The Unseen Workers Who Preserve the City
A new website, Venice Backstage, shows what goes into keeping an iconic destination from falling victim to tides, humidity, and salt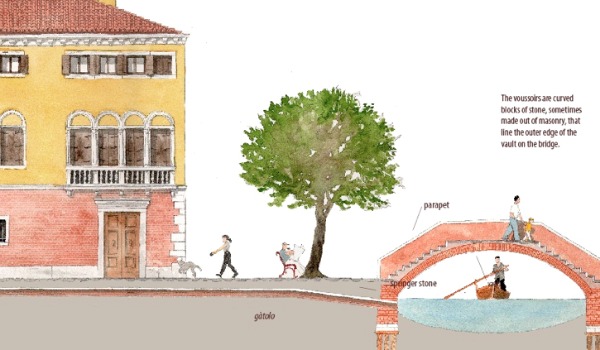 Many of the 15 to 20 million tourists who flock to Venice each year undoubtedly know that Italy's city of canals
is slowly sinking
, but far fewer probably give much thought to a less dramatic threat: the daily tides that continually erode the foundations of buildings, as well as the constant motion of waves and the salty humidity that also threaten the city's structures. These forces, according to Insula, a public company founded in 1997 to oversee the city's maintenance, cause "the most serious damage"—yet the company's efforts to combat the sea and keep Venice beautiful occur almost entirely behind the scenes.
So earlier this year, Insula launched Venice Backstage, a site that details the at once mundane and fascinating work that goes into maintaining one of Europe's most iconic tourist destinations. The dredging of the canals, restoration of the embankments, and plans to raise the pavement to a level of 1.2 meters above 1897 sea levels—all are detailed in colorful illustrations such as the one shown above.
There's also an in-depth video about the maintenance that shows "how Venice works." So sit back, watch, and learn about a side of the tourism industry we rarely consider.
Venice Backstage. How does Venice work? from Insula spa on Vimeo.
Via Open Culture
Image: Insula