Saudi Women Could be Poised to Overturn Driving Ban
Today's demonstration, with Saudi women getting behind the wheel in protest of the restrictive law, could mark a turning point in the country's gender laws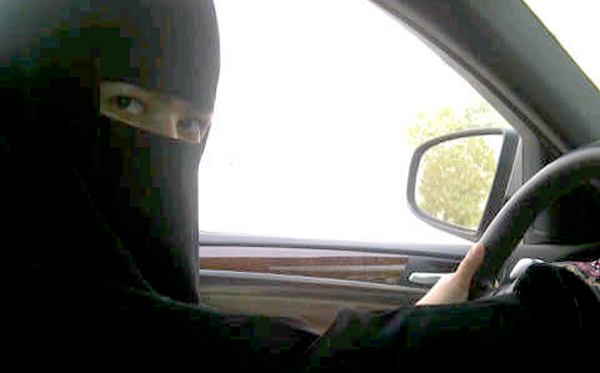 Photo posted by Twitter user Maialshareef with the message, "my pic outside my house .. Ready to go, police car saw me and did nothing"
Today in Saudi Arabia, the only country in the world where women are legally prohibited from driving, dozens of women are getting behind the wheel to protest the ban. Driving openly in urban areas and past police checkpoints, then posting photos of their illegal drive on Facebook and Twitter, the acts of civil disobedience have so far provoked neither punishment from authorities nor outrage from the country's hardline conservatives. So far, most Saudi Arabians seem to be either supporting the women or simply looking the other way.
Though many protests have been planned in Saudi Arabia, few have actually gone forward, and today's "Women2Drive" event, as organizers call it, appears to be the first effective popular demonstration there since the Arab uprisings began in late December. Their demand, focused on a specific civil right rather than calling for outright regime change, may have a greater chance of success because it is so modest compared to those of other Arab protests.
Driving as a women in Saudi Arabia can be dangerous. The country's dreaded moral police are everywhere, sometimes aided by men sympathetic to their oppressive cause. When 32-year-old Manal al-Sharif
posted a video
to YouTube of her driving, she was arrested and spent a week in prison. She was not the first. In 1990, a group of women drove around Riyadh to protest the ban. Though their act did not destroy the moral fabric of Saudi society, it did incur harsh punishment; all who had participated were banned from traveling or working for years.
Has Saudi Arabia changed since then? Women are still forbidden from voting (not that voting does much) and require permission from a male "guardian" to work or take a job. The underlying purpose of the ban -- to restrict women's autonomy and make them utterly reliant on men -- still exists in Saudi Arabia, as in much of the world. But the rest of the world has changed more quickly than has Saudi Arabia over the past two decades, and the conservative state is finding that its harsh gender restrictions are increasingly a pretext. Many of the women driving today are professionals; al-Sharif is an information technology consultant. And though the number of women driving may be modest, their potential impact is not, with social media allowing them to broadcast images and videos of their cruises across the peninsula.
Though the Kingdom has left its laws restrictive, the realities of the modern world have required it to informally loosen its culture of gender segregation. Even a country this rich with oil cannot sustain its economy with half of the workforce kept home; even an absolute monarchy cannot hold power without the consent of half of society, especially when the advent of social media allows Saudi women a small but significant new tool for organizing. Saudi Arabia has opened women's colleges and even a coed university, part of its halting attempts to reform the underlying system of gender inequality, even if not the laws themselves.
"I believe the day will come when women drive," Saudi King Abdullah bin Abdulaziz told ABC News in a 2005 interview. "In time, I believe it will be possible." When asked why that day was not today, he responded, "I respect my people and I value their well-being. It is impossible that I would do anything that is not acceptable to my people." This isn't entirely true -- King Abdullah has long resisted popular calls for democratization -- though many of the country's most restrictive laws are rooted in a deference to the country's hardliners, who have terrified the monarchy since ultraconservative militants slaughtered worshipers at Mecca in 1979. But that logic -- appease the religious extremists, punish the liberals and women -- may not be as compelling to the royal family as it once was.
Though the ongoing pro-democracy uprisings have not quite penetrated the Saudi Kingdom, they may be providing the royal family with an important lesson: Arab public opinion is not as reactionary, is more driven by desires for openness and rights, than they might have imagined. "Police have been told to take a softly-softly approach, which reflects the fact that many Saudi royals are sympathetic to the women's demands," the Guardian reports from Riyadh today. That sympathy may now extend well beyond the ruling family.
Could this finally be the end of a law that has come to characterize the extreme discrimination, and often the absurdity, of Saudi Arabia's gender restrictions? The monarchy may still be too afraid of a conservative backlash to publicly lift the driving ban. But simply slowing or altogether halting its enforcement, as appears to be happening today, could allow women a modest reprieve. It's not exactly revolution in Saudi Arabia, nor is it anything close to equality, but it would be an important and long-demanded step forward for one of the world's most discriminatory regimes.