North Korea-Run Restaurants Spread Propaganda and Kimchi Across Asia
TGI Friday's meets DPRK propaganda center, the state-owned Pyongyang Cafés provide kitschy entrainment and much-needed revenues for the regime back home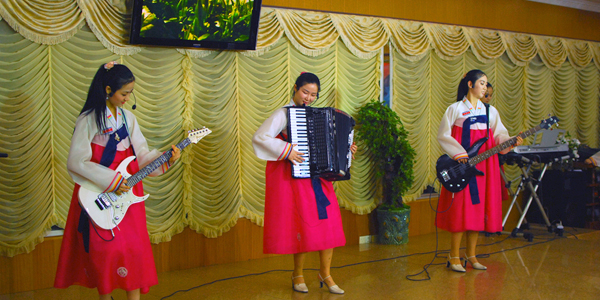 Waitresses perform for diners at the Pyongyang Restaurant in Phnom Penh. By Sebastian Strangio
VLADIVOSTOK, Russia and SEOUL, South Korea -- The Pyongyang Café sits at 58B Verkhneportovaya Street, a short walk from the twinkling lights of Vladivostok's container port. Patrons in this east Russian city, the home of the Pacific Fleet, are greeted at the door by pretty Korean waitresses, who take their coats and usher them into small booths with pine tables and lashings of plastic foliage. From a separate area of the restaurant -- reserved for Koreans, one waitress tells me -- comes the muffled sound of a karaoke machine, the same song warbling on repeatedly. After a bottle of Russian beer, a plate of dumplings, and a tasty bowl of bibimbap, Korea's national rice dish, I hand over a wad of rubles equivalent to about $35.
Among the city's growing cohort of Korean restaurants, Pyongyang Café has an unusual claim to fame. It is run by the North Korean government, part of a far-flung chain of restaurants that funnels much-needed foreign exchange to the ailing regime in Pyongyang. Andrey Kalachinsky, a veteran journalist and local analyst, said that in the Soviet era, when Vladivostok was a closed military city, the Pyongyang Café was the only foreign eatery in town -- a symbol of the political and economic ties between the Soviet Union and Marshal Kim Il-Sung's Democratic People's Republic of Korea.
At the Vladivostok restaurant, there is little to suggest any connection with the regime just 428 miles distant. No pictures of the Kim Il-Sung grace the walls, no slogans stamped out in shrill red Korean script. Instead, the décor excels in a sort of kitschy chinoiserie: the walls of one room are covered with naturalistic motifs -- golden autumn leaves and towering cliffs -- complete with a fake tree that "emerges" from the painted-on scene. Overlooking my booth was a framed poster of a woman looking out coyly from behind a large fan, the Chinese character for "double happiness" inscribed on every second blade.
North Korean government-run restaurants have existed for years in China, in regions adjacent to the DPRK's northern border, but in the past decade the business has truly gone global. In 2002, a branch of the Pyongyang restaurant chain opened in the Cambodian tourist hub of Siem Reap -- the first outside China -- and it became an immediate hit with South Korean tour groups visiting the nearby temples of Angkor. The success of the restaurant, which featured a nightly song and dance show by the North Korean waitresses, led to the opening of a second branch in Siem Reap and a third in the capital Phnom Penh in 2003. Since then, branches have also opened in Thailand, Laos, Indonesia, Vietnam, Bangladesh, Nepal, Dubai and, soon, apparently, Amsterdam.
As North Korea's economic situation becomes increasingly dire, the number of branches has increased. A chain of mid-tier restaurants might not seem like much of a way to fund a government, but for the sanctions-stricken, technologically backward DPRK, every penny counts. After the fall of the Soviet Union and the death of Kim Il-Sung in 1994, North Korea found fewer communist countries to trade with, more capitalist democracies abhorred at its domestic abuses, and before long was in a state of severe economic crisis. Both Russia and China demanded that Pyongyang pay for imports in hard currency, rather than at advantageous "friendship" prices. Ravaged by famine and with its heavy industries in precipitous decline, the regime had little choice but to open "capitalist" foreign ventures -- including, eventually, restaurants -- to make up funding shortfalls.
"North Korea is not capable of producing anything of sellable quality," Andrei Lankov, a Korea expert and professor at Seoul's Kookmin University, told me. "They can sell some stuff like seafood, medical herbs, special types of mushrooms. But you are not going to run an economy on mushrooms."
The end result has been a plethora of overseas cash businesses, many of dubious legality, that prop up the North's moribund economy. Bertil Lintner, author of Great Leader, Dear Leader: Demystifying North Korean Under the Kim Clan, said that, along with kitschy restaurants, North Korea relies on such revenue-raising techniques as the sale of second-hand mobile phones and a suspected traffic in illicit drugs. But the Pyongyang Café might not be such an innocent venture.
"The restaurants are used to earn additional money for the government in Pyongyang -- at the same time as they were suspected of laundering proceeds from North Korea's more unsavory commercial activities," he said. "Restaurants and other cash-intensive enterprises are commonly used as conduits for wads of bills, which banks otherwise would not accept as deposits."
It's hard to know for certain how much money the restaurants raise, but in a recent report, the South Korean daily Chosun Ilbo estimated that around 120,000 South Koreans visit the two restaurants in Siem Reap, Cambodia, each year, contributing an estimated 200 to 300 million won ($179,000 to $269,000) to the coffers in Pyongyang. The report concluded that each of the restaurants probably earns $100,000 to $300,000 per year for the regime. As a result, Lankov said the eateries -- which probably number in the "low hundreds" across Asia - are likely one of Pyongyang's major earners. "It's a small, poor country. For them a few million U.S. dollars is a sufficient amount of money."
Reports from defectors suggest that the businesses are operated through a network of local middlemen, who send a certain amount of cash to North Korea each year as remittances. According to one report, the Cambodian eateries were opened by Ho Dae-sik, the local representative of the DPRK-aligned International Taekwondo Federation. (His son, Ho Si-ryong, is listed as the email contact for the Pyongyang Café in Phnom Penh, though he did not respond to queries). Like North Korean embassies, which are meant to be financially self-sufficient, the eateries have to cover their costs without cash from the central government.
Kim Myung-ho, a North Korean defector who ran a restaurant in northern China, reported in 2007 that each establishment, affiliated with "trading companies" operated by the government, was required to meet a fixed benchmark payment. "Every year, the sum total is counted at the business headquarters in Pyongyang, but if there's even a small default or lack of results, then the threat of evacuation is given," Kim told the Daily NK, a North Korea-focused online publication. Evacuation -- going back to North Korea -- is a serious threat for someone who is allowed a few years in the relative prosperity of, say, Cambodia.
Kwon Eun-Kyoung, English editor of the Daily NK, said the eateries are part of trading companies controlled by Bureau 39, the revenue-raising arm of Kim Jong-Il's Korean Workers Party. "Every business belongs to the party and is affiliated with the party systematically," she said. "Even though it is maybe run by brokers, the whole system we presume is controlled by the center of North Korea."
The establishments, highly political both in purpose and in the bizarre décor, have at times acted as political lightning rods for Korean expatriates. After the South Korean frigate Cheonan was sunk in March of last year, presumably by a North Korean submarine, South Korean residents in Cambodia launched a campaign to dissuade their compatriots from patronizing the DPRK-run restaurants. The Korean Association in Cambodia distributed stickers proclaiming, "We, Korean residents, don't go to North Korean restaurants." Posters condemning the sinking of the Cheonan were displayed on the windows at South Korean-run eateries.
One restaurant manager told the Phnom Penh Post that, in mid-2010, three men came to his restaurant and started taking photographs. The men tore the stickers from the toilets and removed an anti-DPRK poster from a board outside the restaurant. "They said they were taking orders from the North Korean Embassy. The North Korean Embassy told them to take pictures and take the [sign]," the paper quoted him as saying. The Chosun Ilbo reported a similar stand-off at a South Korean restaurant in Siem Reap.
With no real end in sight to tensions on the Korean peninsula, the main draw of these pricey eateries -- the thrill they give to southerners eager for a glimpse of life inside the estranged north -- could well be their undoing. When I took a trip to the Pyongyang Restaurant in Phnom Penh last year following the North's shelling of Yeonpyeong Island in November, the flood-lit establishment was empty save for a single table of South Korean businessmen. The turnout was so low that the usual bevy of pale-faced waitresses didn't even bother to perform their famous floor show.
Lankov said that, as competitive businesses, the restaurants rely on their novelty value to South Koreans. Without that, there may be little to keep them afloat. "The restaurants [offer] a bit of political exoticism, so people come," said Lankov. "Otherwise, I don't think they can be competitive."