In South Korea or in the U.S., Educational Excellence Isn't Enough
Does academic superiority equate to a better quality of life, or is it just a factor?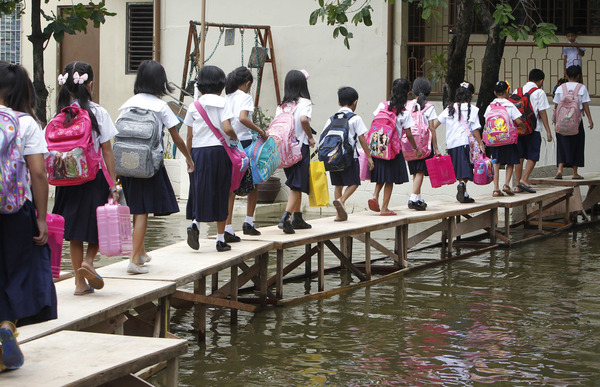 In speech after speech, President Obama has
invoked South Korea
as a model of great schools in building a vigorous economy:
In South Korea, teachers are known as "nation builders" . . . . Here in America, it's time we treated the people who educate our children with the same level of respect. We've got to lift up teachers. We've got to reward good teachers. Also, we also have to stop making excuses for bad teachers.

President Lee Myung-bak is admired by President Obama for his leadership, but a new Washington Post report suggests that equality and rising living standards are as hard to achieve in a booming economy with broadband connections four times faster than ours, as in the United States. Household debt levels are also even higher than ours, and just as Americans doubt the existence of the economists' recovery, South Koreans are protesting Lee's failure to follow up on a "fairness" campaign.
Of course there are many differences between South Korean and American societies. Corruption takes different forms. But the sense that the work ethic may not be paying off any more, that the rich and powerful have formed a caste unto themselves, appears to be global, and not solved by educational excellence or technological literacy. The Post article continues:
At the time of his election in December 2007, Lee vowed to push per capita income to $40,000.

Instead, during his tenure, per capita income has hovered at about $20,000. . . .

Lee comes from a lower-income family. To help put himself through college, he worked as a garbage man.

"Personally, I knew him," said Choi Jang-jip, a classmate of Lee's at Korea University in the early 1960s. "In those years, if a student was working hard, he had a high prospect for getting a job and moving up the social ladder. But these days, it's almost impossible to do."
Lee, with an approval rating of 28 percent, must envy Obama's 48 percent.
All this isn't an argument against educational excellence or fast broadband. They're necessary for a rising quality of life. South Korea just shows they're not sufficient.
Image: REUTERS/Romeo Ranoco