In Mexico, Growing Popular Movement Calls for End to Drug War
Traumatized by years of violence that have done little to curb the trade, Mexican activists are touring the country, demanding a new approach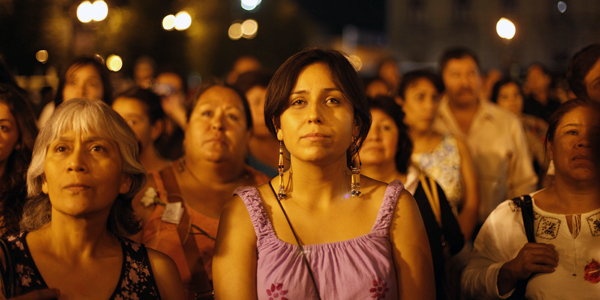 Residents of Chihuahua listen to a speech during the arrival of Javier Sicilia's peace caravan. Thomas Bravo/Reuters
JUAREZ, Mexico and EL PASO, Texas -- Javier Sicilia, a Mexican poet and grieving father, led hundreds of activists and reporters last week on a "trail of pain" through some of the most blood-soaked cities of his country's drug war. The sad-eyed, 54-year-old consoled weeping mothers in ornate colonial plazas after they pleaded with audiences for any news of their missing children. His convoy of tour buses made late-night stops in small towns where people had waited hours in the dangerous dark for a chance to briefly cheer the gentle, disheveled man they hope can relieve their fears.
And after seven days on Mexican highways, culminating with two rallies in the notoriously violent city of Juarez, he crossed the border to visit an El Paso, Texas, plaza. There, he urged local activists to pressure the U.S. to better reduce its drug consumption and the flow of arms to Mexico. "The United States and the silence of its citizens have imposed a war on us to stop something you consume, drugs," he told the crowd in Spanish in the low, quiet tones so at odds with the loud harangues characteristic of Mexican political rhetoric.
Sicilia's son, 24-year-old Juan Francisco, was killed with six friends on March 28 in the city of Cuernavaca, where the Sicilias lived and which was until recently a peaceful town known for its artists. The young men had a dispute with members of a narco gang in a local bar. When they left, they were abducted and strangled. Shortly after, Sicilia announced that he no longer has poetry within him. He has since came to lead a popular movement against the drug war, beginning with a demonstration in Cuernavaca, then a rally attended by tens of thousands in the capital, and now this latest, daring caravan to the northern border. He and his loose coalition of activist groups cast their movement as civil resistance aimed at reforming the corrupt police, courts, and political elites that, Sicilia argues, doomed the militarized drug war strategy from the moment President Felipe Calderon rushed into it in late 2006.
Mexican history is replete with plaza-packing but ultimately ineffective protest movements. The country's machine politics are famously adept at co-opting uprisings. This one might be just a cathartic outlet for people in pain -- as valuable and moving as that plainly is for the many who need it. "The problem is that in Mexico the elected officials effectively act with impunity," George Grayson, a specialist in Mexico at the College of William and Mary, told me. "There really is no way the people of Mexico are able to hold their elected officials accountable."
But some recent polls show a majority believing their country is losing the drug war to the narcos. Sicilia's supporters cite the 40,000 people killed and 10,000 missing since Calderon launched the war four and a half years ago. A study in this month's issue of the Mexican magazine Nexos shows the violence not only increasing in volume but spreading to new parts of the country. In the city of Monterrey, for example, killings linked to organized crime rose from 22 in 2009 to 178 last year. Next year's presidential elections are likely to increase debate over how to handle the security crisis.
Sicilia's "Citizens Caravan for Peace with Justice and Dignity" is aimed primarily at consoling victims and at making their pain public, despite the government's occasional implications that those dying are criminals. He has vividly captured a moment of national anguish. At rallies, housewives, teachers, laborers, and lawyers nervously wept through what were often gripping, impromptu narratives about kidnapping and death. The villains included criminals as well as the security forces that are often complicit, corrupt, or worse.
In Monterrey, a refined city punctuated by gleaming office towers where the rally began with a reading of Walt Whitman's "Song of Myself," a middle-aged woman took the stage to describe her last conversation with her son, Andres. He called from a road trip out of town to say he'd been stopped about 15 minutes earlier by local police who'd harassed him and demanded his ID. A U.S. citizen, he produced his passport and they replied, "What else do you have?" The police took some pesos and made him leave his car behind and ride away with a friend. But Andres, telling his mother over the phone that he could see the police still following him, started to panic. That was months ago; she hasn't heard from him since. "I ask you all, and Mr. Sicilia, if anyone has seen my son," she said, her voice rising between her sobs. "For pity's sake, tell me because I feel like I'm going to die if I don't see him," she yelled. "I went to the police but they don't pay any attention to me. Nobody pays any attention to me!"
When she became unintelligible, the crowd of several hundred, in palpable outrage and sympathy, came to her aide with one of the movement's slogans: "You are not alone! You are not alone!"
The Mexican government's drug war strategy currently focuses on using the military to go after the heads of the cartels. Calderon can claim the arrest and killing of many ranking narcos, which has disrupted the cartel operations. But it seems, though the government denies this, to have caused only more violence as drug lords fight over succession and turf.
Sicilia's coalition wants the drug war to demilitarize, but a dispute within the movement suggests that such a strategy would be difficult to implement. For days, leaders of the mostly leftist movement said they would not call for an immediate departure of the army from the streets because, in some areas, people see the army presence as better than the vacuum it would leave. But the final conference for mapping out a protest strategy was held Friday in beleaguered Juarez, where many believe the army is ineffective and abusive. Local activists pushed into the final document a call for an immediate military withdrawal.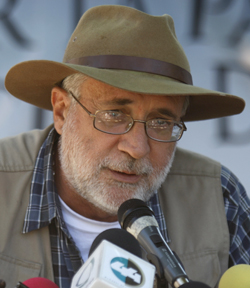 Mexican poet Javier Sicilia. By Gael Gonzalez/Reuters
On Saturday, Sicilia insisted that the subject is still up for discussion in places where the military's presence is still wanted. The plan had been rushed out at the end of a grueling week; it was a moment of typically disorganized movement politics, but also reflected real divisions in the country.
Some analysts, such as Jorge Castaneda, propose that security forces target criminals based on how violent they are, rather than their stature in trafficking drugs. That way, without making explicit deals with the narcos, they might modify their behavior.
Or Mexico could return to the strategy of the PRI, which may retake the presidency next year, when term limits bar Calderon from running again. A legendary patronage machine that ruled Mexico for 70 years, the PRI's presumed candidate seems to be standing by the militarized drug war. But Mexican analyst Jorge Chabat says the party tries to subtly remind people things were quieter when PRI was in power and enveloped the cartels amid a layer of mediation and complicity. The PRI could once again allow its local officials to make deals with the narcos to reduce violence while looking the other way on the drug trade.
It might be too late for that. As the war has dragged on, the cartels have become more inclined to massacres and mass graves. They have diversified into systematic extortion of businesses, kidnapping for ransom, and bootlegging products. At this point, says Brookings Institution Mexico expert Vanda Felbab-Brown, de facto deals with the narcos could result in their snatching sovereignty away from local officials even more than they do now. That would weaken the Mexican government itself and undermine U.S.-Mexico relations. Others worry about newly enriched cartels -- estimates already have them annually raking in $20 to $30 billion in cash, dwarfing the $1.4 billion the U.S. has pledged to Mexican military and law enforcement aid over three years -- trafficking heavy weapons or hand grenades into the United States. They could corrupt or outright infiltrate U.S. law enforcement, as they have in Mexico.
Deal-making wouldn't satisfy Sicilia either, who wants widespread social renewal, not a peace that subjugates Mexicans to a new conspiracy between pols and narcos. His call for a dialogue about legalizing drugs and ending U.S. assistance to Mexico's military is unlikely to go over well in Washington, but most U.S. policy makers share his desire for more accountability in elections laws, more investment in education and employment, and independent courts.
Closely followed in the press, Sicilia has the public eye and seems besieged by everyone with a cause -- indigenous rights, election reform, feminicide. He has trouble saying "no" to such groups asking for his support, in part because he sees them all as stemming from the same institutional rot and impunity that breeds criminality. Even the dead criminals, he says, should be mourned as war victims.