How Ramzan Kadyrov Tried—and Failed—to Save Chechnya with Soccer
The Chechen autocrat's short-lived dalliance with professional soccer went about as well as most things in the war-torn Russian province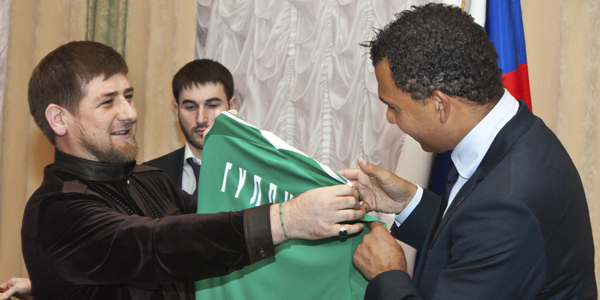 Kadyrov presents Dutch soccer legend Ruud Gullit with a Terek Grozny jersey / Reuters
MOSCOW, Russia -- One afternoon in mid-May, Ramzan Kadyrov strutted into the shiny new stadium that had recently been added to the landscape of rebuilt Grozny, Chechnya's still-recovering capital.
"How do you like it?" Chechnya's leader asked Ruud Gullit, one of the best soccer players to ever come out of Holland -- two-time world footballer of the year, former star of AC Milan, one time hot shot manager of U.K. club Chelsea. "The most important thing is that you like it," he said, gracing Gullit with a smile and a manly hug. In a flash, he became all furrowed brow and frown as he barked, "Now, you must win."
At 34, Kadyrov has been the leading force in the Russian republic of Chechnya since 2004, when his father, then president, was killed in a bomb blast at Grozny's Soviet-era stadium. He has spent the past seven years amassing the sort of power likely to make any Russian official -- even those in the Kremlin -- envious.
In Chechnya, Kadyrov does everything from leading special operations against suspected rebels (the remnants of a separatist campaign-turned-Islamist insurgency that wracked the mainly Muslim province in the wake of the Soviet Union's collapse) to lending his image to the ubiquitous propaganda posters that line the republic's roads and buildings.
Since December 2010, his rule has meant one thing: soccer.
That was the month that the International Federation of Association Football (FIFA) awared Russia the right to host the 2018 World Cup.
Big soccer competitions mean big money. They also mean big attention. Kadyrov has been shown to love both. Within days of the announcement, the Chechen leader said he would seek to host a World Cup match in his republic.
The idea of John Doe leaving the safety of his home in Brighton or Hamburg and flying to Grozny with junior in tow provoked more than a few chuckles and exclamations of disbelief. The war is long gone, thanks in part to the Kremlin's campaign to co-opt men like Kadyrov, who spent their youth fighting the Russian "occupiers" they now work for. But now Kadyrov, and the former rebels loyal to him (known as kadyrovtsy), rule Chechnya with a brutality learned in the republic's most violent years, inspiring a fear all their own. And some rebel violence, however low grade, persists.
So Kadyrov set on a mission: he would prove, in spectacularly Kadyrovesque fashion, that Chechnya was so peaceful, so normal, so great that even the world's best soccer players were jumping over themselves to go there.
Step number one: hire an all-star manager for Terek Grozny, the local Premier League club of which Kadyrov is, of course, president. The first attempt didn't go so well: former Barcelona midfielder Victor Munoz signed on as coach in December, but fled Grozny after two days with no explanation. Then came Gullit, who signed an 18-month contract on January 19 to much fanfare (Britain's Independent newspaper asked: "The worst football transfer in the world?")
Gullit insisted from the beginning, "politics and football don't mix." He was there for the experience, he said, later acknowledging that the money -- reportedly between two and 4.5 million euros a year -- played its part. In an interview with the Daily Mail last month he claimed: "I don't have to deal with Kadyrov."
But few major events in the republic happen without Kadyrov's oversight -- a point drilled into the minds of Chechens daily, via news broadcasts that rarely veer from showing a constant stream of their leader's activities and accomplishments. It was also the point made by Oleg Orlov, the head of Russia's leading human rights group Memorial, when he claimed that Kadyrov was responsible for the murder of Natalia Estemirova, the Memorial activist kidnapped outside her Grozny home in July 2009 and found shot dead hours later. (Kadyrov lost a slander case against Orlov in a Moscow court last week.)
On May 12, TV Grozny showed Kadyrov welcoming Gullit and his straggling club to the new stadium. Fingering prayer beads and clumsily dribbling a soccer ball, Kadyrov was clearly upset. "When you play badly, I shut off the TV because I am ashamed," he said. "Play better," he ordered. "All the Chechen people are rooting for you. When we lose, children cry."
He turned his attention to the players -- Chechens, Russians, Brazilians, Cameroonians. "If you can't run for 90 minutes, I don't understand what kind of a footballer you are," he grumbled, feeling perhaps particularly haughty at the time. The night before, his squad had "beaten" an all-star side of international footballers led by Argentine legend Diego Maradona by five to two in a highly theatrical exhibition match designed to further raise the profile of soccer -- and Kadyrov -- both inside the republic and around the world.
"You have speed, technical skill, health -- what else do you need?" Kadyrov continued. "You need to fulfill what was signed in the contract."
In the world Kadyrov has constructed, there is no room for error or chance, for individual fulfillment or personal will. He expects total allegiance and rages at those who don't comply, be they rowdy human rights activists who regularly decry the massive abuses in the republic or the confused footballers wondering just what they're doing in Chechnya.
Gullit broke that cardinal rule when he complained to the Daily Mail that Terek's training grounds were poor, that certain player transfers he was promised hadn't come through, that friends wouldn't come visit him because, "You can't have a drink and you can't communicate with anyone." Even more insulting to Kadyrov may have been the coach's claim that the president plays no role in the club and that "most people didn't even know where [Grozny] was until I came here." To top it all off, Gullit had managed just three wins out of 13 games -- not quite meeting his promise to turn Terek into a Premier League champion by the end of the year.
Kadyrov lashed out. "Gullit's actions at the head of the team for the past half year show that he hasn't, in principle, figured out the game or its players," read a statement posted on Terek's website last week. The club, and its president, had earlier ignored Gullit's statements to the foreign press, but could do so no longer -- the training grounds were fine, they wrote, the failed player transfers Gullit's fault.
"Few can boast of such relations and attention from the head of a republic as Terek can," the statement continued. Kadyrov, it said, was "extremely unhappy" with Gullit, particularly his claims about the lack of drinking (Kadyrov has limited alcohol sales to two hours per day, in line with increasing government-imposed observance of Islam).
"The Chechen Republic has its traditions," the statement said. "Gullit should know that he was invited not to end up in nightclubs and discos, but to work in a soccer club, and to achieve a result. Yes, we don't have drug addiction, we don't have an obscene nightlife, like they have in Holland and Europe." Instead, it said, there are parks and ice rinks to encourage healthy living. It ended with an ultimatum to Gullit: win your next match, or say goodbye to Grozny.
The next day, Terek lost zero-to-one against Amkar Perm after kicking the ball into the team's own net at the last minute, a particularly poor showing. In yet another TV broadcast, Kadyrov said goodbye to the man he had once touted as Chechnya's great hope. "We parted as friends," he said. "We agreed to stay in touch."
Gullit saw it differently, telling journalists after leaving Grozny, "I knew this was no ordinary country and no ordinary football league. But it's all been too bizarre for words."