Green Light for Bahrain's Formula One Is Setback for Democracy Activists
As countries like Syria are crippled by sanctions and divestment, the crackdown of Bahraini King al-Khalifa can't even deter a glitzy, very public sporting event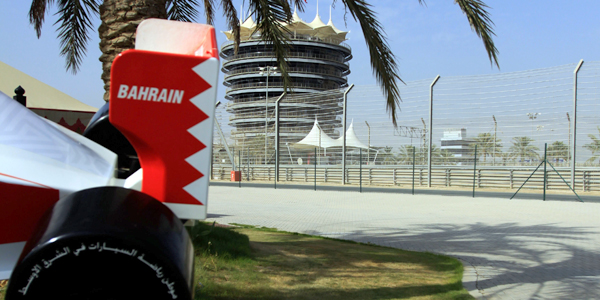 AP
Today in Bahrain, the tiny island nation in the Persian Gulf, pro-democracy protesters held a funeral march for 65-year-old Salman Isa Abu Idrees. One of the thousands of Bahraini who had demonstrated against the authoritarian rule of King Hamad bin Isa al-Khalifa, Abu Idrees had been killed in prison. His body, as shown in a graphic citizen-made video, bore signs of brutal torture. Fellow activists carried his body, covered in a green cloth, through the streets of Manama, chanting, "The people demand the fall of the regime."
Also today in Bahrain, across town in Manama's gleaming, opulent city center, Bahraini information authority chief Sheikh Fawaz al-Khalifa issued a jubilant statement: the Formula One Grand Prix, one of the world's largest and most profitable racing events, would be held in Manama later this year. Postponed earlier in March due to the still-ongoing civil unrest that has left activists jailed, tortured, and killed, al-Khalifa said the race, which many observers expected would be cancelled altogether today, is now scheduled for October 30.
A few minutes later, as the funeral procession for Abu Idrees continued its plaintive march, Bahrain International Circuit head Zayed R Alzayani issued his own statement. "This is welcome news for all of Bahrain. As a country we have faced a difficult time, but stability has returned; with businesses operating close to normal, the State of National Safety lifted and countries removing travel restrictions," he said. "Collectively, we are in the process of addressing issues of national and international concern, and learning lessons from the recent past. By the time the Grand Prix arrives we will be able to remind the world about Bahrain at its best."
As Arab uprisings continue, and as Arab governments react with force, their economies are struggling as investors flee, tourists disappear, and, in some cases, international sanctions are imposed. Syria, perhaps the worst hit so far (aside from Libya, where all-out war brings its own economic tolls), has been forced to roll back many of its social welfare programs. These outside efforts, meant to increase the costs of brutality and deter governments from human rights abuses, are driven by formal agreements, as in the case of sanctions, and by more informal norms of corporate behavior. If you're a big, Western firm, especially one that is publicly traded, it's not just not good business to be seen in bed with the regimes that are also in the middle of a violent crackdown.
But not Bahrain. Formula One, a massive commercial enterprise sponsored by a host of brand-name companies, will give the government there not just a great deal of money, but also a public platform and a chance to bolster its perceived legitimacy. Imagine that the Olympics committee announced that the 2018 winter games were to be held in Tehran. Human rights groups are already calling for Red Bull, one of the event's largest sponsors, to withdraw their participation. One such group, in launching a
public petition
that currently claims some 350,000 signatures, compared their efforts to the sports divestment campaigns launched against apartheid-era South Africa.
Of course, Bahrain has another sponsor that is much larger, more profitable, and more important to the regime's well-being than Formula One: the U.S. Fifth Fleet. The massive U.S. naval base in Bahrain is the home for all American naval activity in the Persian Gulf, Red Sea, and Arabian Sea. Since protests began in the Arab world, though the U.S. has pushed for regime change in Egypt, Yemen, Libya, and to a lesser degree Syria, it has not only declined to do so in Bahrain, but has continued to anchor the strategically crucial Fifth Fleet in King al-Khalifa's harbor.
As the world has watched the uprisings across North Africa and the Middle East, global public opinion has turned sharply against Arab leaders who kill their own protesting citizens. That change in public opinion has helped spur economic divestment, the loss of Western political support, and even outright intervention. Although Bahrain's crackdown has also been brutal, has also included the torturing of journalists and the killing of activists, that Bahrain's Formula One will go ahead in October, and that the U.S. Fifth Fleet is still anchored there, signals that the world may simply not be as interested in Bahrain's struggle or as outraged by its monarchy's misdeeds. It's not clear why this is -- perhaps it's because the country is small and not as well known, or because al-Khalifa lacks the infamy and name recognition of a Muammar Qaddafi or Hosni Mubarak -- but it means that Salman Isa Abu Idrees and other Bahraini pro-democracy activists will face an especially difficult challenge in changing their country.