Despite War's End, Violence Continues in Côte d'Ivoire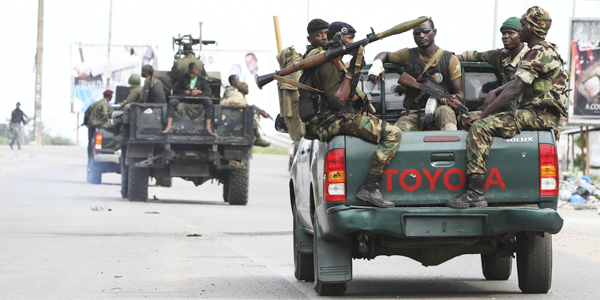 Luc Gnago / Reuters
When French forces, alongside troops loyal to Côte d'Ivoire presidential election winner Alassane Ouattara, finally ousted Ivorian election loser Laurant Gbagbo from the office he'd attempted to hold through all-out civil war, it looked like a stunningly successful intervention. A tyrant had been removed, justice had been restored, war had been prevented. But earlier this week, two months after Gbagbo's removal and the ostensible end of Côte d'Ivoire's war, Human Rights Watch released a report documenting a still-ongoing trend of deadly, sectarian violence in the country.
Though the nature of this latest Ivorian crisis was political, the violence is part of a much longer trend of political and religious divisions in the country. Ouattara is Muslim, Gbagbo Christian. Those divisions became the source of a lengthy civil war that began in 2002 and ended in 2007 with United Nations peacekeepers forcibly separating the two populations and the militias they'd fielded. But the militias -- and the sectarian tensions fueling them -- clearly still remain, and may for some time. The intervention may have solved the political crisis, but the larger issues underlying that crisis remain in place.
Shelby Grossman, an Africa-focused blogger, lists the report's highlights:
Ouattara's Republican Forces of Côte d'Ivoire (Forces Républicaines de la Côte d'Ivoire, FRCI) killed at least 95 unarmed people in Abidjan during operations in late April and May, when they sealed off and searched areas formerly controlled by pro-Gbagbo militia

Most killings were point-blank executions of youth from ethnic groups generally aligned with Gbagbo, in what appeared to be collective punishment for these groups' participation in Gbagbo's militias.

...[M]id- and high-level commanders had been at or near the place where some killings took place.

Nearly every former  detainee [of the Republican Forces] described being struck repeatedly with guns, belts, rope, and fists to extract information on where weapons were hidden or to punish them for alleged participation in the Young Patriots, a pro-Gbagbo militia group.

The Republican Forces also killed older men accused of housing or assisting the militia.