Chart of the Day: Opium Wealth, From Afghanistan to U.K.
Afghanistan may be the world's largest producer of opium, but the drug, which is used to make heroin, is most lucrative in the wealthier countries of the Western world. Moving it from the Afghan poppy field to the European street is no small task, however. Beirut-based Executive Magazine's feature-length exploration of opium trafficking, "From the Farm to the Arm," tracks the difficult and incredibly lucrative journey that the drug takes from Afghanistan to Europe.
Their investigation yields an interesting graph breaking down the division of revenue from a single kilogram of heroin from Afghanistan to the U.K., where it is estimated to be worth $80,000. Their data is from the UN Office of Drug Control and the U.K.'s Serious Organized Crime Agency.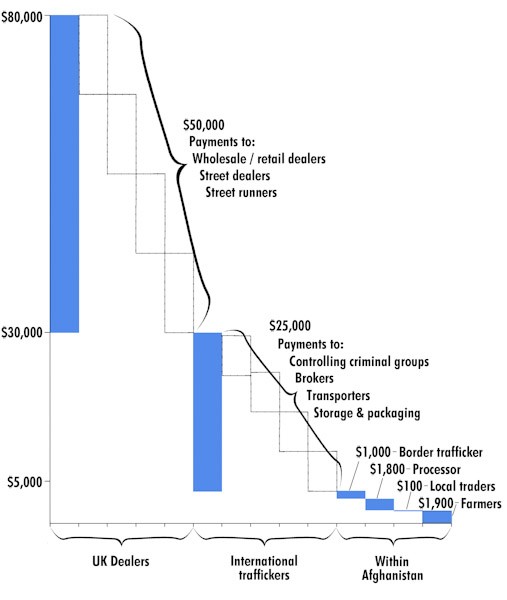 What's remarkable is that, even though opium completely dominated the Afghan economy and is little more than a blip on the U.K.'s, the vast majority of wealth from the drug goes to international traffickers and British dealers. The actual Afghans involved -- farmers, traffickers, processers, and the endless paying of bribes -- get very little of the opium's actual worth.
The U.S., in leading NATO's war in Afghanistan, has made fighting opium production a low priority. The thinking is that opium, for all its sins, is an important part of the incredibly frail Afghan economy; fighting production could worsen the country's poverty and increase anti-Americanism, both factors likely to worsen fighting. Opium farmers, after all, are typically farmers first. And, in any case, the Taliban's 2000 opium ban created a wide backlash in the country, something we don't want to repeat.
This logic still holds, but it's worth keeping the wider costs in mind. Turning a blind eye to opium production creates a small amount of wealth in Afghanistan, but it also funnels much larger amounts of money into very nasty places: international drug traffickers, international criminal groups, local criminal gangs, and all the small- and large-scale crime that comes with having more numerous and wealthier criminals.