Today's Chinese Semiotics Lesson
Wherever you go, there you are. From the Beijing Metro: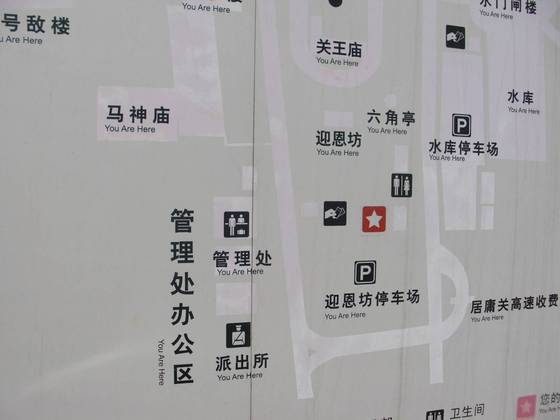 Click on the photo to see a much bigger version. Discussion on Reddit of the Heisenbergian aspects
here
. You'll be relieved to know that my wife's
Dreaming in Chinese
has a chapter on the philosophy behind subway maps like this. And please consider a
related classic
of the translation genre.
To follow previous discussion on the
mystery of street signs
in Beijing, I've received a link to a helpful encyclopedic guide to the iconography -- hell, the semiotics! -- of all "thou shalt not" prohibition signs on Chinese streets. But right now the link, to a site in China, appears to be down. Will provide it later. Thanks to Mike Jarmy and Tim Smith.