The Delicate Matter of Trust in This Week's U.S.-China Meetings
Examining the recent developments between Washington and Beijing -- and why even without resolutions, this year's Strategic and Economic Dialogue matters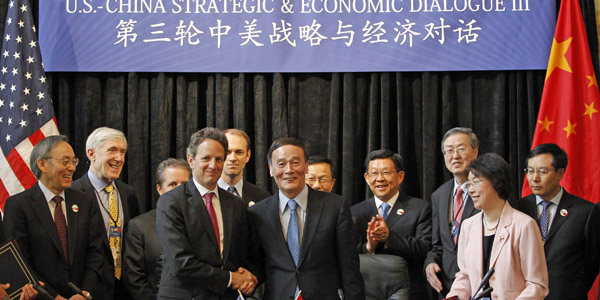 Reuters/Jason Reed
As this is the week of another high-level bilateral meeting between Beijing and Washington, I've got a few items to mention briefly, mostly along the lines of U.S.-China relations (also see Jim Fallows's
takes
).
1.Of Mutual Distrust.
At this point, I've been through five or six Strategic and Economic Dialogue (S&ED) cycles--a bilat meeting initiated by former Treasury Secretary Henry Paulson and slightly tweaked under Obama by incorporating the State Department. This year's was something of a non-event in the pantheon of S&ED meetings. Most of this was due to the fact that President Hu Jintao's January visit carried so much weight, and from it, a rather comprehensive joint statement materialized with major initiatives. So this S&ED certainly wasn't going to top that presidential visit and was rightly confined to implementing and executing elements pledged in that joint statement. Both the
State Department
and
T
reasury Department
 "fact sheets" of outcomes reflect that sentiment as much.
Those expecting resolutions (or so-called "deliverables" in wonk speak) to headline issues like currency and global imbalances will be disappointed. But that misses the larger function of these regular talks, which are consistently aimed at defusing, to the extent possible, the gaping trust deficit between the two countries. Initiatives like these under the "strategic track" are aim precisely at enhancing mutual trust (this is also apparently the first time senior PLA personnel joined the talks):
2. Announced the establishment of the U.S.-China Strategic Security Dialogue (SSD) under the Strategic Track of the S&ED, and held the inaugural round of the SSD in a candid and constructive atmosphere during the 3rd round of the S&ED. U.S. side participants in the SSD included Deputy Secretary of State James Steinberg, Under Secretary of Defense Michèle Flournoy, Vice Chairman of the Joint Chiefs of Staff General James Cartwright, Assistant Secretary of State Kurt Campbell, and Commander, U.S. Pacific Command Admiral Robert Willard; on the Chinese side, participants included Vice Foreign Minister Zhang Zhijun and PLA Deputy Chief of the General Staff General Ma Xiaotian.
Another item worth highlighting is the modest progress made on Chinese innovation policy and market access. It's a highly complex issue to which I still intend to write at length in the future. But for now, if meaningful improvement in this thorny area is executed, then it will be a net positive for those worried about Chinese industrial policy and competitiveness.
China will eliminate all of its government procurement indigenous innovation products catalogues in implementing the consensus achieved during President Hu's January 2011 visit to not link innovation policies to the provision of government procurement preferences. China will revise Article 9 of the Draft Regulations Implementing the Government Procurement Law to eliminate the requirement to link indigenous innovation products to the provision of government procurement preferences. The United States and China are cooperating intensively in the High- and Experts-Level Innovation Dialogue to ensure that their innovation policies are consistent with the 2010 S&ED principles of non-discrimination; support for market competition and open international trade and investment; strong enforcement of intellectual property rights; and, consistent with World Trade Organization (WTO) rules, leaving the terms and conditions of technology transfer, production processes and other proprietary information to agreement between individual enterprises.  Both sides are committed to continuing the High- and Expert-Level meetings and to implementing the outcomes of those meetings.

2."China Bashing." The U.S.-China relationship is not without its own universe of vocabulary--colorful terms like "panda hugger" or "dragon slayer" and the always-in-vogue "China basher"--often co-opted by the Chinese government itself for hitting back at purportedly negative views of the country in U.S. media. To that end, a likely controversial new study by a George Mason University economist seeks to offer some quantitative evidence to the extent of "China bashing" in U.S. media.
Abstract:     

Many scholars in both the United States and China argue that a lot of the news stories about China published in major U.S. newspapers tend to have a negative slant. This tendency has generally been called "China bashing." The purpose of this paper is threefold: (1) to quantify and measure the extent of this bashing, (2) to determine whether there are ideological reasons behind it, and (3) to assess whether the bashing has "worked" from the U.S. point of view (e.g. has it influenced the rate of appreciation of the Renminbi against the dollar?).

To accomplish the first objective, I construct two China-bashing indices that track the incidence of news reported in the United States with a negative slant toward China. The first index tracks newspaper articles in major U.S. outlets containing one of the following "grievance" key phrases: "human rights," "democracy," "child labor," "Tibet," and "repression," phrases that have persistently been associated with criticisms of China. I find that this index correlates well with opinion polls about China conducted in the United States, and the correlation suggests that the index is a meaningful measure of bashing. The second index tracks articles containing one or more of the following key phrases: "exchange rate manipulation," "exchange rate manipulator," "currency manipulation," and "currency manipulator." The indices, which span the 1990 to 2010 period, reveal that the composition of China-bashing in U.S. print media has shifted over time.

While "human rights" bashing has declined somewhat, "currency manipulation" bashing has risen sharply. My estimates indicate that U.S. newspapers report news with a negative slant about China 130 to 150 percent as often as newspapers in other countries.

To address the second objective I break down the "human rights" bashing index by the ideological slant of the newspaper. The results indicate that "liberal" newspapers bash China more intensely than "conservative" newspapers do, suggesting that ideology may be a relevant issue behind the bashing.

Pertaining to the last objective -- whether bashing has worked -- the empirical results indicate that it has not. In fact, I find that currency-manipulation bashing appears to slow down, rather than accelerate, the rate at which the renminbi appreciates against the U.S. dollar. If the U.S. objective is to have China let the renminbi appreciate against the dollar, then the empirical results reported in this paper indicate that China bashing may actually be counterproductive.
I say controversial because China bashing is clearly a politically-loaded term, and such a premise may in itself be a straw man. And it seems axiomatic that hard-hitting news stories--however defined--generally are not about perfectly functioning governments or idyllic citizenry. It is more often than not about what's broken that needs to be fixed--the intention is to expose, not paper over. And there's a clear case to be made that the "China story" is not exempt from this fundamental purpose.
I won't belabor this and will leave you to decide whether this is an interesting/sensible study or just nonsense/absurdity on paper that's better suited for propping up tables with uneven legs. I simply flag this in the spirit of sustaining a discussion on how the broader notion of mutual distrust can potentially manifest itself in various forms and via different channels, Chinese or American. (I suspect the range of opinion will diverge between Chinese readers and those that are part of the loose category of Western media).
3.Confucius. Finally, the Charlie Rose interview with Tim Geithner and Chinese Vice Premier Wang Qishan is worth watching. Wang is of course a powerful political figure in the politburo with rising political stock in China's transition to the fifth generation of leaders. Despite his age, 63, Wang has earned a reputation of competent manager who can put out fires. And with this appearance, I believe Wang is the only other current politburo member who shares the distinction with Premier Wen Jiabao for having sat with major US media for an extended interview. Not even Li Keqiang, presumed premier-in-waiting, can claim that mantle. 
So let me wade briefly into Zhongnanhai-ology--Chinese leadership compound akin to the White House or 10 Downing Street--for a second. Is this part of Wang's campaigning for the 2012 leadership competition? It seemed that throughout the interview, he was deftly deflecting questions and providing oblique answers like a polished politician seeking office. Is he telegraphing to those back home that, "See, I can handle the U.S. policy portfolio perfectly well"?

A final observation that is admittedly completely unfounded and in total jest (but it might get a "hmm..." out of you for a nanosecond). At around the 36:40 mark, Rose asks Wang about how Lee Kuan Yew, former head of Singapore, sang high praises of the vice premier and argued that Wang should continue serving. Wang's reply was peculiar--he first asked Rose whether Lee still had a Confucius statue on his desk when he was interviewed. Insert (Hmm...) The ancient sage as political symbolism or cryptic reference to internal political dynamics? Where else have I seen this recently ... oh yeah, how about that towering 
30-foot bronze Confucius
in the middle of Tiananmen Square, which was mysteriously removed one day.
Coincidence? I think not. What would Confucius say to all of this? Perhaps he would say, "Too much tea leaf reading makes the world go blind." Oops, MLK quote-mash, please repeat and viral-ize on Facebook, pronto.