South African Journalist Anton Hammerl Killed in Libya
Long thought to be alive in government captivity, the freelance photographer was shot by forces loyal to Qaddafi over six weeks ago
Long thought to be alive in government captivity, the freelance photographer was shot by forces loyal to Qaddafi over six weeks ago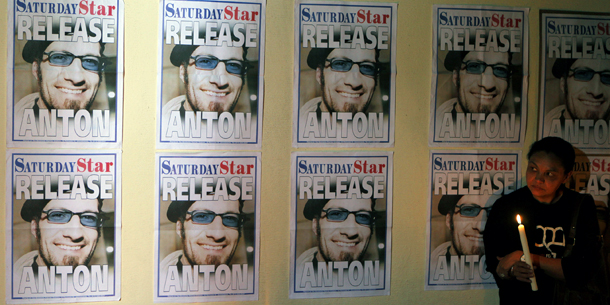 Supporters gather in Johannesburg for a May 3 rally for Anton Hammerl's release from Libya. Siphiwe Sibeko/Reuters
Freelance photographer Anton Lazarus Hammerl, a South African who also held Austrian citizenship, was killed in Libya on April 5, his family has just learned. Hammerl was traveling with three other journalists outside of Brega when the group was attacked by government troops, who shot and killed him. Until this evening, when Hammerl's family announced his death in a post to the Facebook group "Free photographer Anton Hammerl," he was believed to be alive and detained by the Libyan government.
Upon crossing the border into Tunisia on Thursday, the other journalists communicated the news of Hammerl's death to his family through an intermediary. Clare Morgana Gillis, who contributes to The Atlantic and USA Today; James Foley of GlobalPost; and Spanish photographer Manuel Brabo were all with Hammerl when he was killed.
"It all happened in a split second. We thought we were in the crossfire. But, eventually, we realized they were shooting at us. You could see and hear the bullets hitting the ground near us," Foley told GlobalPost. The four reporters, who had been driven to a desert crossroads by rebel troops, were forced to flee on foot because the rebels had driven off without them. They were running from troops loyal to Muammar Qaddafi when Hammerl was shot in the abdomen and fell. "I thought instinctively that we were all going to get killed, so I jumped up to surrender and screamed that we were journalists," Foley said.
"We were just taking cover, heads down in the sand, when there was a lull in the shooting," Gillis told The Atlantic. "We heard Anton call out, 'Help,' and I think it was Jim said, 'Is everybody OK?' Anton said, 'No, I've been hit.' The shooting started and they were coming closer. We ducked back down, we couldn't look back up. And then they were right there," she recalled. "They just came over and started knocking us around. They took away our stuff, tied us up, threw us in the back of the truck. And we all looked down at Anton. I saw him not moving and in a pool of blood. Jim tried to talk to him -- 'Are you OK?' -- and he didn't answer anymore." Hammerl's body was left on the desert floor.
Hammerl's death was a secret closely guarded by his companions and, it appears, by the Libyan government as well. Gillis said the surviving journalists feared reprisal by the Libyan government, which held them in detention from the day of Hammerl's shooting through Wednesday, when it released them to a Tripoli hotel. "We all instinctively and immediately and univocally just knew that we couldn't talk about it until we were free," she said.
It is currently unclear why the Libyan government never reported Hammerl's death. Several NGOs and foreign governments made repeated requests for information about Hammerl, and were at times told by senior Libyan officials that Hammerl was alive and would be released. Over the course of the six weeks since Hammerl's disappearance, the South African and Austrian governments separately stated that they believed he was alive.
Hammerl's parents, as well as his wife, with whom he recently had a son, have been closely involved in the effort to find him. "From the moment Anton disappeared in Libya we have lived in hope as the Libyan officials assured us that they had Anton," read the Facebook statement attributed to the Hammerl family. "It is intolerably cruel that Gaddafi loyalists have known Anton's fate all along and chose to cover it up."