Refugees Stuck in Limbo at Desolate Egypt-Libya Border
Civilians fleeing Libya's violence -- many of them ethnic Africans forcibly expelled by rebels -- have found themselves in a no-mans-land stretch of desert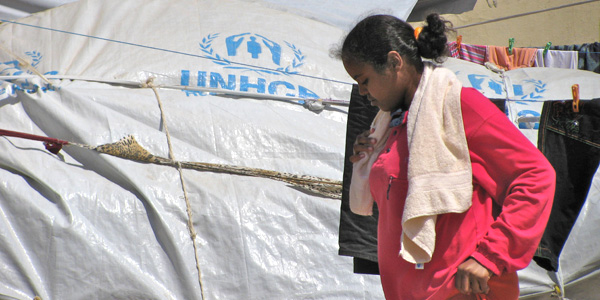 Brian Dabbs
SALLOUM, Egypt -- Posted outside the tent cities, made of UN logo-emblazoned tarps that are fastened with boulders to fight the blistering winds, men peddle wares from shampoo to key chains and sunglasses to canned goods.
Women wash their dishes and their hair with water from vats erected in an open section of the camp. Children kick around undersized basketballs turned soccer balls and play tug-of-rope, escaping the monotony of what has become their new life here.
Between the Egyptian border post of Salloum and the east Libyan frontier, this refugee camp, a single square mile in size, has come to house hundreds of migrants who have fled the violence in Libya but are unable to legally enter Egypt.
Inside the former departure terminal on the Egyptian side, dozens of burqa-clad women sit with clutches of children in their home for the foreseeable future. "Play with your children to help them cope with stress," reads a UNICEF poster plastered against one wall of the congested hall. Despite signs forbidding cooking, women make tea on small stoves throughout the building.
As clashes rage in western Libya, where all sides of the conflict appear set on sustaining the violence, the country's refugee and displacement crisis in recent weeks has shifted primarily to the Tunisian border. But roughly 800 migrants, mostly of African origin, who fled violence and discrimination in war-torn Libya, remain in limbo in Salloum.
Nearly three months after violence erupted in Libya, these migrants are both expectant of the future and nostalgic for the past.
"Life was too good," Hawa Absor, Somali by origin but a Benghazi and Brega resident for the 15 years of her life, said as she sat outside the terminal, garbed in a brown headscarf with green and yellow Islamic dress. "We stayed for two days in Brega during the bombings. Then the thowar [revolutionaries] said to us 'You have to leave now.'"
Absor, along with two sisters, a brother, and her parents, has spent more than two and a half months at the border point. Until two weeks ago, the family slept outside without shelter. Plummeting nighttime temperatures and strong winds make conditions on the plateau above Salloum difficult to endure.
Absor said she recently saw footage of her former community in Brega, now flattened. Her older sister, a college student in Tripoli, has been unable to reunite with the family. Communication, she said, was cut two weeks ago, and Absor's parents have not talked to their daughter since. But Absor said she believes the uprising is still worthy of the hardship wrought in its path.
"It's good," she says. "You have to make democracy."
As the rebels challenged his rule in the east, Libyan leader Muammar Qaddafi hired mercenaries from Sub-Saharan Africa to fight the unrest sweeping the country. Though rebels claims to treat captured mercenaries humanely, the fight against mercenaries has fostered an atmosphere of discrimination and an attitude of suspicion towards Libya's foreign African communities. And it fueled an exodus that continues today.
Mona, a Darfuri migrant, who refused to give her last name, said rebel forces visited her family's house in Benghazi two and a half weeks ago to carry a warning.
"They said 'You have three days and then go,'" Mona recalled. "Thirty men came to our house with guns and said, 'This is our house. Go away.'"
Though the migrants remain in political limbo, the international community is working to provide for their basics needs. The International Committee for the Red Cross, the World Food Program, and local Salloum residents all contribute one halal meal daily per migrant. Doctors and nurses operate out of a small hospital inside one terminal and from medical trailers parked outside.
"This life here is hard but the UN gives a lot for them. Food, water, medicine," said Mohamed Gad, a 21-year-old Cairene on his fifth volunteer delegation to the border. "They give them everything."
Mona said authorities at Salloum ensure the safety of those stranded there. The migrants are able to move around freely and create a life of their own, albeit transient and makeshift.
"We feel free," she said. "But after the war, we don't know what will happen to us."
The International Organization for Migration, with assistance from the United Nations High Commission for Refugees (UNHCR), has administered one of the largest humanitarian evacuations in history here, To date, nearly 300,000 thousand people have fled Libya through Salloum, more than 70,000 of which are third country nationals, according to IOM.
"It's not perfect for sure," said Mohamed Anwar, a 29-year-old doctor employed by IOM and working in conjunction with the Egyptian Ministry of Health. "But at least all the basis stuff is present."
The fate of the hundreds of families still stranded at Salloum, many of whom originally fled to Libya from crisis in their own home countries, remains undetermined. UNHCR and potential recipient countries coordinate to find them a new home. But there is red tape, and the political restrictions can be difficult to navigate.
"Its not easy to know who is that [admissible] person. What is the fear of their return? What happened to them?" said UNHCR officer Salah Tukka, who had been stationed at Salloum for the past three weeks. "This can take time. In the end, all the problems will be solved."
In the meantime, both Libyan unrest and the subsequent displacement crisis show few signs of abating. May 20 will mark 60 days since the onset of NATO's military involvement.
On Thursday British PM David Cameron welcomed Libya's rebels to open a formal diplomatic office in London, the first time a foreign country has issued such an invitation.
Libya's rebels are persisting while Qaddafi defiantly taunts the NATO-led military effort.
"I tell the coward crusaders -- I live in a place that you cannot reach," he said in an audio recording broadcast on state TV on Friday. "I live in the hearts of millions."
With the conflict poised to escalate, the humanitarian situation at Salloum and other Libyan exit points remains unclear. Conflict could always return east and Libya's migrant communities may come under greater discrimination. Under either scenario, the humanitarian crisis at Salloum would almost certainly worsen.
"That's something that no one can know," said the International Organization for Migration's Anwar. "It's totally impossible."