Lost in Jerusalem: A Wanderer's Tour of the Holy City
Embracing wrong turns, contradictions, and touristy kitsch might just be the best way to see Israel—or to travel anywhere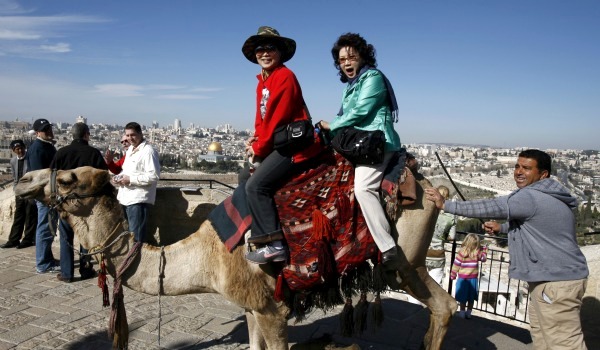 The taxis drivers in Jerusalem are an interesting lot, and not merely because each and every one—whether Jewish, Christian, or Muslim—tried to rip me off. That I expected. What I didn't expect was how charmed I would be by all the scamming. It seemed like a big, cheerful game, in which happily dishonest hacks cross sectarian lines in their efforts to convince me that it will be cheaper not to use the meter—and it works out not to be true! Hilarious!
One particularly pleasant driver, when he learned I was American, smiled and said: "You are like a man standing on a fault line. Soon the earth will swallow you whole and you will die." Impressive. I actually tipped him.
I had asked him to take me to a restaurant called Ima, in the area around the Mahane Yehuda market. The sister of an Israeli friend in New York had told me that it was an excellent spot to try upscale Israeli food, and it was well known enough that all the taxi drivers would be able to find it. I ended up instead at a restaurant called Sima, which the cabbie insisted was Ima. ("I know it," he said. "Good soup.") Ima, Sima, what difference does it really make, so long as the food is good, which it was. I had the me'urav, a formidable combination of sautéed chicken hearts, lungs, and various other unmentionables served next to a heap of excellent French fries. Two nights later, I returned to Sima for dinner. What did I see down the block and across the street? Ima. I went in. It was fantastic.
I have great admiration for the traveler who makes no plans. Whether it be in the expeditional mode of The New York Times's "Getting Lost" column, or the neo-Thoreauvian meditative style of Rebecca Solnit's A Field Guide to Getting Lost, I have respect for these wanderers—but I'm not one of them. I'm more of a researcher, the sort who enjoys maps, reads guidebooks, plots itineraries, and solicits opinions in advance from those who've gone before me.
Yet it was the blundering approach for me on this trip, with results both predictable and pleasant. I was lost most of my time in that ancient city, but indeed I heard, saw, and did things that otherwise wouldn't have occurred to me.
I was in Israel not as a tourist but to work, conducting research for a book I am writing about Jewish identity. I didn't expect to have much free time, so I invested little time researching what I might see. My hotel requirements were few: cheap, clean, in the center of the city, rooms with wireless. I ended up selecting, strictly from a two-sentence write-up in the Lonely Planet, the Hashimi Hotel, which was described as a "colorful mishmash of hotel rooms, family suites, and dorm rooms, all painted in bright colors." It was in Jerusalem's Old City, in the Muslim Quarter; it met my requirements for price—about $50 a day for a private room with a bath—and its two mitigating factors didn't really impact me: there are strict rules banning alcohol on the premises, and unmarried couples aren't allowed to share rooms.
The Hashimi Hotel wasn't without its complications, however. When I read that it was in the Muslim Quarter, for some reason I assumed that this was an historical reference; that is, I didn't understand that such neighborhood divisions in Jerusalem's Old City—Jewish, Muslim, Christian, and Armenian—held in the present day. Put aside the political implications of this geographical ignorance. There were real-time consequences as well.
I arrived in Jerusalem in the late afternoon, by train. I hadn't yet found time to buy a map, but I figured I could to find my way to the Damascus Gate—the entrance to the Muslim Quarter and a few steps from the hotel—by public bus. Most of the bus route signs were in Hebrew, but I decided to get on one whose riders looked like tourists. I know this seems a rather random method of navigation, but I was jet-lagged, and my attempts to communicate with people at the station proved unsuccessful.
On the bus, I got into a conversation with a young Israeli soldier who spoke some English. We chatted about where I was from and what kind of weapon he was carrying (he just laughed when I asked that). I decided to try to confirm with him if we were heading to the Damascus Gate. He seemed confused and asked me to repeat the word for him several times. He turned to several other people, asked them in Hebrew if they knew what I wanted. None did. In the end, I rode the bus to the last stop, which deposited me at the Western Wall and the Jewish Quarter, which, perhaps not surprisingly, is at the opposite end of the Old City from the Damascus Gate and the Muslim Quarter.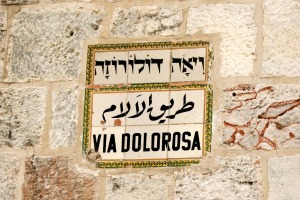 Here was the first advantage of getting lost: to get to my hotel—lugging my bag with me—I had to first make my way through the Old City. Given a fairly hectic work schedule, this could have been my only opportunity to take in the Old City. It was a quintessential carnival of images, smells, and sights. There were the ecstatic prayers of the Orthodox Jews at the Wailing Wall, and the vendors outside the Church of the Holy Sepulcher hawking DVDs, frankincense, and myrrh. Two middle-aged Asian women trudged through the Christian Quarter lugging a massive wooden cross on their shoulders. In a dark alleyway off the Cardo—one of the oldest streets in the Old City—a small Palestinian boy dressed in brown robe, thick wool sweater, and a skullcap sold strawberries and dates from a wheelbarrow. There were falafel stands, shawarma stands, hamburger and pizza joints, bagel spots, coffee shops, tea stalls, purveyors of incense and spices and gorgeous
confections and fragrant treats
; there were the calls to prayer of the muezzin; and there were, of course, tourists, from every corner of the globe, speaking every conceivable language, who had come to this fundamental (and fundamentalist) city for myriad reasons and who invested it with diverse and often contradictory powers.
See? Losing my way resulted in a rhapsodic series of clichés. I'll leave whether that is good or bad to the reader (and my editor) to decide.
Much of the next few days were devoted to work. My tourism experiences, as a result, were of the smaller variety. One of the fellows working in the Hashimi Hotel was a gregarious Palestinian named Mohammed. I had asked him for directions to the Ma'alot Dafna neighborhood, where I was going to be interviewing a family of Ultra-Orthodox American expatriates. He had no idea—apparently religious differences in Israel impact one's knowledge of the streets—but he did know Pittsburgh, where his brother or cousin owns a couple of restaurants in a neighborhood I'd never heard of. We discussed his predictions for the playoffs—he had the Steelers in the Super Bowl, but beating Green Bay—and he told me to take a cab. My last morning in Jerusalem an appointment fell through, leaving me a few hours to kill. I decided to walk the Via Dolorosa, believed to be the historic path taken by Jesus during the Crucifixion. Even a non-spiritual (and Jewish) sort like me couldn't help but be moved. Until, of course, I lost my way again, ending up in a side lane housing the Armenian Catholic Patriarchate, which was shuttered (or at least I couldn't find an open door). I worked my way back to the Via Dolorosa, and then exited the Old City via the Lion's Gate.
If I had referred to my Lonely Planet (I accidentally left it at the hotel), I'd have known that Jesus worked pretty hard carrying that cross up to Calvary—the Mount of Olives is steep, and I nearly got run over by about five tour buses as I hoofed it. But still, the road was winding and dusty, the wind bracing and cool, and when I finally crested the Mount, gulping for air, I felt, in a very small way, that I had some inkling of the suffering described in the Bible. I spent a few minutes thinking about that, and taking in the marvelous view of the Jewish cemetery, the Dome of the Rock, and the ancient walls of the Old City.
There were some distractions, however, in particular the local touts giving Spanish-speaking tourists donkey and camel rides. The Arabic-inflected shouts of ride, amigo, ride! added a slapstick note to the atmosphere. Equally amusing was a conversation I overheard between an Israeli tour guide and his three elderly American charges. He was describing, with Biblical references and citations, the path that Jesus had taken out of the Old City, up the mountain, and to his doom. One of the tourists asked if this description might reflect certain religious biases (the guide was Jewish). Would a Christian guide have described the Stations of the Cross differently? He replied: "If there is one thing in this city in which we have consensus, it is the way in which What's-His-Name came."
I had been in Jerusalem for a week—seven days of puzzled cabbies, confused hoteliers, and bus rides to the wrong stop. No one in this city seemed to know where anything was. But at that very moment, at the top of this mountain, without quite knowing how, I had come to the place that everyone could find.
Images (top to bottom): Baz Ratner/Reuters, papalars/flickr