Kenyan Trial Asks, Can Journalism Be a War Crime?
Radio journalist Joshua arap Sang is accused of inciting mass violence in 2007. His case raises complex questions, rooted in Nuremberg and Rwanda, about the capabilities and responsibilities of speech.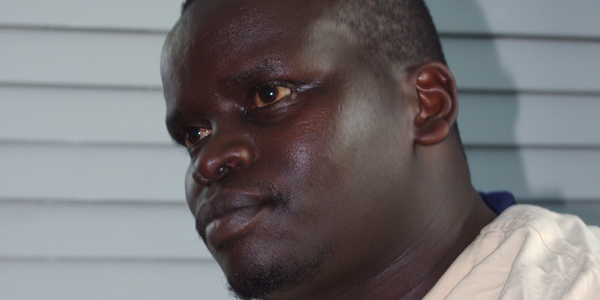 Robert Corey-Boulet
To Elizabeth Cherotich Karanja, the voice of Kenyan radio journalist Joshua arap Sang is a menacing thing, the background narrative for violence in late 2007 that claimed her livestock, her home, and her sense of security.
In December 2007, her village, a pocket of ethnic Kikuyu families in the western part of Kenya's Rift Valley, was set upon by Kalenjin rioters angry that their chosen presidential candidate, Raila Odinga, had lost that month's election to the Kikuyu incumbent, Mwai Kibaki. Though Karanja, 42, is herself a Kalenjin, she discovered, hiding from the mobs as she watched homes burn, that in marrying a Kikuyu man twenty years prior she had surrendered the benefits of belonging to the area's majority tribe.
Perhaps Karanja's most vivid memory of the violence is of listening to Sang's show -- titled "Lene Emet," or "What the Nation is Saying" -- on the Kalenjin-language KASS FM station and hearing a message, delivered in code but clear to anyone paying attention, that seemed intended specifically for her. She recalled recently, "He said, 'Kalenjin girls who played football the wrong way will regret it, because they will have scored an own goal.'"
This is not the type of anecdote by which Sang, 36, currently wants to be defined, and for good reason. In December, International Criminal Court Chief Prosecutor Luis Moreno-Ocampo listed him as one of six suspects implicated in a probe of the post-election violence, which killed more than 1,200 Kenyans and displaced hundreds of thousands. In particular, Sang stands accused of contributing to the crimes against humanity of murder, persecution, and forcible transfer of population. He accomplished this, Ocampo says, not with subtle soccer metaphors but rather with overt calls to arms -- "What are you waiting for?" "What are you doing at home?" "The war has begun" -- paired with specific instructions.
Guilty or not, Ocampo's filings make Sang one of the few journalists ever to be accused of atrocity crimes, and the respective fates of his predecessors do not bode well for his prospects should the case against him go to trial.
In 1946, the International Military Tribunal at Nuremberg found Julius Streicher, publisher of the Nazi newspaper Der Stürmer as well as anti-Semitic children's books, guilty of incitement to murder and extermination, sentencing him to hang. The next such verdict came more than fifty years later at the International Criminal Tribunal for Rwanda, which ultimately tried and convicted four journalists affiliated with the notorious Radio Télévision Libre des Mille Collines, or RTLM.
The Rwanda cases popularized the idea that journalists could play a central role in mass slaughter. From mainstream films to peer-reviewed papers, the contributions of RTLM to the campaign against ethnic Tutsis, hundreds of thousands of whom were killed by ethnic Hutus, feature in most accounts of the genocide. Roméo Dallaire, who commanded UN forces in Rwanda, has written that during the genocide radio "was akin to the voice of God," and that "if the radio called for violence, many Rwandans would respond."
At an event in April marking the anniversary of the genocide, a senior legal adviser at the International Criminal Tribunal for Rwanda (ICTR) told reporters gathered at the Rwandan High Commission in Nairobi that the case against Sang was made possible in part by the Rwandan tribunal's prosecutions of journalists. "We are happy that today journalists cannot use the mic and the newspaper to propagate incitement, and to incite the population to commit crimes against humanity," said Roland Kouassi Amoussouga, who is also a tribunal spokesman. "That is a legacy of the ICTR."
But this legacy has some scholars wondering whether the connection between airwaves and mass graves has been overstated. Scott Straus, a political scientist at the University of Wisconsin, has raised doubts about the potential culpability of the media in large-scale violence. In a 2007 paper drawing on the content of RTLM programming, interviews with perpetrators, and an analysis of RTLM's broadcast range compared to where violence occurred, Straus concluded that the station had, at worst, a "second-order impact" on the genocide that could not be equated with the influence of other factors, among them face-to-face mobilization by local leaders.
In analyzing his findings, he suggested that the starring role afforded RTLM in accounts of the genocide betrayed an attempt to explain away a complex, troubling conflict in a distant country that is otherwise of little significance.
Though he has not studied the Sang case closely, Straus said in an interview that the same concerns could apply to Kenya. "I don't think the media should be the prism through which we analyze and understand why these episodes of violence happen," he said. "I think they happen for much more complex reasons."
Keith Somerville, a journalism lecturer at Brunel University in the UK and an expert in so-called hate radio, has studied the Sang case. He said that, broader questions about the role of the media aside, there is "no comparison" between KASS and RTLM. "KASS was set up as a community station ... RTLM was specifically set up at a time of armed conflict or war in Rwanda," he said. "And it was set up by a very tightly defined extremist group with the idea of broadcasting violently anti-Tutsi propaganda."
Somerville said the evidence against Sang might be thin in light of the fact that there are few transcripts from the post-election violence. Those he has seen, he said, do not appear to implicate Sang directly in incitement. He noted, though, that the case could instead hinge on Sang's alleged role in organizing the violence in meetings before the election, and thus could have little to do with "Lene Emet."
If Ocampo's allegations do relate largely to Sang's on-air statements, however, Sang could argue that his free speech rights are being violated, Somerville said, adding that a reasonable comparison can be made between what KASS broadcast during the violence and what conservative American personalities such as Glenn Beck and Rush Limbaugh broadcast on a daily basis.
"You could say in some ways if KASS was operating in the United States it would have no trouble at all," Somerville said. "The difference is Kenya's [press] laws are much less defined."
Since being named a suspect, Sang has been profiled in a handful of local papers, invariably playing down his ties to the political establishment and playing up his roles as broadcaster and student (he was set to complete his bachelor's degree in journalism this spring). He has petitioned the ICC for legal funds and the Kenyan government for security, implicitly contrasting himself from Ocampo's five other suspects, an assortment of elite politicians and businessmen awash in cash and guards by virtue of their positions.
For his initial appearance in The Hague on April 7, Sang appeared with his arm in a sling, the result -- and this story was carried by all the papers -- of an injury reportedly sustained when an overzealous supporter pulled him down from the car he was riding on top of during a political rally. He introduced himself to judges that morning as an "innocent journalist."
The following week, in an interview at the KASS studios in Nairobi, he expressed confidence that the charges against him would not be confirmed -- a hearing on whether to send the case to trial has been scheduled for September -- saying his training and experience as a broadcaster necessarily precluded him from committing RTLM-style crimes.
"I cannot be compared even 0.01 percent. I can't," said Sang, his arm still in a sling. "We are in class, we have read about radio ethics. I myself, I am a Christian. I do not advocate killing. The pouring of blood is not part of my life."
He added, "Our job is to educate, entertain, and inform, not to incite."
As for the specific claims against him, he said, "According to my own conscience, these are framed allegations. I don't remember in my conscience saying things like that."
He also said the ICC was in danger of threatening protected speech. "If they take me to The Hague and I know I was doing my job professionally, then what are they telling journalists?"
These statements have little purchase for those who are already convinced of Sang's guilt -- including Karanja, the Kalenjin woman who married a Kikuyu and who lost her Rift Valley home in the violence. She said Sang is plainly hoping to take advantage of the fact that his broadcasts are only fully understood by Kalenjin-speakers.
"You can lie to other people who don't understand, but you cannot lie to me because I understand," she said.
Stella Ndirangu, legal officer for the International Commission of Jurists in Kenya, said she believed the available transcripts, though limited, would point to Sang's involvement in specific crimes.
"They gave updates using Sang's radio show on what they had conquered, what they had achieved, and [they were] giving plans for what they should be doing to advance their cause," Ndirangu said. "They would say, 'Today we have attacked this village and we're heading to this village.' The foot soldiers would know where they needed to go."
But even if no clear links emerge, the case law from Rwanda suggests that Sang would have a difficult challenge convincing judges of his innocence. In a landmark ruling against three of the RTLM journalists, ICTR judges ruled that it was not necessary to prove causation between what was broadcast and crimes on the ground.
"The Chamber recalls that incitement is a crime regardless of whether it has the effects it intends to have," the judges wrote in their verdict convicting all three of inciting genocide.
"In determining whether communications represent an intent to cause genocide and thereby constitute incitement, the Chamber considers it significant that in fact genocide occurred."