Journalists Leave Libya After Six-Week Detention
Clare Morgana Gillis, James Foley, Manuel Brabo, and Nigel Chandler have safely crossed the border into Tunisia, where they were escorted by Hungarian diplomats, and are on their way home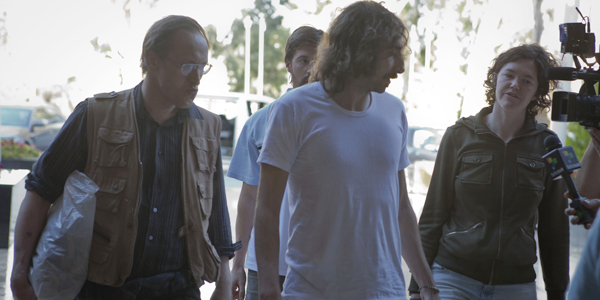 From left: Nigel Chandler, James Foley, Manuel Brabo, Clare Gillis. AP/Darko Bandic
The day after the Libyan government released them to a Tripoli hotel, four journalists who had been detained in Libya since April 5 crossed the border this morning into Tunisia. The Hungarian embassy in Tripoli, which has been acting as an informal protecting power in Libya for Western governments, drove the journalists to the Tunisian border. Clare Morgana Gillis, one of the four and a freelance reporter for The Atlantic and USA Today, said they had been charged with illegally entering the country but that their sentence had been suspended, adding that all four were fine.
American reporter James Foley of GlobalPost, Spanish photographer Manuel Brabo, and British freelance reporter Nigel Chandler also crossed into Tunisia. Foley and Brabo had been detained with Gillis on April 5 outside of Brega, where the three were reporting on the civil war in Libya. Chambers joined the others in Tripoli this past week. It is not known how long he had been held prior to joining the others.
Clare's mother, Jane Gillis, expressed relief at news of her daughter's freedom. "We're ecstatic for her release and we are looking forward to seeing her," she said. Clare, who traveled to Libya in early March to report on the civil war there, had just graduated from Harvard University with a PhD in history. From Tunisia, she will travel home to New Haven, Connecticut, where her parents also live.
The Libyan government detained the three journalists for 43 days before releasing them. After being taken outside Brega and brought to Tripoli, they were initially held in a coed military detention center, where they communicated by speaking through emptied-out electrical outlets. After about two weeks, Gillis was moved to a women's civilian prison, also in the capital, where she said most fellow inmates spoke Arabic only and wore "pink pajamas" as uniforms.
After about two weeks at the prison, Gillis was briefly moved to a luxury hotel. She later rejoined Foley and Brabo at a villa, where last week a diplomat with the Hungarian embassy in Tripoli was allowed to visit. The diplomat reported the journalists were comfortable and being well fed.
The Hungarian embassy, which currently represents European Union interests in Libya as most other European embassy have closed, began working on the journalists' case some time after the Turkish embassy in Tripoli closed on May 2. The Turkish government had acted as the U.S. protecting power in Libya, where it worked directly with the Libyan government on securing the journalists' release. They continued to assist in those diplomatic efforts after leaving Libya, though in a reduced role.
Atlantic editor James Bennet said the magazine was thankful for those who worked toward Gillis's case. "We're grateful to the State Department and other foreign intermediaries, particularly the Hungarian and Turkish governments, who helped secure Clare's release. We're looking forward to her safe return home." Atlantic Media owner David Bradley, who worked with U.S. government officials and other intermediaries seeking her release, spoke to Clare by phone briefly Wednesday evening. "She sounds great. She is so relieved and happy to be going home," he said. Bradley added that he is grateful to the Libyan government for treating her well.
The status of another journalist who went missing separately on April 5, freelance photographer Anton Lazarus Hammerl, remains unknown. Hammerl, a dual citizen of South Africa and Austria, is also believed to be held by the Libyan government. A spokesman for the Austrian Foreign Ministry earlier said that they believe that Hammerl is alive and in Libyan custody.