Is NATO Trying to Kill Qaddafi?
In an interview, Secretary-General Anders Fogh Rasmussen says the military alliance wants to help Libya but is not targeting individuals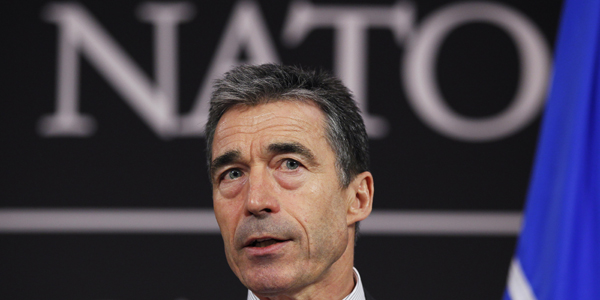 Francois Lenoir / Reuters
Libyan leader Muammar Qaddafi's Tripoli compound stayed relatively quiet for nearly two weeks after April 30, when a NATO missile destroyed one of the buildings, killing Qaddafi's son, Saif al-Arab, and several other family members.
That quiet ended not long after Qaddafi appeared in a soundless video that showed a television in the background time stamped Wednesday, May 11. Within hours of the video's release, NATO's bombing of his compound resumed. Among the destruction was the façade of a building reserved for hosting VIP guests.
Was this timing a coincidence? According to NATO Secretary-General Anders Fogh Rasmussen, yes -- absolutely coincidental.
"We do not target individuals," the Danish leader of NATO said in an interview in Washington. "We are targeting military facilities including command and control centers."
Rasmussen refused to comment on what intelligence may have led NATO, mere hours after Qaddafi appeared publicly for the first time in weeks, to resume its bombing. He only said the data revealed military operations were being conducted on the fortified compound.
"I don't want to go into operation details, but I can assure you that our military commanders are very careful in identifying legitimate military targets," he added.
The United Nations's resolution establishing the no-fly zone over Libya was a defensive statement, he said, authorizing the use of international force to stop the slaughter of a citizenry that was under attack by its own commander.
But publicly, world leaders, including President Barack Obama, have called for the end of Qaddafi's reign, though Western leaders say they won't move toward that end with a military escalation.
This has led many observers to worry that, with air power insufficient to remove Qaddafi and the Libyan leader apparently unwilling to go of his own accord, there's no endgame in sight.
"There's got to be a conclusion, and if Qaddafi stays in power it stays a stalemate and the UN mandate and NATO mandate doesn't get resolved," said Professor Robert Guttman, the Director of the Center on Politics & Foreign Relations at the Johns Hopkins University School of Advanced International Studies.
This puts world leaders in a difficult place. The rebel fighters are still relatively unknown, yet the international mission hinges on the success of their rag-tag militia.
Though neither the U.S. nor the U.K. officially recognize the revolutionaries as the legitimate Libyan government, both nations are considering increasing assistance to the revolutionaries.
On Thursday in London, after meeting with leaders of Libya's Transitional National Council, British officials announced their government is increasing equipment supplies to the rebels as they work to establish a new Libyan government.
The White House says that later today, U.S. officials, including senior administration staff and members of Congress, will meet with the transitional council.
While international diplomacy slowly winds its course, reports from across Libya are that fighting is intensifying and supplies running short.
Rasmussen says he wants to assist Libya's rebels in establishing a democracy of their own, but he acknowledges the international role is limited and cannot be viewed as forcing change on Libya from the outside.
"We can, if they so request, we can assist them in the transition to democracy. ... We can be helpful when it comes to reforms, democratic reforms, of the military and the security sector," he said. "If they so request we stand ready to help them."
Though the situation for Libya's rebels becomes more dire by the day, patience is essential, according to U.S. officials.
"There's a lot happening, there's a big opposition. ... This takes time," said Sen. John Kerry, D-Mass., the Chair of the Senate Foreign Relations Committee, as he walked to his Capitol Hill office. "I think Qaddafi does not have a great hand to play here."