Is China's Muckraking Era at Hand?
Two very useful China reads:
- From Patrick Chovanec in Beijing, this explanatory guide (including illustration below) to how the various anything-but-transparent parts of China's government system fit together. Worth keeping around as a decoder to stories in the future, as the big Transfer of Power happens over this next year.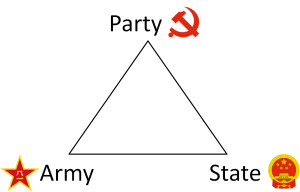 - From
China Geeks
, which translates material from the Chinese press and blogosphere, an English version of a
very important story
from Southern Weekend, 
南方周末,
as
fearless a reform publication
as you will find in China, about a true "let them eat cake" saga underway there now.
At a time when tainted-food scandals are erupting all over the country, the story describes a special farm and food-supply system for government bigshots, to spare them exposure to the heavy-metal laden, adulterated, and otherwise contaminated food the rest of the population ingests. People often compare early 21st century China to early 20th century America, when industrial abuses gave way to the Muckraking and Progressive era. We'll see whether reformers can get similar traction there. If you want an idea of what makes ordinary people in China angry, check out this story.