Georgia's Dangerous Quest for American Weapons
From K Street lobbying to interviews with Newsweek, Georgia is doing everything it can to secure American arms against Russia. But is that really a good idea?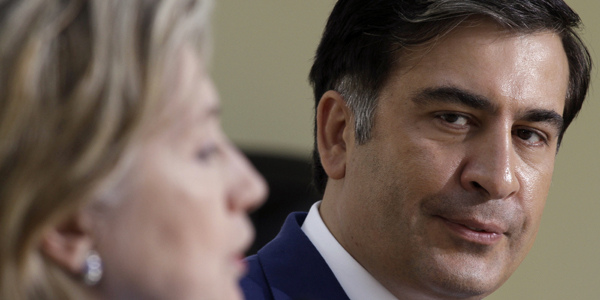 David Mdzinarishvili/Reuters
Since Mikheil Saakashvili took power in Georgia, the small post-Soviet republic has become one of the U.S.'s most devoted allies. It has been the highest per capita troop contributor in both Iraq and Afghanistan -- even while two of its erstwhile territories, Abkhazia and South Ossetia, host hostile Russian forces.
And Georgia hasn't been particularly shy about suggesting that it sees its contributions to U.S. military missions as part of a quid pro quo. "As soldiers here, we help the American soldiers," one Georgian corporal in Iraq told the New York Times in 2007. "Then America as a country will help our country." In Afghanistan, it's volunteered to serve in the dangerous Helmand province, where seven of its soldiers have been killed so far.
The help Georgia wants in return is protection against its nemesis, Russia, and to help Georgia regain control over Russian-occupied Abkhazia and South Ossetia. Thus far, though, aside from rhetoric, the U.S. hasn't given much actual help. George W. Bush visited Tbilisi in 2005 and called Georgia "a beacon for democracy." Last month, a U.S. Marine Corps general effusively praised Georgians' service in Afghanistan, noting: "Georgians like to fight."
But talk is cheap, and there has never been much action to back up those words. Tellingly, when war broke out in 2008 over South Ossetia, the U.S. -- after giving Saakashvili the impression that Washington would have his back in the case of conflict with Russia -- stood by, except for one poignant move: U.S. military planes flew the Georgian soldiers serving in Iraq back home. But, by the time those troops got home, the war had already been lost.
Georgia's primary security goal for most of Saakashvili's rule has been to join NATO, and the U.S. did back that, but to no avail -- the war with Russia took serious consideration of NATO membership off the table. After all, had Georgia been a member at the conflict's onset, it would have forced the U.S. and the rest of NATO to declare war against Russia. Now Georgia has a new target in its sights: American weapons. Last year, it began a serious push to get the U.S. to provide it with "defensive weapons," in particular air defense and anti-tank systems.
"[L]eaving Georgia defenseless doesn't help the situation," Saakashvili told Newsweek. "Georgia cannot attack Russia, while a defenseless Georgia is a big temptation for Russia to change our government through military means. ... As part of ongoing security cooperation, we hope that the U.S. will help us with defense-weapons capabilities."
Lately, he's upped the rhetorical stakes by claiming that only the U.S. could sell Georgia the weapons it needs to protect itself: "What Georgia really needs is something that it cannot get from anywhere else and that's anti-air and anti-tank [weapons] and that's completely obvious. ... That's where should be the next stage of the cooperation."
The U.S. has never been a particularly large supplier of weapons to Georgia, which inherited Soviet equipment upon independence and then came to rely on other former Soviet and Warsaw Pact countries for reinforcements. While the Pentagon has set up a number of military training programs with Georgia, those programs focus on preparing the Georgians for deployment to Iraq and Afghanistan.
But the issue of American weapons has now come to define the state of the U.S.-Georgia relationship, with Georgia and its allies in Washington arguing that if the U.S. doesn't give Georgia weapons, it's kowtowing to Russia for the sake of a wishful-thinking "reset." U.S. Senator John McCain is the leading advocate for weapons provisions; in March he told a Congressional hearing, "It is hard for me to understand, since the Russians still occupy territory that is clearly Georgian territory and continue to threaten Georgia, and yet we're not even giving them weapons with which to defend themselves. It is not comprehensible."
Georgia spent about $1.5 million on four top D.C. lobbying firms last year alone, far outpacing comparable countries. Those lobbying efforts include an aggressive press campaign arguing that the State Department is enforcing a "de facto embargo" by quietly blocking Georgia's attempted arms purchases, although there is no evidence of such an embargo.
One key, but answered, question is whether Georgia expects to buy the weapons or for the U.S. to give them as aid. When asked, Georgian officials duck the question, saying that discussions aren't that far along. But it's one thing to allow Georgia to buy weapons, and quite another to use U.S. taxpayer dollars to fund them. But the numbers suggest that Georgia could never afford American hardware on its own.
Georgia is poor and Americans weapons are expensive. Tbilisi's estimated defense budget for 2011 is about $370 million, of which one-third -- $123 million -- is available for procurement. The United Arab Emirates, to take one point of comparison, has just spent $7 billion on U.S. air-defense equipment. A single Patriot anti-aircraft missile costs nearly $6 million, meaning that 20 missiles -- to say nothing of the launchers, radars or other essential components -- would be all Georgia could afford with an entire year's budget..
If Georgia actually wants to use its own money for weapons, then, it would do better to buy weapons from a cheaper source. Russia has intimidated many of Georgia's former arms suppliers, especially in Eastern Europe and Israel, into ending cooperation with Georgia. But other arms manufacturers, such as China, India, Brazil, or Turkey, could surely step in.
Even if Georgia were armed to the teeth, however, it's not clear how much good it would do them. Russia's military is so much stronger than Georgia's that additional weapons would be a moot point. Or worse: Though Georgia repeatedly emphasizes that it is only seeking "defensive" weapons, any defensive weapon makes aggression easier by improving defense against a counterattack. Georgia touts the threat of a Russian attack, but it was in fact Georgia which fired the first shots that precipitated the 2008 war with Russia, in an apparent belief that Russia would stand idly by.
In a paper published earlier this year, two scholars of the region, Cory Welt and Samuel Charap, argue that providing Georgia with weapons would perpetuate a "Berlin Wall mentality" of eternal conflict, and block the path that Georgia really needs to take with regard to its lost territories of Abkhazia and South Ossetia. That, Welt and Charap write, is the slow, painstaking process of "conflict transformation that reduces tensions, brings people together across the conflict lines, creates trust, builds trade links, and normalizes contacts among authorities."
But subtlety is not Saakashvili's strong suit. While American weapons may not make any difference on the ground, they would be a tangible sign of hard support from the West, which Saakashvili clearly craves. Over the last few years, Georgia has perhaps done more, for less reward, than any other ally of the United States. That's not an argument for shipping Georgia free missile systems, of course. It just makes the situation all the more tragic.
---
* This post originally stated that Georgia's previous ambassador to Washington was relieved of his duties because of his failure to secure arms from the United States. The reporting on this matter is, in fact, inconclusive.