For Families of Hikers Held in Iran, 21 Sleepless Months
As their sons hunger strike in a Tehran prison, two mothers struggle against time, an Iranian regime bent on using them as tools against the U.S., and the agony of countless unspeakable fears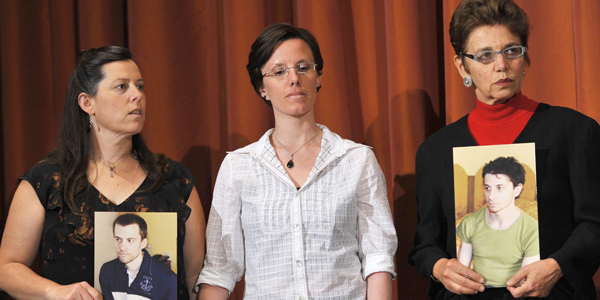 Sarah Shourd, center, stands with Cindy Hickey, mother of Shane Bauer, left, and Laura Fattal, mother of Josh Fattal during a news conference. Stephen Chernin/AP.
Cindy Hickey and Laura Fattal didn't eat on Thursday or Friday.
Their sons, UC Berkeley graduates Shane Bauer and Josh Fattal, have been held in Tehran's Evin Prison for the past 21 months, accused of spying for the United States. The charges, denied by their families as well as President Barack Obama and Secretary of State Hillary Clinton, are largely seen as a means of embarrassing the U.S. Shane and Josh, not to mention their distraught families, are incidental casualties.
When the Iranian government cancelled the two hikers' latest court appearance last Thursday, both mothers suspected the boys were hunger striking. They began their own solidarity fast on May 19.
Their mothers' intuition was correct -- the men had been fasting. On Monday, after 17 agonizing days without food, Shane and Josh were each allowed one short phone call to America.
Hickey had long worried something might happen to her son. Shane, now 28, is a freelance journalist whose work in the Middle East had placed him in the scrum in Baghdad just six weeks before his July 31, 2009 arrest. But her phone rang while he was hiking in Kurdistan, a peaceful, tourist-friendly area, with girlfriend Sarah Shourd, 31, and their friend Josh, also 28. "I worry when he's on assignment," Hickey told me. "I wasn't concerned about this trip. Even I would have gone on this trip."
Officials from the U.S. Embassy in Baghdad told her Shane had been arrested by Iranian authorities, accused of spying. Nearly two years later, he is still held in Tehran's notorious Evin Prison. Shourd was released on $500,000 bail in September over concern for her declining health. Prominent peace activists, including Nobel Peace Prize winners Desmond Tutu and Iranian Shirin Ebadi, are speaking out on the hikers' behalf.
"If we assume that the judge presiding would be a fair judge, and observes the rule, they should get their acquittal," Ebadi told me at a recent conference in Oslo. "The prosecutor has charged them with espionage, but bear in mind that they were arrested the moment they entered Iran. Which means that even if we assume it was their intention to spy, they didn't have time to get around to it. They are innocent and must be released."
On Friday, Hickey received a visit of support from one of her senators, Minnesota's Amy Klobuchar, who has been working closely on the case.
But the nightmare continues. For the now 19 months after the arrest, she couldn't go near the study in her home in Pine City, Minnesota, the room where she got the call. When the news first broke, "I figured this wasn't going to be a 24-hour thing," she recalled. "But I thought the maximum time was four months. And the last few months I just wake up thinking, 'How can we do this?"
Until Monday, Hickey had not had contact with her son since a five-minute phone call on Thanksgiving. She has seen him only once in 21 months, in May of last year, when the hikers' mothers were granted 48-hour visas to Iran and allowed to visit briefly with their children at a luxury hotel near Evin.
One of the first things she did after the initial arrest was call a crisis counselor. As the ordeal drags on, she seeks regular therapy. Herself a registered nurse, she closed the practice she had been running for 18 years to concentrate full-time on bringing her son home.
"We're all in a prison," she said. "Our lives have changed."
Hickey speaks daily with Laura Fattal, Josh's mother, and Nora Shourd, mother of Sarah, who was released on "humanitarian grounds" when her health declined dramatically after Iran denied her essential medical treatment. Shane and Sarah became engaged while held at Evin, Shane using a makeshift ring fashioned out of an errant piece of string.
Laura said she hasn't slept a full night in months. Neither has her husband.
"It's a new life, it's a totally different life," she said from her home in Elkins Park, Pennsylvania, which has become the site of a war room of sorts as family and friends work to free Josh. "I have a doctorate in curriculum instruction, art education. I was teaching at a college. I've stopped all work, I've stopped doing anything else."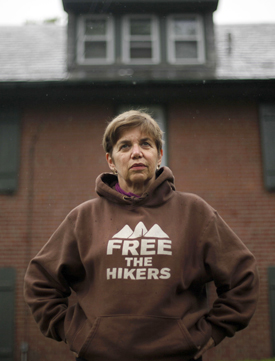 Laura Fattal stands outside of her Pennsylvania home. Matt Rourke/AP.
Her older son, Alex, a former Fulbright scholar, is a doctoral student at Harvard. He has put his studies on hold for nearly two years.
"We all used to be so great at sleeping," he said drily. Josh's only sibling helps run the nonprofit Free the Hikers movement, started and funded by the families and their close friends to draw attention to the boys' plight. When his mother and Hickey ended their leg of what has turned into a rolling hunger strike in support of his brother and of Bauer, he took over for a day. He was followed next on the schedule by Deepak Chopra.
He's adamant that he will return to school only after his brother steps off a plane from Tehran.
The emotional roller coaster of the past 21 months has been compounded by the cat-and-mouse game the Iranian authorities seem to be playing with Bauer and Fattal. Through daily contact with the State Department, the families have been notified time and again of impending releases and trial dates, only to see Tehran cancel them at the last minute without explanation.
Shane and Josh were set to face espionage charges before a judge in the Iranian capitol last Thursday, an important step toward their potential release that had been anticipated for six long months. But they never arrived in court. Their lawyer, Masoud Shaffi, waited for them for two hours. So far, there has been no explanation for the cancellation. The families are worried that the boys are hunger striking and too weak to appear in court, that they have been abused and authorities are thus wary of bringing them into the public eye.
The families were notified of the trial's cancellation by a 4 a.m. email from the State Department. "We were crazy," Laura said, "just devastated." Alex Fattal called the unfulfilled promises "a cruel psychological game, where you crash if something doesn't happen." Shourd saw the trial as a benchmark. Its abrupt cancellation left her "crushed. We were feeling hopeful that a resolution was in sight. We've been given no explanation."
The trial would have been the first time the boys had been seen by anyone outside of Evin Prison in nearly six months. They have repeatedly been denied access to either Shaffi or officials from the Swiss Embassy, which handles U.S. interests in Tehran. Frustrated, Shaffi recently threatened to quit, but stayed on at the families' pleading -- he's one of the only links their children have to the world.
With last week's setback and new concerns about the boys' physical state, their loved ones spiraled. Alex Fattal described his mother, despite her even keel during our phone interview, as "frantic, hysterical, devastated." Her husband has thrown himself into his work as a means of coping. Alex himself lives out of a suitcase, crisscrossing the country rallying support for Free the Hikers.
On Monday, he said the families are "imagining the worst. Shane and Josh could be into day five of a hunger strike, [which could lead to] infection. We don't know if they're abused, why they didn't want them to be seen. Your mind begins to wander." Shourd's adamantly believes that her fiance and friend are hunger striking, something the trio did four times during her own tenure at Evin. "That's what I would be doing if I was there now," she said.
After recently learning that Shourd, who spent 14 months in solitary confinement, has been diagnosed with Post-Traumatic Stress Disorder, the families' concern over Shane and Josh's mental health has escalated significantly. Outgoing and well-traveled, neither of the boys is used to even short periods of isolation. Both Hickey and the Fattals worried about the effects of long-term isolation.
"Sarah has PTSD after only 14 months," Laura said. "We are scared to death of what they're suffering." Her parents are 85 and 86 years old, both heartsick. "They want to see their grandson."
Conditions in Tehran's most notorious prison are brutal. Shane, who's fluent in Arabic and has reported from Egypt, Syria, and Iraq for publications including The Nation and Christian Science Monitor, doesn't have access to pens and paper.
Fattal, an environmentalist who's worked in rural India and the wilds of Oregon, is left to stare at concrete.
"He used to wake up everywhere we were to do Tai Chi, Qui Gong," remembered Farah Mawani, a close friend who spearheads social media initiatives, including a massive Facebook and Twitter campaign, for Free the Hikers. When the pair lived together in Cape Town, Josh would sleep on the roof overlooking Table Mountain. While in India shortly before heading to Kurdistan, they were constantly surrounded by people. "I worry about the dramatic effect of his isolation after all of that," she said. "Now the only people he interacts with other than Shane are his captors."
The boys share a 10-by-14 foot cell with one small, high window. The lights are on 24 hours per day, so they tie shirts around their eyes to sleep. Bland food is served in plastic containers. The only room to eat is on their beds, which are next to the toilet. Most days, they are given 40 minutes in an "exercise yard," a slightly larger concrete room whose thick ceiling bars provide a glimpse of sky. Whenever they leave the cell, they are blindfolded.
During the mothers' 2010 visit, Laura Fattal saw "despair" on her son's face. The three friends were pale, with yellow spots on their teeth.
No one understands their helplessness better than Sarah Shourd. She calls Evin "grueling and completely devoid of any beauty. Prison is not hell ... but there's so little heaven that it's almost worse. My experience being there for 14 months makes me so much more concerned about Shane and Josh. I can't imagine the depths of hopelessness and desperation." The first thing Laura Fattal said when she saw her son in Tehran was "I love you." Two days later, she watched an elevator door close on Josh's face as she, Hickey, and Nora Shourd were escorted back to the airport and home. "That was the worst, the elevator scene," she said. "Horrible. We're big Bob Dylan fans, so we sang a lyric together. I tried to fill him with hope. I couldn't totally believe I was leaving. I never thought this year would pass and I wouldn't have Josh back."
Laura won't name the Dylan song. She's waiting for the day Josh is home, when they can sing it together.