Detained Journalists Released by Libyan Government
Clare Gillis and three other reporters remain in Tripoli but, after more than six weeks, are no longer in government custody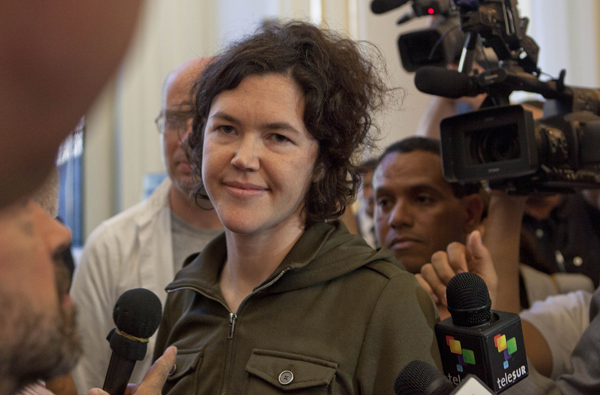 AP/Darko Bandic
The Libyan government has released four journalists to a Tripoli hotel frequented by Western reporters. Clare Morgana Gillis, a freelance reporter writing for The Atlantic and USA Today, was among the freed journalists. She told the Associated Press that all four had been charged with illegally entering the country but that their sentence had been suspended. Gillis said they were all fine.
Also released were American GlobalPost reporter James Foley, Spanish photographer Manuel Brabo, and British freelance reporter Nigel Chandler. Gillis, Foley, and Brabo had been detained by Libyan government forces on April 5 while reporting from the front lines near Brega.
Their release comes after more than six weeks of detention by the Libyan government. They were held for about two weeks in a coed military detention center in Tripoli. Gillis was later moved to a women's civilian prison in the capital. The three were later moved to another facility, where a foreign intermediary was last week allowed to visit and reported the journalists were comfortable and being well fed.
Clare's mother, Jane Gillis, expressed relief at the news. "We're ecstatic for her release and we are looking forward to seeing her," she said. Atlantic editor James Bennet said the magazine was thankful for those who worked toward Gillis's case. "We're grateful to the State Department and other foreign intermediaries who helped secure Clare's release. We're looking forward to her safe return home."
Atlantic Media owner David Bradley, who worked closely with U.S. government officials and other intermediaries seeking her release, spoke to Clare by phone briefly this evening. He said, "She sounds great. She is so relieved and happy to be going home." Bradley added that he is grateful to the Libyan government for treating her well.
The status of another journalist who was detained separately on April 5, freelance photographer Anton Lazarus Hammerl, remains unknown. Hammerl is a dual citizen of South Africa and Austria. A spokesman for the Austrian Foreign Ministry earlier said that they believe that Hammerl is alive and in Libyan custody.
Though the four journalists remain in Tripoli, it is expected that they will be allowed to leave the country tomorrow.