Could the Muslim Brotherhood Win Egypt's Presidency?
The group says it will not run a candidate, but long-time member Abdel Moneim Abul Futouh announced his run as an independent. How would he lead?
The group says it will not run a candidate, but long-time member Abdel Moneim Abul Futouh announced his run as an independent. How would he lead?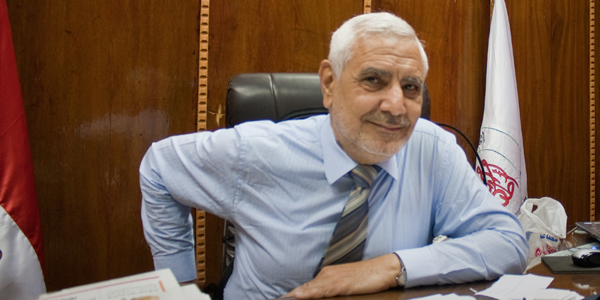 Georgia Wells
Though the Muslim Brotherhood will not appoint a candidate, Egypt's first freely elected president could be a prominent member of the once outlawed group: Dr. Abdel Moneim Abul Futouh. Although technically running as an independent and not formally allied with any party, including the Brotherhood's Freedom and Justice party, he is nonetheless perceived by many Egyptians as part of a Muslim Brotherhood juggernaut on its way to dominating Parliament and possibly capturing the presidency in Egypt's fall elections.
With this announcement, he joins fellow presumed front-runners Amr Moussa, former secretary general of the Arab League, as well as law scholar, Nobel laureate, and former head of the International Atomic Energy Mohamed el Baradei, favored by more secular activists.
But Adul Futouh is not exactly like his peers in the Muslim Brotherhood. Contrasting with the Brotherhood's more conservative mix of religion and politics, the urbane and eloquent Abul Futouh is comfortable with the new language of democracy.
When we met with him in his expansive office in the Dar el Hikma Doctors Syndicate building three days before his May 12 presidential announcement, he served tea and referenced the U.S. Bill of Rights, citing its language to gently scold U.S. foreign policy in his country.
"We have never been able to understand how the U.S. -- founded on, believing in and holding such respect for human rights -- could support and protect such a repressive and violent regime as Mubarak's."
Thirty years of corruption, he adds, "has had terrible consequences for the economic, cultural and social development of the country." In contrast to Mubarak's rule, "the new Egyptian government will be based on constitutional law and stand on respect for human rights, equality between men and women, and independence of the judiciary."
Many activists regard the highly respected head of the Arab Doctors Syndicate Abul Futouh, 59, as the pretty face of the Muslim Brotherhood.
"He is the best the Brotherhood has," said Nawla Darwiche, president of women's rights organization the New Woman Foundation, about the moderate politician. "But," she added, "they're all liars," referring to the group's repeated revisions of their stated political ambitions in the upcoming elections.
Abul Futouh himself wrote of the group's intentions three months ago in The Washington Post, "We are compelled to unequivocally deny any attempt to usurp the will of the people. Nor do we plan to surreptitiously dominate a post-Mubarak government. The Brotherhood has already decided not to field a candidate for president in any forthcoming election."
He draws a fine line in claiming that, as a founding and 25-year member of the group's executive council (since resigned), his run as an independent will have no associations with the Muslim Brotherhood.
Despite restrictions on their political activity, and due in part to Mubarak's willingness to let them stand as one of the few tolerated opposition parties, the Brotherhood did moderately well under his reign, winning 20 percent of Parliament as independents in the 2005 elections. They have earned their political support in part as a social service organization, filling in where the state has failed: providing food, medicine, and education to many of the country's rural poor.
Even some of the group's political competitors suggest their critics should relax. Amr Moussa, who leads the field of presidential contenders, told Reuters in March, "We have to move away the principal of rejecting the Brotherhood or any other group. Leave it to the people to choose who they want."
Billionaire businessman and Coptic Christian Naguib Sawiris, on the other hand, who recently launched the Free Egyptians party, recently described the Brotherhood's political agenda to The Washington Post as a diet of continued repression. "They have substituted the dictatorship of Mubarak with the dictatorship of the Muslim Brotherhood. That's where Egypt is going now," he said.
The open-ended question of what role religion will play in Egypt's political future is a source of much national anxiety. The possible political role of Salafi extremists and ongoing violent persecution of the country's Coptic Christians, who make up 10 percent of the population, raises concerns about state security and tolerance.
Abul Futouh told us that he has the reputation of a democratic reformer and is committed to addressing the division between Muslim extremists and Christians. He also said there is a place for more moderate Muslims.
Yet, he added, "even if Islam is not the religion of all Egyptians, all should respect it as the culture of all Egyptians." Nonetheless "the government should not dictate religious behavior on the street. Laws should not dictate how people are religious."
In this, he diverges somewhat from the statements of the more doctrinal Muslim Brotherhood spokesman, Dr. Essam el Erian, who told us that it is in the heart of every Egyptian to be devout, as a way of explaining that "all Muslim Egyptian women want to wear the hijab."
The Muslim Brotherhood has long sought to implement a stricter interpretation of Sharia law, which already forms part of the basis of the Egyptian legal system.
The Muslim Brotherhood could come to play a significant role in rewriting the Egyptian constitution, which the new Parliament is likely to help redraft. The group's Freedom and Justice party will contest up to 50 percent of the seats, though they had previously said they would only contest 33 percent.
Equality between the sexes is a complicated issue in a country where, according to an April Pew poll, barely half of women say they believe in equal rights and only 30 percent of men do. No women serve on the Brotherhood's executive council, though Abul Futouh noted, "Nowhere is it written that women should not serve." Neither are any of the country's 26 governors women. He said such positions should be elected rather than appointed by the president, something women's rights groups have long requested.
Abul Futouh charts a decidedly moderate path, even in his approach to Israel. "We respect and act according to international law. We respect our agreements with other states. Why would we make war now?" he asked. "The problem of Israel is with the Palestinians and not with us. It needs to be solved. Palestine needs a democratic and civil state."
He added that Egypt will not accept aid restricted by conditions from the United States. "Any aid accepted will be controlled by the interest of Egypt alone." On the other hand, if U.S. aid was contingent on peace with Israel, he said he has no problem: "Peace with Israel is in our interest."