Bin Laden's Death Resonates in Australia
As in the U.S., the killing of the al-Qaeda leader stirs a complicated and emotional reaction to years of terrorism, costly engagement in two wars, and a nation's idea of itself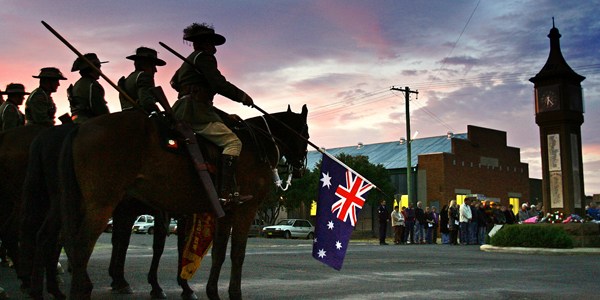 David Gray/Reuters
SYDNEY, Australia -- There were no raucous street celebrations, but Australia marked the death of Osama bin Laden in a manner befitting a nation that has lost more of its citizens in al-Qaeda-inspired terrorist attacks than any Western country other than Britain and the United States, and that lost many soldiers fighting alongside American forces in both Iraq and Afghanistan.
"EVIL DEAD," screamed The Daily Telegraph from its front page. While that euphoria was not surprising for the conservative tabloid, even The Sydney Morning Herald, a liberal-leaning broadsheet, let loose:
"VENGEANCE. At Last," it spread across the front page. Above, in large letters, it recounted:
There were 2,976 innocent lives were lost on September 11, 2001. In Iraq and Afghanistan 7,000 coalition troops and some 100,000 civilians have since died. The wars combined have coast America $1.1 trillion and counting.
Two Australians who had been held in Guantanamo for several years on suspicions of being members of Osama bin Laden's terrorist network had markedly different reactions.
"I can't say if I'm happy or not," Mamdouh Habib remarked on bin Laden's death. There was no evidence that bin Laden carried out the September 11 attacks, said Habib, who was picked up in Pakistan a few weeks after the attack. U.S. officials said he had been in Afghanistan training with Al Qaeda, which he has denied. He was secretly taken by the CIA to Egypt, where he has said he was tortured, including with electric shocks. He was released from Guantanamo in 2005, without any formal charges having been filed against him.
On Monday, Habib said he was "angry and upset" by the singing and dancing in the United States at the news of bin Laden's death. He added that he would do what U.S. crowds are doing now when George W. Bush died, as well as former Australian Prime Minister John Howard. "These people tortured me," he said.
David Hicks, who American and Australian officials said trained at several al-Qaeda camps prior to the 9/11 attacks, said he welcomed bin Laden's death: "It is a relief that a man who has been responsible for the death of so many people has been put in a position where he can no longer cause any more harm." Described by some officials as a naive, lost soul in search of adventure -- at one time he fought with the Kosovo Liberation Army -- and by others as a committed jihadist, Hicks was held in Guantanamo for five years before being released after he entered a plea to a relatively minor count of providing material support for a terrorist organization.
Ten Australians were killed in the 9/11 attacks on the World Trade Center. Prime Minister John Howard was in Washington on the day of the attacks, when he immediately invoked the mutual defense treaty between the United States, Australia and New Zealand (ANZUS). It was a dubious legal move, as the treaty calls for one country to come to the defense of the other in the event of an attack in the Pacific, but it had considerable symbolic value.
Howard's conservative political views meshed with those of the Bush Administration -- he once referred to himself as Bush's "deputy sheriff" -- and he unreservedly committed Australian troops to the American-led war in Afghanistan, and later Iraq, even though that war was highly unpopular here.
Bin Laden publicly threatened attacks against Australians, citing the country's alliance with the United States. In October 2002, terrorists attacked a string of nightclubs in Bali. The Indonesian island is popular tourist spot for Australians, 88 of whom were killed in the attacks.
On Monday, Australian Prime Minister Julia Gillard welcomed the news of bin Laden's death. Then she appeared to anticipate what is surely to become an issue here in light of bin Laden's demise: Australia's involvement in the war in Afghanistan.
"We continue to be engaged in Afghanistan so that that country does not again became a haven for terrorists," she said. "That work is vital and we will continue the mission."
Australia has the largest contingent of troops in Afghanistan outside of a NATO country, and 23 Australian soldiers have died there, The Australian noted in Tuesday's long editorial, "Bin Laden's killing a triumph for freedom."
The conservative newspaper, Rupert Murdoch's flagship here, also used the occasion to reiterate its support for the Iraq war and the removal of Saddam Hussein.
The Financial Review struck a cautionary note. "Will the US be drawn into more interventions such as that in Libya as a result of this long-sought success against al-Qaeda when the capacity of even a fully charged superpower to impose successful regime change is open to question?" the newspaper, which is modeled on the Financial Times, asked in its editorial, "Osama's removal raises big questions." The paper provided its own answer: "The world is better served by a longer-term, stronger US economy than one where continued high military costs retard economic assistance."
For the Sydney Morning Herald, the American operation underscored the importance of human intelligence.
"For all the might of America deployed in the hunt for Osama bin Laden, his end came after a tenuous intelligence operation." Unstated, but implicit, was that Osama was not brought down by the wars in Iraq and Afghanistan, nor by the torture of suspected terrorists. "Instead, the operation showed the doggedness of a lawman chasing an outlaw in a classic western," the paper said in its lengthy editorial. "Al-Qaeda loses its leader, and now for the rest."
This theme has been sounded for many months by intelligence officials in Britain: defeating terrorism will require better police work at home rather than large-scale wars abroad.
The paper was harsh in its criticism of Pakistan. "If US intelligence agencies could eventually locate bin Laden, and not, apparently, through technical intercepts but by human resources, why were their Pakistani counterparts unable to do it even sooner, unless they, or inside elements, were secretly helping him?"
Among many Australians, there appeared to be an uneasiness with the celebrations in America, which they saw on television here.
"The sounds of celebration from the US at the death of bin Laden seems founded on the most base emotions (revenge and hatred) and reminiscent of mob behaviour that we generally revile," a reader wrote to the Sydney Morning Herald.
Paul Gyulavary, whose twin brother was killed in the 2001 attack on the World Trade Center, said that upon first hearing the news that bin Laden had been killed "there was a surge of joy." Then, after some reflection, he decided, "for me it's not appropriate to celebrate."