A Trip I Wish I Could Make
From the email inbox just now:

Dear Colleague: You are invited to participate in the upcoming US Defense Industry Delegation to Iraq. We hope that you can be a part of this very important delegation that will take place

on June 25-30, 2011

in Baghdad, Iraq.

The 2nd US Defense Industry Delegation to Iraq's goal is to provide market entry or

increased sales in Iraq for US Security, Sea, Land and Air Defense products and technologies. In addition, first hand market information and access to

potential business partners, you can also

Present your Products & Technologies to the Iraqi Military Commanders.





For further information, please see attached brochure and registration form.

Should you have any queries, please do not hesitate to contact me at 202-xxx-xxxx or email me at xxx@xxxx.net

I look forward to hearing from you.<<
Here is an idea of what the attached brochure contains, for instance with assurances that the trip will be the "most productive and result-oriented way to bring your company to the Iraq Defense market":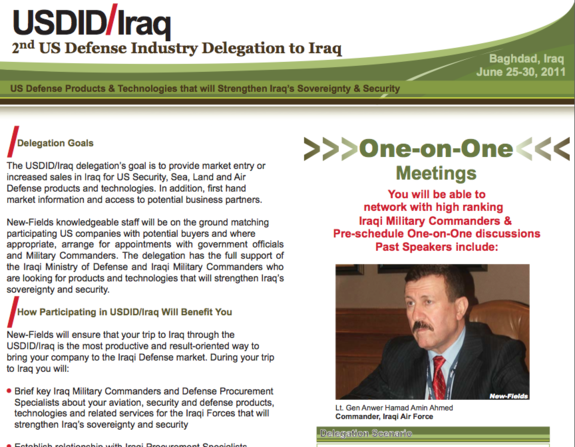 I know I speak for all Americans in saying that this makes me feel much better about the whole U.S. undertaking in Iraq, now entering its ninth year.