U.S. Shakeup and the Blurring Line Between Military and Intelligence
Obama's decision to move Panetta to Defense and Petraeus to CIA suggests a greater focus on counterterrorism and clandestine warfare in Afghanistan and beyond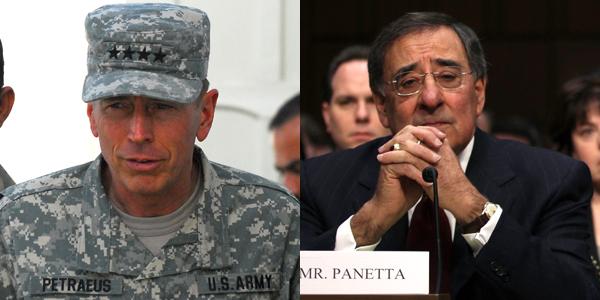 Reuters
President Obama is expected to announce a major change in U.S. military and intelligence leadership this week, appointing Director of Central Intelligence Leon Panetta to Secretary of Defense and moving General David Petraeus into Panetta's job at the CIA. Petraeus led the U.S. war in Iraq and then CENTCOM, which is in charge of all U.S. forces in the Middle East and South Asia, before being putting in charge of the U.S.-led war in Afghanistan. The move, which stands to tighten the increasingly close bonds between the Pentagon and CIA, could have major repercussions for how the U.S. wages war, in Afghanistan and in the near-global fight against terrorism.
As National Journal's Marc Ambinder and Yochi Dreazen write, the move in many way indicates continuity. The same senior staffers will continue to focus on many of the same tasks. But the staff changes do indicate that the ways in which those staffers approach those tasks will change in important ways. This will be especially significant in Afghanistan and Pakistan, which, since Obama's escalation of the U.S.-led war there in 2009, has been a top focus of both the Pentagon and the CIA.
Just as 2009 saw U.S. military and intelligence attention shift from fighting the war in Iraq to fighting the war in Afghanistan, the focus may now shift once more to fighting terrorism. Petraeus will likely continue the jobs he did as CENTCOM chief and then as military leader in Afghanistan -- overseeing U.S. security interests in the Middle East and South Asia -- only now using the tools of the CIA rather than of the military. This suggests a quieter approach in the region, led by intelligence rather than by the military. Panetta, in turn, will carry his work on counterterrorism from the CIA to the Defense Department, suggesting that the Pentagon will be thinking less about the large-scale wars in Iraq and Afghanistan and more about how to combat terrorism in those countries and beyond.
In Afghanistan, the staff change seems to indicate that the CIA-led counterterrorism mission there will become both more prominent and more militarized, and that the Pentagon-led military mission will in turn become quieter and more secretive. In other words, it appears to vindicate Vice President Joe Biden's position in 2009 that the U.S. war in Afghanistan should be about targeting al-Qaeda with intelligence operations, Predator drones, and a small military footprint.
The crossover between the Pentagon and the CIA also underscores a consistent trend of the Obama administration, in which the lines between military and intelligence operations increasingly blur. Under Obama, intelligence agencies have taken on a greater paramilitary role -- emphasizing, for example, Predator drone programs and the use of small, forward CIA bases like those that dot Afghanistan's eastern border -- while the Pentagon has rapidly expanded its clandestine warfare programs (that Obama has sanctioned in over a dozen countries). Panetta will likely bring with him his experience running CIA paramilitary operations, probably expanding such clandestine operations at the Pentagon. Petraeus, after years of leading aggressive, heavy-footprint warfighting in Iraq and Afghanistan, will naturally want to continue militarizing the CIA's own efforts once he arrives at Langley.
While it's difficult to know exactly what the White House is planning for Afghanistan and even harder to predict how the war in Afghanistan will unfold, it appears that Obama plans on holding to his promise to deescalate the U.S.-led war there. But he shows no sign of easing off the persistent, low-level counterterrorism mission that is jointly waged by the Pentagon and CIA. If anything, he looks resolved to escalate the clandestine fight against al-Qaeda. Petraeus and Panetta will still lead that war, but they will likely do so with an ever-closer joint military and intelligence force that is increasingly secretive and assertive.
In 2009, when Obama authorized one of the largest expansions of clandestine warfare since September 11, 2001, it fundamentally reframed U.S. policy in the Middle East and South Asia in a way that has slowly blurred the lines between our military and intelligence services. This week's staff change announcement suggests that line will only become more difficult to distinguish.